Letcher County's Gary Stewart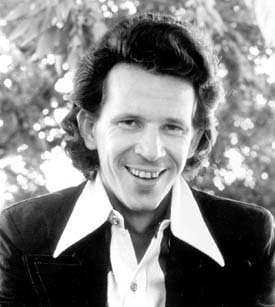 Gary Stewart was born May 28, 1945, in Jenkins, Ky. His family moved to Florida when he was 12, where he made his first record for the local Cory label and played in a beat group called the Amps. Teaming up with a policeman, Bill Eldridge, he wrote Stonewall Jackson's 1965 US country hit, 
"Poor Red Georgia Dirt".

Several songwriting successes followed including chart entries for Billy Walker ("She Goes Walking Through My Mind", "When A Man Loves A Woman (The Way I Love You)", "Traces Of A Woman", "It's Time To Love Her"), Cal Smith ("You Can't Housebreak A Tomcat", "It Takes Me All Night Long") and Nat Stuckey ("Sweet Thang And Cisco").

Stewart recorded an album for Kapp Records, You're Not The Woman You Used To Be, and then moved to RCA Records. He had his first US country hit with a country version of the Allman Brothers' "Ramblin' Man" and then made the Top 10 with "Drinkin' Thing". For some years Stewart worked as the pianist in Charley Pride's road band and he can be heard on Pride's In Concert double album. He established himself as a hard-driving, honky-tonk performer with Out Of Hand and a US country number 1, "She's Actin' Single (I'm Drinkin' Doubles)", although his vibrato annoyed some.

Stewart's 1977 Your Place Or Mine included guest appearances from Nicolette Larson, Emmylou Harris and Rodney Crowell. His two albums with songwriter Dean Dillon were not commercial successes, and Stewart returned to working in honky-tonk clubs. However, drug addiction got the better of him and his life collapsed when his wife left him and his son committed suicide. In the late 80s, he returned to performing, carrying on in the same style as before with albums such as Brand New and I'm A Texan. He was found dead in his Florida home from a self-inflicted gunshot wound on Dec. 16, 2003.