Stapleton Sweeps 2018 Grammys
Chris Stapleton is at the top of his game as 2018 arrives, after capturing the three country music honors at the 60th Grammy Awards, seen on their Sunday, January 28 telecast.
Stapleton burst on the scene with Grammy wins,  CMA, and ACM honors, and has now continued this high profile pattern of success in the music industry.
The young man is a Johnson County native, well known for his philanthropy around his hometown of Paintsville.
Here is a breakdown of his results on Grammy night:
Best Country Song:
"Broken Halos" — Mike Henderson & Chris Stapleton, songwriters (Chris Stapleton)
Other nominees were:
"Better Man" — Taylor Swift, songwriter (Little Big Town)
"Body Like A Back Road" — Zach Crowell, Sam Hunt, Shane McAnally & Josh Osborne  (from Pike County, KY.), songwriters (Sam Hunt)
"Drinkin' Problem" — Jess Carson, Cameron Duddy, Shane McAnally, Josh Osborne & Mark Wystrach, songwriters (Midland)
"Tin Man" — Jack Ingram, Miranda Lambert & Jon Randall, songwriters (Miranda Lambert)
Best Country Solo Performance:
"Either Way" — Chris Stapleton
This win was in competition with:
"Body Like A Back Road" — Sam Hunt
"Losing You: –Alison Krauss
"Tin Man" — Miranda Lambert
"I Could Use A Love Song" — Maren Morris

Best Country Song:
"Broken Halos" — Mike Henderson & Chris Stapleton, songwriters.
The competition in this category included:
"Better Man" — Taylor Swift, songwriter (Little Big Town)
"Body Like A Back Road" — Zach Crowell, Sam Hunt, Shane McAnally & Josh Osborne, songwriters (Sam Hunt)
"Drinkin' Problem" — Jess Carson, Cameron Duddy, Shane McAnally, Josh Osborne & Mark Wystrach, songwriters (Midland)
"Tin Man" — Jack Ingram, Miranda Lambert & Jon Randall, songwriters (Miranda Lambert)
Best Country Album:
From a Room: Volume 1 — Chris Stapleton
Cosmic Hallelujah — Kenny Chesney
Heart Break — Lady Antebellum
The Breaker — Little Big Town
Life Changes — Thomas Rhett
Letcher Co. Guided Tours Information Released
Letcher County Tourism invites you to spread the word about the guided tours that have been made available.  Now thru March 31, advance tickets are available at a 30 percent discount.
Tours are led by experienced and friendly tour guides who can inform participants on the history of the Letcher County region as they enjoy majestic views and beauty. Each tour includes transportation and lunch or a snack. Hiking tours include a walking stick and prepared backpack. Tours begin at Pine Mountain Outfitters located at 147 Highway 119 in Whitesburg, beside Pine Mountain Grill.  Up to eight persons can be accommodated.
Private tours can be scheduled by e-mail at letchertourism@gmail.com or by calling Pine Mountain Outfitters at 606-633-8400. Registration for tours can also be accomplished at www.discoverletcher.com/guided-tours/
The 2018 Tour Schedule involves a driving tour through the Little Shepherd Trail, and hiking tours through Bad Branch Falls, Eagle Arch Rock, Flamingo Shelter and Blueberry Cliffand Pink Flamingo Trail.
Himler Coal Company Owner's House
To Be Restored, Fundraising Underway
In the Martin County community of Beauty, there is the remains of a fabulous mountaintop home that once was the centerpiece of a thriving mining community, mainly populated by Hungarians.
The principal owner of the coal company was also a journalist and his life before, during, and after the coal town is extremely interesting.
The town of Beauty was once known as Himlerville. The community attained  a highly prosperous period, and contained all the amenities of success. A later reversal in the coal business cut the good times short, and owner Martin Himler left the area and traveled to the Columbus, Ohio area out of necessity.
The entire story is captivating, and worthy of long term preservation.
The Martin County Historical Society is now actively involved in several fundraising efforts to ultimately restore this historic home and package and present it's story and the fascinating history of the coal town known as Himlerville.
Stapleton's Surge In 2017
Album Sales Recognized

Chris Stapleton owns three of the Top 10 Country Albums for 2017, according to Nielsen Music. The Country Music Highway's newest superstar starts out with the number one album. Here is the complete list of Top Country Albums for 2017:
1. Chris Stapleton, From A Room, Vol. 1
2. Chris Stapleton  Traveller 3.
Kenny Chesney   Live In No Shoes Nation
4. Kieth Urban   Ripcord
5. Zac Brown Band  Welcome Home
6. Garth Brooks   The Anthology
7. Chris Stapleton  From A Room Vol. 2
8. Kane Brown   Kane Brown
9. Thomas Rhett  Life Changes 10.
Brantley Gilbert  The Devil Don't Sleep
Whitesburg Receives Grant
for 2018 Concert Series
from National Foundation
The City of Whitesburg and the Cowan Community Center learned on January 2 they were awarded a $25,000 matching fund grant to bring free outdoor concerts to the Mountain Heritage Festival Stage. Last June, the Mortimer and Mimi Levitt Foundation invited nonprofits nationwide to apply for a total of 15 grants leading to free concert assistance. The Foundation sought communities with three goals, to amplify community pride and their town's uniqueness, enrich lives through the joy of free, live music, and illustrate the importance of vibrant public places. The public voted on their best applicants until there were 25 finalists remaining. "We are thrilled to announce the 2018 Levitt AMP Grant Award winners, "said Sharon Yazowski, Executive Director of the Levitt Foundation. "Mountain Heritage Festival Stage is the ideal place for the Levitt AMP Whitesburg Music Series. This shines a light on this underused public space and furthering the town's revitalization efforts, while creating a welcoming destination for everyone in Whitesburg and surrounding communities to enjoy." The 15 Levitt AMP winners hail from rural towns with populations of less than 10,000 including Whitesburg, Galva, Ill., St Johnsbury, Vt., and Middlesboro, Ky. The mid-sized cities involved were Berea, Ky., Carson City, Nv., Ocala, Fl., Sheboygan, Wi., Stevens Point, Wi., Utica, N. Y., and Woonsocket, R. I. The larger cities awarded include Escondido, Ca., Chattanooga, Tn., Santa Fe, N. M., and Trenton, N. J.
Santa Train Will Roll Through Sat. Nov. 18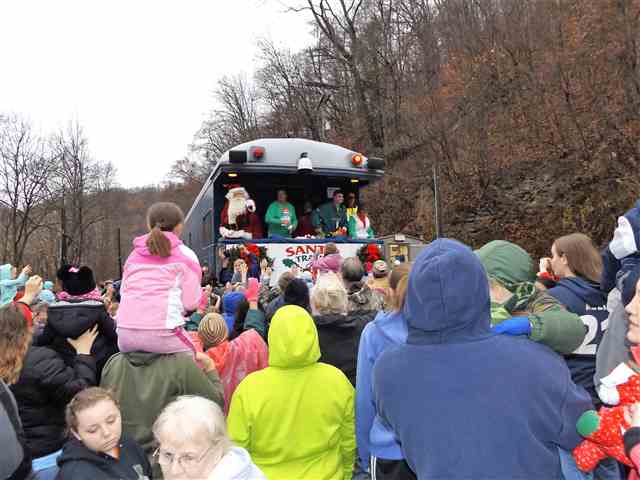 The Santa Train will make its 75th run from Kingsport, Tennessee northward along the CSX route for 110 miles,  passing through Elkhorn City before finishing the run to Shelby in Pike County on Saturday, November 18. This year, Louisa and Lawrence County Country Music Highway superstar Ricky Skaggs will be riding along with Santa as the Santa Train rolls through Appalachia with scheduled stops in 14 towns in Tennessee, Virginia, and Kentucky and is loaded with 110 tons of toys, food, clothing, and gifts. Past celebrities on earlier train trips include another Country Music Highway favorite, Patty Loveless from Elkhorn City, and country hit maker Daryl Worley. In fact, Loveless recorded a hit titled "Santa Train" that honors the charitable efforts which began in 1945. Food City, the Kingsport, TN Chamber of Commerce,  CSX Railroad, Soles 4 Souls, and Appalachian Power carry the bulk of the annual project. The train was loaded on Wednesday, November 15 by over 100 volunteers in Kingsport.
New Letcher County Pine Mountain Overlook Is Now Open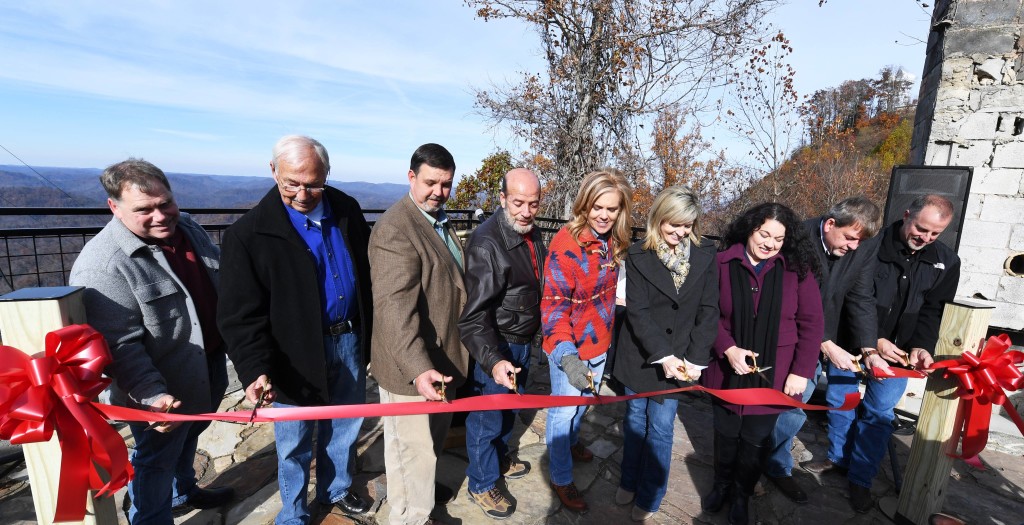 The Letcher County Tourism Commission hosted a ribbon cutting ceremony for the newly-constructed Pine Mountain Overlooks on Friday, November 10th. Pictured from left to right are: Letcher County Tourism Commission Member Collin Fultz; Whitesburg Mayor James Wiley Craft; Jenkins Mayor Todd Depriest; Letcher County Magistrate Woody Holbrook; Letcher County Tourism Commission Chairman Missy Matthews; Deputy Secretay at KY Tourism, Arts and Heritage Cabinet Regina Stivers; 94th District State Representative Angie Hatton, Letcher County Judge Executive Jim T. Ward; and Letcher County Magistrate Terry Adams (photo by Teddy Paynter). "These overlooks were an obvious must-have for our county," said Missy Matthews, chairman of the Letcher County Tourism Commission. "Before the overlooks were constructed, people got out of their cars, climbed over guardrails and walked through weeds to take pictures. Now, they have a safe and more convenient spot to sit, relax and enjoy nature's beauty." Letcher County Judge/Executive Jim Ward said, "Tourism is a key contributor to our economy, not only on a state level, but also right here in Letcher County. Our county offers some of the most breathtaking scenic vistas in the region and the new Pine Mountain overlooks offer the public a nice, attractive place to enjoy them." The five overlooks took approximately six weeks to complete, having met the commission's initial deadline of fall's peak color. "This would not have been possible without many local residents and organizations who gave their time and resources to help," said Matthews. "I am so proud that we, as a little community, came together to create such wonderful overlooks that will be enjoyed for years to come." Among some of the volunteers recognized were Letcher County Judge/Executive Jim Ward, HOMES, Inc., Childers Oil Company, Colin Fultz, Mac Fultz, Tim Caudill, Gary Boyd, Kentucky Transportation Cabinet, Letcher County Fiscal Court, Nathan Bailey and N.C. Bailey Construction, Jarisa Coal Company, Kevin Pack, Joe Pratt, Ann and Carl Hall, P.M. and Sandy Hogg and family, Mountain Comprehensive Health Corporation, Community Trust Bank and Rod Back. For more information about each overlook, see the descriptions below: CLIFFSIDE — This overlook is dedicated to Mountain Comprehensive Health Corporation and is located in the curve before the summit of the mountain. Its elevation is at 2,315 feet and it offers visitors a nice concrete landing to enjoy the view. HEMLOCK — Because of HOMES, Inc.'s diligent service working on the overlooks, Hemlock is dedicated to this non-profit organization located in Whitesburg. Standing at an elevation of 2,377 feet, this overlook gives guests an overwhelming 180-degree view of Letcher County's mountain range. Hemlock Overlook provides guests with custom railing and an observation deck. It also has picnic tables, where those passing through can rest, eat and enjoy the view. HOGG OVERLOOK — Dedicated to Debbie Hogg by the Hogg Family and Jarisa Coal Company, this overlook sits at 2,399 feet and offers the same accommodating amenities as the Hemlock Overlook. FALCON OVERLOOK — Located where the old Falcon Inn used to be, this overlook is dedicated to Community Trust Bank.  The elevation at Falcon Overlook is 2,557 feet. Etched in the concrete is the date 1948 and the name Doyle. This location was an overgrown building foundation with only a chimney standing. THE SANDERS ANDREW COLLINS OVERLOOK — The fifth overlook sits at the old site of Sanders Collins's Log Lodge.  It was a weekend retreat for family and friends with unparalleled views.  Now, after the new construction, guests can experience what the view would have been like from the lodge's living room window. The stone chimney at the overlook is from the original lodge.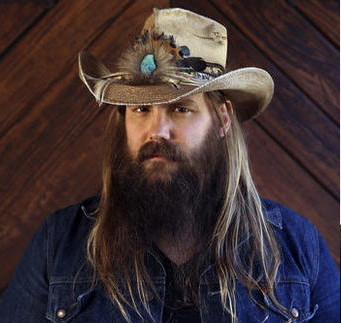 Chris Stapleton's Works Again Recognized by CMA
Chris Stapleton has notched two more major honors during the November 8 CMA Awards. He earned recognition as the Male Vocalist Of The Year and Album of the Year. Stapleton was in competition with Dierks Bentley, Eric Church, Thomas Rhett,  and Keith Urban in the Male Vocalist of the Year category. His album, "From A Room Volume One" grabbed top honor versus Little Big Town's "The Breaker", Lady Antebellum's "Heart Break", Jason Isbell's "The Nashville Sound", and "The Weight Of These Wings" by Miranda Lambert.
JOSH OSBORNE GAINS ANOTHER WRITING HONOR, 
STAPLETON AGAIN A CMA MULTIPLE NOMINEE
"The 51st Annual CMA Awards" airs live Wednesday, November 8 on ABC-TV. Country superstars Brad Paisley and Carrie Underwood will preside over the evening, returning as hosts for the 10th consecutive year.
 Country Music Highway superstar Chris Stapleton has been nominated for Entertainer of the Year,  and has a separate honor for his album, "From A Room: Volume One", as Album Of The Year. Stapleton joins other Entertainer Of The Year nominees, Garth Brooks, Keith Urban, Luke Bryan, and Eric Church. The Album Of The Year nominees also include "The Breaker" from Little Big Town, "Heart Break" from Lady Antebellum, "The Nashville Sound"  by Jason Isbell and The 400 Unit,  and Miranda Lambert's "The Weight Of These Wings". Stapleton is also in the running for Male Vocalist Of The Year. as are Eric  Church, Thomas Rhett, Dierks Bentley, and Keith Urban. ********************************************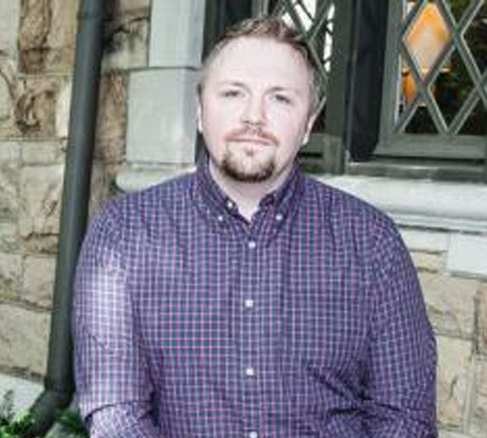 ***************************************** Pike County's Josh Osborne continues his songwriting genius as a song he has co-written is up for Song Of The Year in the November 8 Country Music Association Awards show on ABC. The song is "Body Like A Back Road" by Sam Hunt, who also credited with writing the song in collaboration with Josh Osborne, his partner Shane McAnally, and Zach Crowell. The song has eclipsed Florida Georgia Line as the longest period of time overall on the Billboard Hot Country Songs charts.

Free Tours from Nov. 3 thru 5
The Letcher County Tourism Commission is happy to invite you in celebrating their Inaugural Weekend for the Discover Letcher County Hiking & Driving Guided Tours. During this weekend, all tickets for the tours are FREE. The Tours offer participants the opportunity to enjoy the beauty of the Mountains, while being lead by experienced tour guides. There are 9 brand new tours and each tour can accommodate 8 people. To register for the guided tours, the public is encouraged to visit Letcher County Tourism's Facebook page at https://www.facebook.com/discoverletchercountyky/ or the Tourism's website at https://www.discoverletcher.org and go to the Explore navigation link. Tours Begin and end at Pine Mountain Outfitters, located at 47 Highway, 119 S Ste 1, Whitesburg, KY 41858 Hiking Tours to Bad Branch Falls, High Rock Loop and Skylight Rock Driving Tours through Little Shepherd Trail & a breathtaking, undisclosed location offering a VIP experience:  Friday, November 3 – Sunday, November 5. Tour schedule: Friday, November 3 4:00pm – 6:30pm – Little Shepherd Trail Sunset Driving Tour 4:00pm – 6:30pm – VIP Sunset Driving Tour Saturday, November 4 10am – 1pm – Bad Branch Falls Hiking Tour 9am – 5pm – High Rock Loop Hiking Tour 10am – 1pm – Little Shepherd Trail Driving Tour 2pm – 5pm – Bad Branch Falls Hiking Tour 3pm – 6pm – Little Shepherd Trail Sunset Driving Tour Sunday, November 5 1:30pm – 4:30pm – Skylight Trail Hiking Trail 3:00pm – 5:30pm – VIP Sunset Driving Tour
Pike County Tourism CVB Wins Gold at Kentucky Travel Conference, Announces Chairlady Judi Patton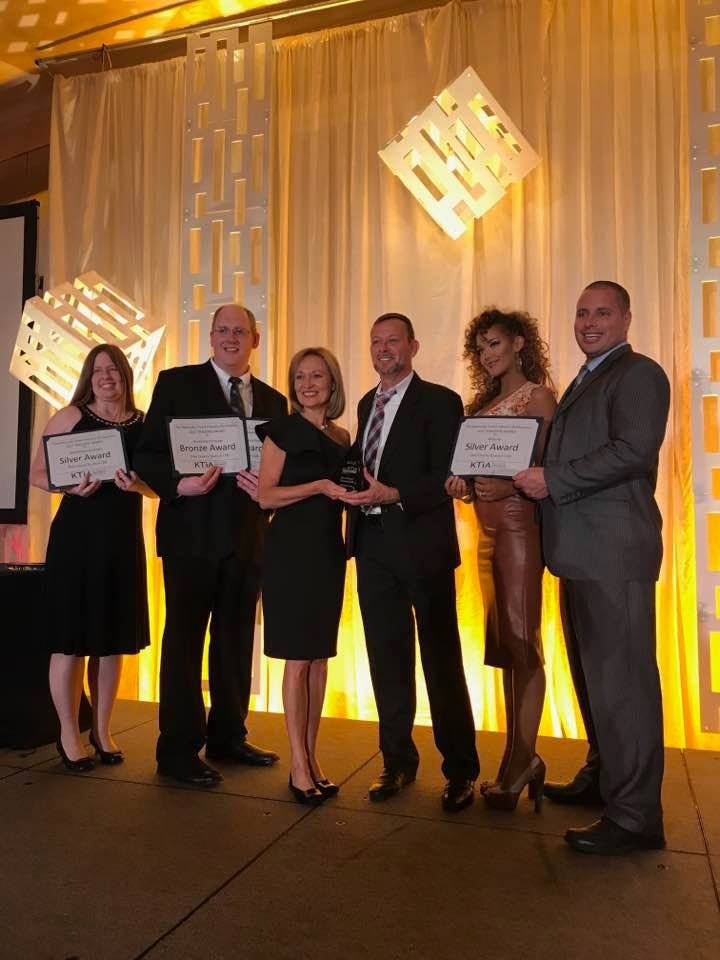 Pike County Tourism CVB Chairlady Judi Conway Patton is pleased to announce that the organization was one of 11 tourism offices in the state of Kentucky awarded gold for marketing efforts by the Kentucky Travel Industry Association. Pike County Tourism CVB was also the recipient of an additional six awards, including four silver and one bronze, which were all awarded at the Kentucky Travel Industry Association's annual fall conference, which was held in Louisville, Kentucky, from October 23 to the 25.  Pike County Tourism CVB brought home awards in the categories of web design, conference material, and marketing campaigns, with the gold award recognizing their work on developing 
www.HillbillyDays.com
.
"It just goes to show that planning and working your plan pays off," Pike County Tourism Executive Director Tony K. Tackett said. "We design all of our editorial, ads and websites in-house, so when the visitor request information from us to plan their trip, we are able to provide them literature that we have designed specifically to detail what they are looking for. We are truly blessed that the Kentucky Travel Industry Association has recognized our efforts with six awards this year. We could not be any happier with the results and the diligent work that has gotten us to this point." Patton stated that the recognized works are all part of a comprehensive marketing effort that highlights our events, outdoor adventure and storied history. "Our board and staff pour over every detail of our marketing, from brochures to websites, magazine ads, television commercials and more. This year, we realized that in order to better market our Hillbilly Days festival, we would need to purchase the Hillbilly Days website, and build it from scratch. Our marketing director Jay Shepherd, with input from Executive Director Tony K. Tackett, was able to build the website in time for the festival, with a fresh new look that is fabulous." "Many of our marketing efforts brought home a silver award, including our website, 
www.tourpikecounty.com
, as well as event/meeting and conference materials, and marketing campaigns," Tackett said. "The conference and convention associations and the motor coaches that we have aligned ourselves with in the past few years, creating a plan and working that plan with our wonderful staff to carry it through creates heads to beds, fork to mouth and coming soon, sip to lips with our new Dueling Barrels Brewery and Distillery. It is a win-win for all", Tackett said. "Being able to create our marketing materials in-house is tremendously satisfying, and allows us to create our own narrative," said Marketing Director Jay Shepherd. "No one knows us as well as we know us, and we enjoy showing our visitors what we are all about. We are so blessed that our small office of 3 employees is recognized alongside other, larger and more prominent offices."
October: We Offer Many Scary Attractions Along the Highway
October Is A Scary Month on the Country Music Highway The Fallsburg Fearplex in Lawrence County near Louisa boasts a strong attendance every Halloween season.  Often, many  participants travel two hours to get here.  The Fearplex experience includes five specific attractions. It is open Friday and Saturday nights,  with tickets available 30 minutes before dark up to  midnight. The Fearplex is located in the Fallsburg Community at 5877 KY. Route 3.  Phone (606) 686-3030. Van Lear Haunted Museum is open on weekends thru Halloween.  They have an adults show and a separate show for smaller children. It's the 16th year for the Haunted Museum.  This attraction happens inside the four-story Coal Miner's Museum Building that serves as the headquarters for the Van Lear Historical Society. Friday and Saturday nights every weekend thru Halloween with admission for adults at 5.00. There is a kiddie haunted tour with a 3.00 admission every Saturday. The Jenny Wiley State Resort Park invites all the brave souls to come to the Stratton Branch boat ramp at Dewey Lake for a Haunted Pontoon Ride. These rides start at 7 p.m. and continue thru 11 p.m. These rides continue for the weekend of Oct. 20-21, and Oct. 27-28 at 75 Theater Court, Stratton Branch, Prestonsburg. Elkhorn City, Ky. invites you to tackle a Haunted Trail where survivors will navigate through a zombie-infested maze and fend off the undead! Price is $10 dollars for 13 and up and $5 dollars for 12 and under. Located in Elkhorn City, Kentucky.  This event runs October 10 thru October 17.  Admission is $10. The exact location is Carson Island at Elkhorn City. The Pikeville Police and Fire Department will try their best to scare everyone as they pass through the Haunted Trail Cut Thru Mountain Holler event. Opens Oct. 13 in the Bob Amos Park in Pikeville. October 28 the Paramount Players will present a PG performance of  Little Shop of Horrors. Location is in downtown Ashland on Winchester Avenue. Martin County Firefighters invite you to the 2015 Firefighters Fright Fest & Haunted House at the Martin County Fairgrounds. Don't miss out on the largest, scariest haunted house on the Treasure Coast! There will be 6 nights of family fun and fright for all ages including a "Not-So-Scary" area for the younger goblins…hay rides, face painting, bounce houses, bean bag toss, potato sack races, games and an obstacle course maze! Food vendors will be on site each night. October 22-24 & 29-31 operating from 6pm-11pm. Admission Adult $10,  Student with ID $8, Children 12 & under $5.
The Greater Huntington Park & Recreation District is pleased to announce the return of the Fantasy Maze to Ritter Park this October!  Since its debut in 2015, thousands of families have enjoyed an enchanted trip through the Fantasy Maze filled with classic storybook and cartoon characters!  GHPRD's non-scary alternative to Halloween returns to the heart of Ritter Park for the last two weekends in October (20, 21, 22, 27, 28, and 29) from 5:00 p.m. to 9:00 p.m.  Children are encouraged to wear their Halloween costumes and bring a candy bag because each character in the Fantasy Maze will be giving out sweet treats!  Tickets are $5 per person and can be purchased at the event from 4:30 p.m. to 8:30 p.m. each evening.  Concessions will be available courtesy of Laikyn Hot Dogs, ScragglePop, and Lil Creamer Hawaiian Shaved Ice.  M&M Inflatables will be on hand to give kids a chance to burn off excess energy and excitement after they finish the Maze!  Parking will be available inside Ritter Park, with traffic entering on 8th Street, traveling east on the road inside the Park, and exiting on 12th Street.
This event is brought to you by the Greater Huntington Park & Recreation District, with the help of the HART Choose Joy Players.  For more information contact GHPRD Recreation Superintendent Stacey Leep at 304.696.5954 or sleep@ghprd.org.
New Features From Ashland's Highlands
Museum & Discovery Center
On September 7, the Highlands Museum and Discovery Center on Winchester Avenue in downtown Ashland opened their latest exhibit, "Building Ashland: An Industrial History. The newest displays gives a spotlight to the C & O Railroad,  Armco Steel,  Ashland Oil, and other key components in the development of northeast Kentucky's industrial giant. Part of your visit to see this gallery of history is an opportunity to get familiar with Brady Industries, the area's newest 1.3 Million aluminum mill. In another annual event, the Highlands Museum is now selling tickets for Walking With The Past. This fall tradition is to be held Saturday, Ocotber 21. It features tours and information about the Ashland Cemetery. Participants can pick up a surprising amount of history and interesting facts during the event Tickets are on sale at $12.00 each and are available either at the Highlands Museum or the Ashland Cemetery office, Proceeds go to the continued maintenance and new innovations at the museum and to restore historical gravestones at the Ashland Cemetery. To find out more about these and other activities at the Highlands Museum and Discovery Center, phone 606-329-8888.
Night Market in Elkhorn City Set for Friday, September 29
Artists Collaborative Theatre (ACT) is again inviting friends and neighbors to come shop beneath the setting sun on Friday, September 29th from 6-10 pm at the 2017 Elkhorn City  Fall Night Market! Recent Elkhorn City Night Markets have grown substantially. With crowds of over 1,000 people visiting the town to enjoy streets lined with an array of vendors, live performances from local musicians, and a delicious assortment of foods and treats, the Elkhorn City Night Market has earned a reputation for being a perfect way to kick of the weekend. The evening will feature a full lineup of live music and entertainment. Several well-known local musical acts will be in attendance, featuring sounds across several genres. Market-goers can expect to hear bluegrass, indie, folk, rock, and more. Visitors can also enjoy a cozy bonfire, S'more and marshmallow roasting, fun hayreides, a selfie station full of theatre props, face painting, and more. Vendors expected to line the streets on September 29th include many returning favorites, such as those selling handmade and unique jewelry, woodworking crafts, home décor, restored furniture, original pieces of artwork, customizable embroidery items, an array of locally-themed apparel, homemade soaps and lotions, a variety of mouth-watering foods, and much more. Several brand name vendors will be present as well, such as Lula Roe clothing, Pink Zebra scented wax melts, and Plunder jewelry. Everyone is invited to make an "Elkhorn Evening" out of it and stop in at Artists Collaborative Theatre to catch a showing of the pg-13 comedy drama Calendar Girls which will begin at 7:30 pm at only $10 a ticket. Tickets may be purchased at the door or online at www.ACT4.org. Several highly reviewed Elkhorn City restaurants also stand-by to serve hungry town guests everything from the best freshly made pizza in the region to hot homestyle meals like grandma used to make those interested in setting up as a vendor or performing on stage should contact Samantha West by email at artistscollaborativetheatre@gmail.com or by sending a message to the Artists Collaborative Theatre, Inc. Facebook page at facebook.com/ACTheatre1. More information and vendor applications may be found online at pike.ca.uky.edu/NightMarket or may be picked up in person at the Pike County Extension Service located at 148 Trivette Dr. in Pikeville, KY. All proceeds from booth registration fees go directly to support ACT, a 501c3 non-profit organization working to support the arts in Appalachia.
 Hatfield-McCoy Story Plays
Front-And-Center Sept. 23 and 24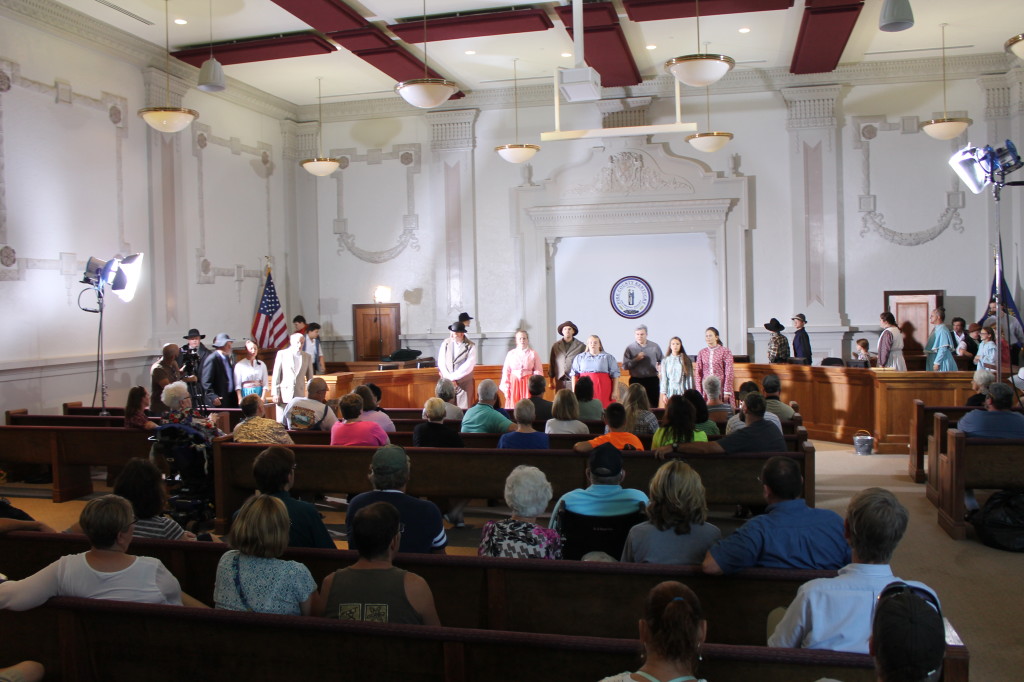 THE LIVE PLAY "BLOODSONG" ENTERTAINED SPECTATORS INSIDE THE SECOND FLOOR COURTROOM OF THE OLD PIKE COUNTY COURT HOUSE. THIS PERFORMANCE WAS PUT ON BY THE HATFIELD-McCOY ARTS COUNCIL. THIS SHOW TOOK PLACE INSIDE THE ACTUAL COURTROOM WHERE A FAMOUS COURT CASE WAS HELD CONNECTED WITH THE LEGENDARY FEUD.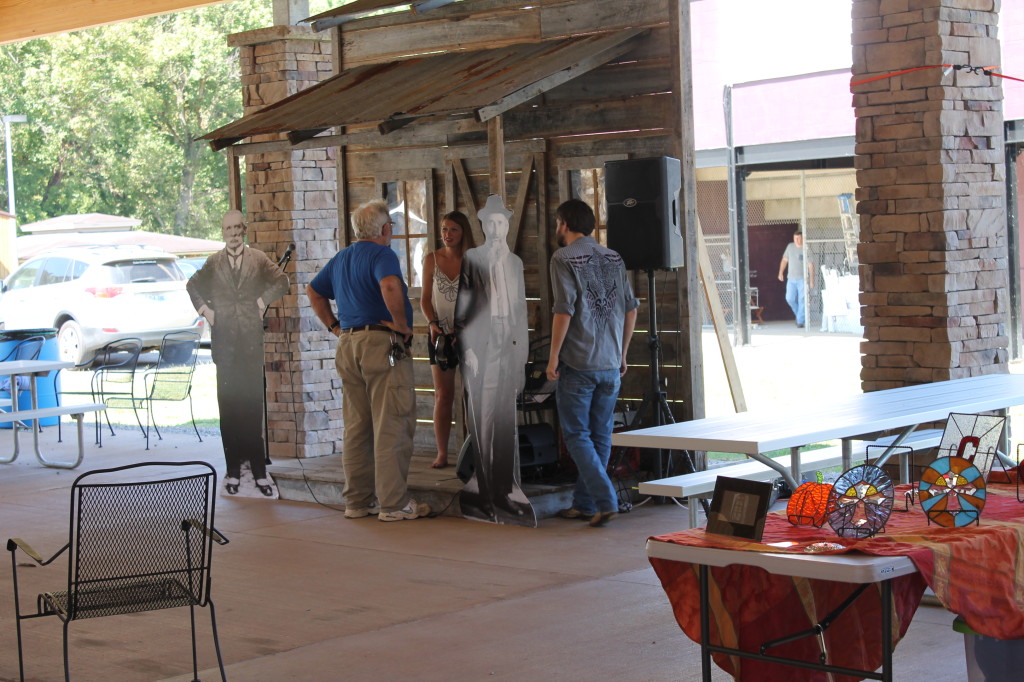 SATURDAY MORNING, SEPTEMBER 23 THE HATFIELD-McCOY HERITAGE FESTIVAL FEATURED LIVE MUSIC AT THE FARMERS MARKET, NEXT TO PIKEVILLE HIGH SCHOOL. PICTURED ABOVE, CENTER, IS JESSI RACHELLE OF ASHLAND,WHO HAD WRAPPED UP A LIVE MUSIC SET.  SHE  ENTERTAINED FROM THE PORTABLE MUSIC STAGE USED IN AUGUST AT THE KENTUCKY STATE FAIR.  PICTURED AT RIGHT IS PRESTONSBURG'S JASON GOBLE WHO PERFORMED EARLIER.  THE LIVE MUSIC SHOW WAS KICKED OFF BY TROY BURCHETT, ALSO OF PRESTONSBURG.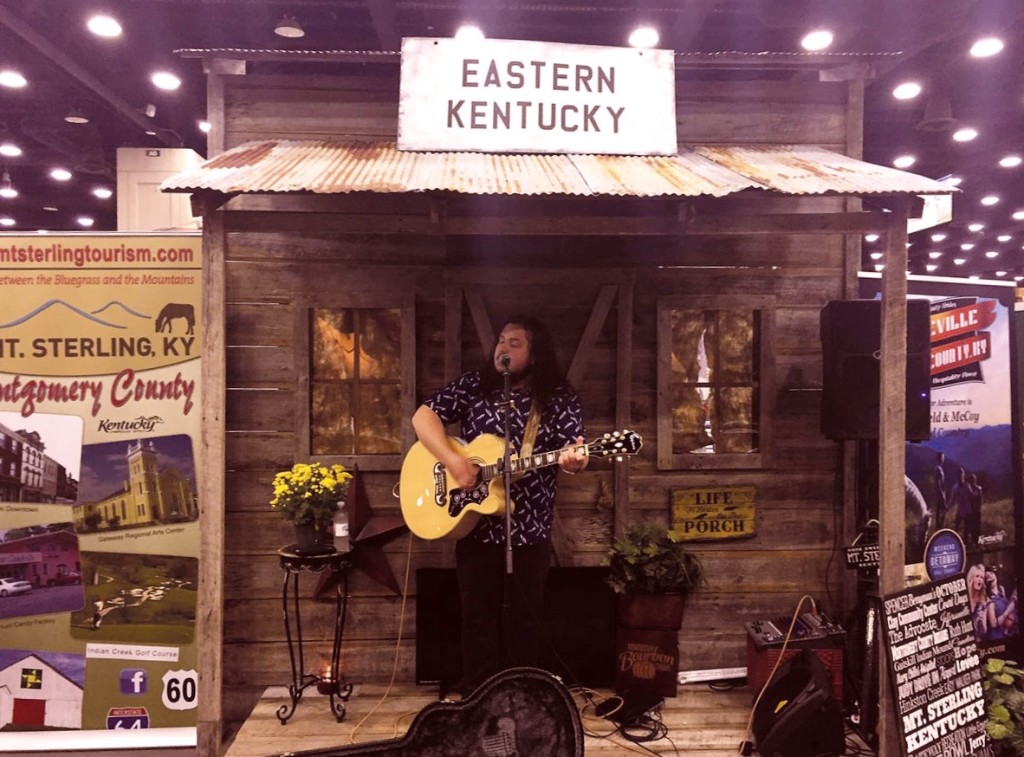 STATE FAIR BOOTH CATCHES ATTENTION OF WOULD-BE TOURISTS
Each year a dedicated group of tourism officials and various volunteers and supporters occupy booth space at the Kentucky State Fair. They are there to share the many reasons tourists are coming to the area spanned by our famous Country Music Highway. They make available detailed information from our region to acquaint future visitors about the various activities and attractions along our 144-mile U. S. 23 thoroughfare traversing the easternmost travel corridor in Kentucky. In fact our publication, the 2017 Country Music Highway Travel Guide, was distributed heavily during this year's fair. The Pride Of The Counties booth was shared by Pike, Boyd, and Montgomery County. Live music was continually presented at this year's event,  and the people staffing the booth informed all visitors about our special part of the world.
Enjoy Interactive Lecture
and Examination of
the Hatfield-McCoy Feud
The Big Sandy Heritage Center will be hosting Interactive Lecture Series: Hatfield-McCoy Feud, Saturday, September 23, beginning at 10:00 a.m. This event was rescheduled from August, and will be one of the highlights of Pikeville's 2017 Hatfield McCoy Heritage Days. Presenter Reed Potter will be bringing the history to life with a discussion and a question and answer session. Refreshments will be served to participants. This is a museum open house event, no admission will be charged, but donations will be taken. This is an exceptional opportunity to share your family stories with others! Pre-registration is preferred, call (606) 766-1025.
FESTIVALS
The Lawrence County Septemberfest happens Sept. 8 and 9 in Louisa. Music starts on Saturday, Sept. 9 at 1 p.m with a Bluegrass concert. After several different groups perform by 7:30 it will be time for Lawrence County's favorite daughter Kelsie May,  a sensation on NBC's The Voice in 2015. Then, Tate Stevens will begin at 9:30 p.m.  Stevens was the winner of the  X Factor TV show in 2012. September fest will also feature a parade, car show, 5 K Run, a carnival, trail ride, and food booths.   The Gingerbread Festival in Hindman, Knott County, will cover three days of activities for adults and kids from September 7 thru 9. The festival is called "a tribute to mountain literature". Plenty of music will be available,  including Tyler Stephens on Thursday night, September 7 and Coal Town Dixie on Friday, September 8. On Saturday night, September 8 Terry Turner's Tribute To Elvis Show will wrap up performances by around ten different groups at the Gingerbread Festival." Visitors can also enjoy food booths, arts and crafts, a Saturday parade at 1 p.m. and a gingerbread baking contest. You might want to check out the "Womanless Beauty Pageant" set to start at 3:45 Saturday afternoon.   Poage Landing Days will be Sept. 15-17 in downtown Ashland. Events include dog and trailer teams competing for cash, prizes, and ribbons. A popular new game, Pickleball, will be played and on display. Music will be by Jessie Keith Whitley, son of Keith Whitley. Also Don Rigsby, famed Bluegrass performer will headline on Sunday,  September 17 at 5 p.m.  Other regional acts will be featured throughout. Other special events will be a Fiddle Fest, arts and crafts, car show, 5K Run and more.   The Mountain Heritage Festival  will be held Tuesday, September 19 thru Saturday, September 23 in downtown Whitesburg. The festival was started in 1982, and features live music, plenty of crafts,a carnival, and food booths. Country artist Brian Davis will headline the event with a live show Saturday, September 23.
A Huntington, WV Party On the Patio/Eat In the Street
Heritage Station | 210 11th St | 7 pm
It's been years since Willie Phoenix packed the house at Calamity, but get ready Huntington, Willie's coming back to Rock your Socks off! It's all happening August 25th as the Park District and IHeart media partner to present Party on the Patio / Eat in the Street on 11th Street at Heritage Station! This Party starts at 7…. Grab a bite from one of the great food vendors and be ready to get your Blues on! Kicking off the Party is Chris Sutton with C & S Railroad warming up the crowd and the stage for the return of the legendary Willie Phoenix! Great Food, Great Music, Ice Cold Beer and Free Admission!
State Fair Exhibit By Eastern Kentucky Expanded
The 2017 Kentucky State Fair is scheduled for August 17th through the 27th, and this year, Eastern Kentucky tourism offices plan on having the largest booth in the Pride of the Counties showcase. Pike County, Paintsville, Ashland and Mount Sterling will be sharing the Eastern Kentucky booth, which will be twice as large as last year's booth. Focusing on the US 23 Country Music Highway, and the individual entertainment, outdoor and heritage offerings of each region, this year's booth will the largest exhibit ever featured in Kentucky State Fair Pride of the Counties history. As with last year's booth, this year will feature entertainers, artists and historians, all giving fairgoers a taste of the unique flavor of Eastern Kentucky. "We are focusing on experiences," said Tony K. Tackett, Pike County Tourism CVB Executive Director. "We want the potential visitor to know that when you travel along the Country Music Highway, you are in for unique and special experiences that you cannot get anywhere else." Last year's booth from Eastern Kentucky won the Best Exhibit Award.
Heritage Farm in Huntington Invites Tourists Each Saturday
Heritage Farm is extending their primary event, the "Way Back Weekends" to include every Saturday from May to December, with a different theme celebrated every month! Admission to every Saturday from May to December is the same price – $12 for adults, $10 for seniors, $8 for youth (under 3 free) or buy our Annual Saturday Pass for the whole year! One of the oldest named regions of the United States, Appalachia is known for its mountains, its people, its culture, and much more. Experience the infamous Hatfields and McCoys feud, listen to some mighty fine old-time music, and sit a spell on the spacious front porch! August 19        Southern Ohio Wolf Sanctuary Expect; four museums (Progress, Transportation, Country Store, and either the Doll or Industry Museum,) Blacksmith Shop, Artisans, Children's activities, including the Hands-On Activity Center, the Petting Zoo, MakerSpace, and the Six Simple Machines Discovery Zone, Wagon Rides and "Our Daily Bread" Cafe will be open and serving food in the village. Check out www.heritagefarmmuseum.com or call 304) 522-1244 for featured activity, group rates, and more information.
Friday Night, August 4 from 6 to 10 p.m

Elkhorn City's Night Market Returns for The Second Year
​​​​​​​​
Festival of Glass August 4-5, 2017
This event is hosted by the legendary Blenko Glass Factory in Milton, West Virginia, about four miles east of the Huntington Mall,. A selection of classes are offered for all ages within the factory. From hot glass to crafts with wood, glass and glue for youngsters. Special prices, tours, signing event and family activities are all in effect. Classes fill quickly.  Annual commemorative medallions will be given out free with purchase of any item $10 or more or (sold separately for $10) Get the full story at www.blenko.com.
Ever felt
FEED SACK RICH?

See our newest feature article below…..
Kids Fun Day Is Saturday, July  29 at Ashland's Highlands Museum
A day full of activities especially aimed at kids happens Saturday, July 29 at the Highlands Museum and Discovery Center on Winchester Avenue in downtown Ashland. Young people can enjoy Des Coveries Wild Animal Shows, Ronald McDonald, and magician Gary Boothe. Other special guests will include Spiderman and Captain Jack Sparrow. Admission is $5.00 with ages 2 and under get in free. Parking will be available behind the newly remodeled museum in the 17th St. parking garage. For more details on Kids Fun Day, please phone 606-329-8888.
Van Lear To Shine During 2017
Town Celebration August 4 & 5
The people who grew up in Van Lear, Loretta Lynn's old home town and coal camp in southeastern Johnson County, recall life there as peaceful, friendly, and neighborly. Everyone was a part of the town's coal mining industry. The Van Lear Town Celebration began as a reunion for all who had ties to this model coal community. The 2017 Town Celebration is always held during the first Saturday of August. This year it will be Friday, August 4 and Saturday, August 5. Attractions will include a lot of live music , food, crafts, a car show, parade, men and women's cornhole tournament, tours of the Coal Miners' Museum and more. Van Lear has consistently drawn thousands of tourists annually, since it is where visitors can see and tour Loretta Lynn's actual home place. Just down the road is the old #5 Company Store, now restored and operated by her brother, Herman Webb. The current Coal Miners' Museum building was once the actual company headquarters for Consolidated Coal Company in the heyday of Van Lear's Coal Industry. Inside there is a full restored diner from the 40s era, known as Icky's. A replica of the town is on the second floor of the museum. In the top floor is a triple brick-lined vault where the coal company stored its money. There's a lot to see and do in Van Lear, especially during Van Lear Days 2017!
Below is a partial view inside the 40s styled Icky's restaurant located on the ground floor of the Coal Miners' Museum in Van Lear, Ky. The world renowned home town of Loretta Lynn and Crystal Gayle. Also see a shot of the Coal Miner's Museum building.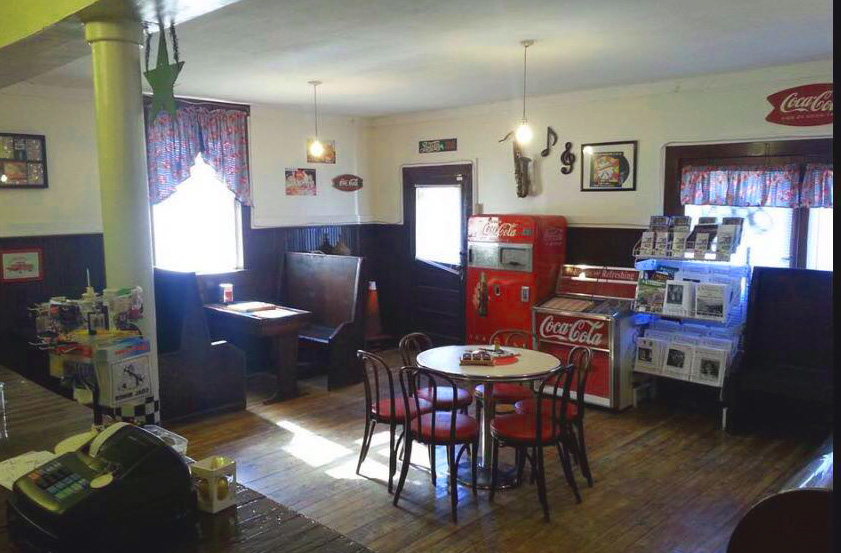 Remember Older Products With Practical Benefits? Feed Sacks , Free Dishes , and Collectible Containers
From the turn of the century, lasting until the eary 60s Americans would routinely re-use product containers, and shop for popular products containing free gifts such as dishes. Peanut butter cans, yes tin cans originally, were saved. People would save cans that once contained legendary Prince Albert tobacco and some would place them atop their mailboxes to let the mailman know to pick up outgoing mail. Flour companies serving eastern Kentucky would put new plates inside their sacks of flour, as housewives collected the entire sets over time. One of the most remembered extra-value items collected by everyday citizens was feed sacks. Feed companies selling bags of middlings, made of finely ground wheat and other ingredients and fed to young pigs and hogs required tightly woven cloth to seal in the contents, Over time the feed companies realized that attractive fabrics that families could later use to make make numerous items like clothes, quilts.
An old photo showing the beautiful patterns, unfortunately in black and white.
A retired Pike County English teacher named Cathy Bartley has written a sweet children's book called Feed Sack Rich. Her book describes a large crowd of women in the Pike County community of Marrowbone who would gather early Thursday morning for the regular shipment of animal feed.  The food was important to the families there, but so were the eye-catching sacks they were packed in.  There was a good variety of prints and patterns on these bags. Sacks for sugar, flour, hams, sausages, seed, and fertilizer took over for barrels and boxes around 1857.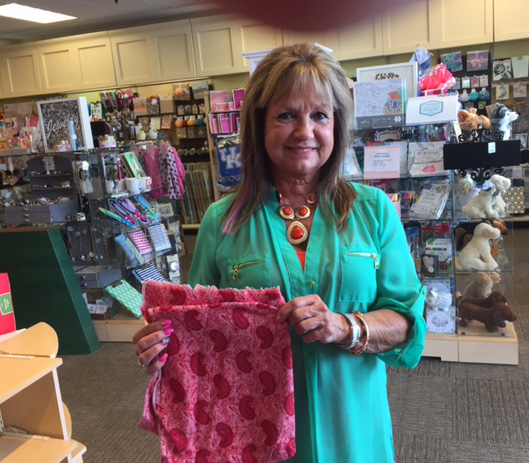 Author Cathy Bartley knows about the wonderful blessing of feed sacks in her grade school days.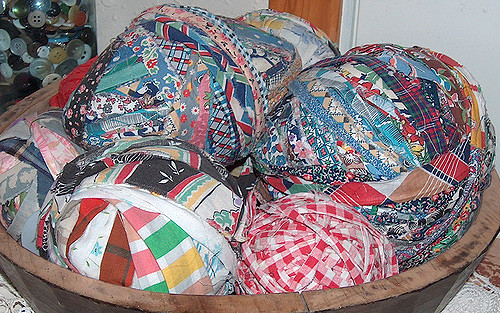 They were all picked out by this group of customers as they would strive to get the better of the feed sack patterns of the day ahead of a neighbor. In a few areas served by different feed suppliers, the sacks were not as elaborate, but were still made of the finely woven muslin fabric that was a bone white or nearly ivory color. The feed company would print their name on the feed sacks, but with a good bleaching, all you had left was the desired fabric to have the neighborhood seamstress turn into a usable garment for a quarter or a bit more. Medium florals, large florals, polka dots, stripes, plaids, solids and ornate designs were manufactured. Themed prints for gardening and kitchens were common, along with hankie and border print feed sacks as well. Some feed sack prints were designed for specific seasons and months, and there were even prints highlighting different geographic areas. Pop culture was not ignored by the feed sack fabric manufacturers either — it's possible to find Disney-themed feed sacks, including Alice in Wonderland, Mickey Mouse and Donald Duck. A Gone with the Wind design was even created and well circulated.! The fabric from these bags was used to make clothing, quilts, pillowcases, diapers,  and items such as curtains, dish towels and aprons, up until the early 1960s, when most of the fabric bags were replaced with paper ones. 1850s stuff shipped in barrels and boxes. Then plain fabric feed sacks began to appear, for flour, seed, sugar, flour, hams, sausages, and fertilizer. Materials were available in U. S., U. K. and Canada Many patterns were specific to a region, and would be seasonal. Gone with the wind  Disney characters, etc. The beloved feed sacks finally went away in the sixties replaced by paper sacks.
FEED SACK RICH IS AVAILABLE BY REQUEST AT 606-432-4963  or for more information by e-mail at cathybartley@suddenlink.net
FUN AWAITS AT THE BOYD
COUNTY FAIR WEST OF ASHLAND
The Boyd County Fair happens July 11 thru 15 west of Ashland on the fairgrounds off U. S. 60
There's live music, livestock, wrestling, a rodeo, a pageant, sporting events, and motorsports.
Music includes gospel groups, The Perry Sisters and Gold City Thursday, July 13. On Friday, July 14 its Blue Highway, and then Saturday, fans will hear from Tyler Booth and The Asphalt Outlaws.
Music for Thursday and Friday begins at 7 p.m. For Saturday it all starts at 6:30 p.m.
Fundraiser will help showcase the Highway's up-and-coming talent
The 2017 Under the Fireworks at the Hilton Garden Inn event generated $4800 in funds that will go toward showcasing Eastern Kentucky artists at the Kentucky State Fair, 2017. This event was made possible by Pikeville Food City, the Hilton Garden Inn of Pikeville, and Pike County Tourism CVB.The event was sponsored by Appalachian News-Express, Appalachian Wireless, Billy Johnson Law Firm, Community Trust Bank, Eureka Energy Corporation, Gary C. Johnson, PSC, Judi Conway Patton, Shane Hall Attorney at Law, PLLC, Southeast Kentucky Chamber of Commerce, Southside Wine & Spirits, Tony K. Tackett and The Inn at Wise. Eastern Kentucky performers Jason Goble, Jessie Rachelle and Jim Hunt and the Jaguars provided entertainment for the event. The funds generated by the sponsors of this event will be used to pay for the travel expenses for Eastern Kentucky performers and hand-to-eye artists to be featured at the Eastern Kentucky "Pride of the Counties" booth at the Kentucky State Fair, 2017.
"The state fair sees hundreds of thousands of attendees from across the world, offering a great opportunity for Eastern Kentucky stars to shine," said Tony K. Tackett, Executive Director of Pike County Tourism CVB. "Our community businesses have really stepped up this year, and we are so grateful that they have supported these wonderful artists." "At the end of the day, it is all about showcasing what Eastern Kentucky offers," said Jay Shepherd, Pike County Tourism CVB Marketing Director. "We want to let our visitors know that our region is a hotbed of talent, and we offer high quality entertainment in addition to all of our other attractions." Readers that wish to support showcasing Eastern Kentucky talent at the Kentucky State Fair may contact Pike County Tourism CVB for details, (606) 432-5063. Donations are still being accepted.

Lonestar and Kelsie May will be on stage July 4 at Ashland River Port.
Summer Motion In Ashland Offers Family Events and Live Music
The 29th Summer Motion in Ashland, Ky. Will run June 30 thru July 4. A main feature of Sumer Motion is offering largely free family entertainment since all concerts are without admission charges. Sheila Fraley, a co-chair of the 2017 Summer Motion Festival says the event has come a long way since it began as the former Tri-State Fair and Regatta. "The event used to began in Ironton, then was held for the second week in Ashland, and the third week was in Huntingon, WV." Fraley's involvement with Summer Motion goes back seven years. There will be  music by local bands and performers at Central Park for 3 days during the festival, and the headliner music shows will be at the banks of the Big Sandy River from a floating stage. Summer Motion will include a carnival, 10K Race that will invite donations of canned food for River Cities Harvest, food vendors, games, and a car show. Music begins at the Ashland River Port with Contemporary Christian Night on Monday July 3 featuring groups Cypress and Cedar followed by Matthew West. On Tuesday, July 4 rising Country Music Highway star Kelsie May from Louisa takes the stage, followed by country supergroup  Lonestar. The Tri-State's largest fireworks display will immediately follow the July 4th evening's music above the Ohio River at 10:30 p.m.. Fraley and fellow co-chair Ruby Deerfield invite everyone to this year's Summer Motion. Both ladies work at Marathon in Catlettsburg. A new attraction this year will be key participants in the TV Show Mountain Monsters.  This show focuses on the search for Bigfoot and other mysterious sighting reports about scary beings some believe dwell in our forests. For further information, go online at www.summermotion.com.
Huntington's Garden Party Artist Market Set For Saturday, June 24
Heritage Station | 210 11th St | 10am – 3pm The Red Caboose beside Heritage Station, 210 11th Street will host its Garden Party Artist Market on Saturday, June 24th, from 10:00 AM – 3:00 PM. The market will occupy the Cabell-Huntington Convention & Visitors Bureau's meeting space at Heritage Station and spill out onto the sidewalk to include an open air market. Twenty Red Caboose artisans and authors will be on hand selling and discussing their work. Stop by the craft table and make your own garden party accessory! Thomas Teas of Charleston, WV will offer tea tastings throughout the event. The Artist Market is free and open to the public. While you are at Heritage Station visit the other locally-owned shops. Grab a cup of coffee at River and Rail Bakery or Butter It Up, explore the fashions and accessories at Birds of a Feather, and peruse the artisan products at Full Circle Ceramic and Brand Yourself.
State Grant Will Propel Louisa Riverwalk Construction
Louisa has been awarded $312,200 for their long sought Riverwalk Project. The Rediscover Louisa Riverwalk will tie in the existing sidewalks with a walkway beside the river and will provide several outlets when complete. The announcement came from Kentucky Governor Matt Bevin in early June.
The 24th "Shelby Railroad Reunion Homecoming"
Is In Pike County Saturday, June 24
Shelbiana, KY — Pike County is home to a rich railroad tradition. Each year, eastern Kentucky railroaders, along with their friends and families gather at the beautiful Grace Baptist Church on the hill in Shelbiana to reminisce of the old railroad days and honor the memories of those who worked on the tracks that built America. This year's event will be held Saturday, June 24th. Everyone is i
nvited to this event; feel free to bring your favorite dish. This event will be held indoors at the church, with doors opening at 9:30 a.m. Visitors are also welcome to "A Time to Reflect", a great opportunity to fellowship and share golden memories This year, 4 more college scholarships will be awarded to deserving high school seniors. William "Bill" Clark Enterprises and the Shelby Reunion Committee make these scholarships possible. Collis P. Huntington will again return as a sponsor and will provide two tickets on Amtrak's "New River Excursion" valued at $450.00. The trip leaves Huntington, goes to Hinton, WV and will take place in the fall. A flat screen TV will also be awarded by drawing. The Shelby Railroad Reunion homecoming committee will honor Pike County Tourism CVB and board members for their years of commitment to the Shelby Railroad Reunion. You must be registered and be present to be awarded any prizes. Drinks will be provided. View old railroad pictures and railroad artifacts, which will be on display. Bring your old pictures; join in the fun and great food. The purpose of this event is two-fold; to remind us of our railroad heritage and to generate funds to continue providing scholarships to worthy recipients. More than 30 scholarships have been awarded to date. The Shelby Railroad Reunion Homecoming is a 501C3 non-profit organization. If you would like to donate, it is tax deductible. Send check to Shelby Railroad Reunion, P.O. Box 496, Shelbiana, KY 41562.
Tennessee Bar Association Convention Hears Hatfield-McCoy Information
From Direct Descendants June 14-17
The Hatfield-McCoy Feud has recently been the focal point of the Tennessee Bar Assoication  Annual Convention. The event occurred June 14 thru June 17 at the Meadowview Mariottt in Kingsport, TN. The members of the Bar Association were personally moved  by the way the speakers elaborated about this legendary feud, shedding new light and knowledge about an American conflict that entangled two states and dozens of family members on both sides. They summarized the events that led to the end of this feud and where the families are today, and their modern relationship. Speakers were direct descendants, William Keith Hatfield, a great grandson of Hatfield family patriarch, "Devil Anse" Hatfield,  and Ron McCoy, third-great grandson of Randolph McCoy,  the rival family leader. They also heard from Bob Scott, a Hatfield descendant and owner of the original McCoy property in the Pike County Community of Hardy. Over 200 members of the legal profession in Tennessee heard intricate details of the famous feud, including future plans for rebuilding the McCoy Cabin that was burned by the Hatfields in the 1888 New Years Day Massacre. Presently, the water well is all that remains along with a few relics of burnt wood. William Keith Hatfield is the pastor of Charity Baptist Church in Tulsa, Oklahoma, and has served in this position for 36 years. He and wife, Sharon, have six children and fifteen grandchildren. Ron McCoy was a key organizer of the 2003 Hatfield-McCoy Truce. Bob Scott is a board member of the Pike County Tourism Convention and Visitor's Bureau, and is an active promoter of the Feud tours and the historical attractions that have recently evolved around it. Pike County CVB Executive Director Tony Tackett moderated a lively question and answer session at the Tennessee convention, and noted the story of the Hatfields & McCoys is something we "should never forget". Tackett acknowledged the many successes surrounding the developments that have transformed this colorful part of American history into a major east Kentucky and southwestern West Virginia tourist attraction.
PIKEVILLE IS INCLUDED IN KY.
TOURISM'S 99 DAYS OF SUMMER
A notable accolade for Pike County Tourism is the inclusion in Kentucky Tourism's 99 Days Of Summer. The overall campaign is being handled at the state level, with an interactive calendar and page that isolates 99 premier attractions across the Commonwealth. The Hatfield and McCoy Heritage Days September 22-24, and a mention of the Zip, Paddle, and Saddle opportunities are the particular points of interest to be covered on the Kentucky Tourism website,.
STAPLETON CONFIRMS HIS SATISFACTION WITH HIS CAREER, EVEN WITH BROKEN FINGER!
"I have everything I have ever wanted, or ever thought about having," this was the personal observation by Chris Stapleton during a recent national TV interview. Chris is introducing some new tunes around the country, like "Broken Halos", and "Either Way". He had a recent accident that caused him to reschedule some tour dates in June and July.

Reports are he broke an index finger on his right hand and injured a tendon. On his Facebook page, he says he will need therapy on the inured hand. He thanked everyone for their concern and well wishes.
Jewel City JAMboree  at Harris River Front Park Huntington, WV | Veterans Memorial Blvd & 10th st
JCJAM3 is a multi-genre music festival held at David Harris Riverfront Park along the beautiful Ohio River. Music, food, friendship and a celebration of our local heritage will take place May 26th & May 27th of 2017. From Bluegrass and Old Time to Americana, the Blues, Rock and Western Cowboy Swing with a little of all in between, makes this one of the most unique festivals of the season. JCJAM3 is a 100% not for profit show staffed entirely by volunteers. Besides the great venue, food and music, the show supports local charities for Veterans and 1st Respondents with its net profit. For a full lineup, tickets, and more information please visit www.jcjam3.com
Blenko Glass Garden Party at Milton, WV 9 Bill Blenko Drive |6 pm – 8pm  Friday, May 26
All guests can look forward to an evening of live music, elegant finger foods and  a "vintage" 1964 floral and glass garden. Chat with old and new friends in the garden or stroll about and enjoy the flowers and glass displays. At 7pm a Hat Parade will be conducted for those wishing to compete in our 1st ever Garden Party Hat Contest. Two categories will be judged to offer both a first and second place prize for Best hat in the Elegant category and in the Outlandish category. A total of four uniquely handmade Blenko glass hats will be awarded as prizes. Special glass made by Blenko for use in gardens and landscaping will be offered for sale both that evening and throughout Saturday in the Visitor Center store. The cost per person is $18 and is nonrefundable. In the event of rain the event will be held indoors. Only 80 tickets are available. Advance registration is required. Reservations can be made by calling us at 304-743-9081.
US 23 Yard Sale Is Set to Go
The 2017 U.S. 23  Country Music Highway Yard Sale will operate Thursday, Friday and Saturday, May 25 thru May 27.
The Kentucky portion of the highway, running from Greenup County to Letcher County is open to sellers for this special annual event. It's important to understand that although sales and setups are encouraged all along the highway,  care should be taken to position items displayed off of the state right-of-way. Participants must receive permission from landowners. Those participating are asked to mark their yard sale area with orange balloons
Loretta Lynn Hospitalized
May 4 Following Stroke
The week of May 20, reports from Nashville are that the 85-year-old Country Music Highway icon has been released from the hospital with expectations she can fully recovery from a Thursday evening, May 4 stroke. The event occurred at her home in Hurricane Mills, Tennessee. Sister Crystal Gayle thanked fans for their prayers and well wishes. Lynn is being encouraged to rest and stop working for a while. She was described after being hospitalized as responsive and alert.
Come to the Knott County Spring (and Fall) Trail Ride, Rodeo, and Live Music Extravaganza featuring Country Star John Anderson May 4-6!
The Knott County Spring Trail Ride is scheduled Thursday, May 4 thru Saturday, May 6 at the 50,000 acre mountaintop site just off Ky. 80 about seven miles north of Hindman.
This year, horse owners and enthusiastic riders will form their own self-contained community complete with live music, vendors, and a full calendar of activities.
Participants come from across the nation and throughout the four-state immediate area.
New this year is a Rodeo.
This site is a former strip mine that has been named the Mine Made Adventure Park and offers a huge expanse of essentially flat, reclaimed land for riding, camping, sightseeing, and enjoyment of the live music and rodeo.
Stapleton Is Now an Official
U. S. 23 Superstar A little more than a year has passed since the decision to add superstar Chris Stapleton's name to the U. S. 23 Country Music Highway road signs at the north and south entrance to his Johnson County home, but Kentucky Transportation employees erected the new sign on Friday, April 21.
Hillbilly Days To Feature Two
Chris Stapleton Shows
At Expo Center Hillbilly Days for 2017 will happen April 20 thru 22 in Pikeville, Ky. Hillbilly Days is Kentucky's second largest festival. A main event for this year's festival is two shows from country music sensation Chris Stapleton.  Adding to the appeal of Stapleton's two sellout shows is the fact he is from the Country Music Highway,  of which Pike County is a major part. Stapleton hails from the Johnson County community of Staffordsville, and is a graduate of Johnson Central High School where he was a football player and class valedictorian. There will be plenty of live music, specialty and food booths, a parade on Saturday, a car show and many other great events to enjoy.
Diamond Divas – A Night Against Domestic Violence Barboursville Holiday Inn & Suites | 3551 US Route 60 E | Barboursville | 6 pm
Tickets are on sale now! Call or stop by the Holiday Inn, Huntington CVB, Barboursville CVB, and Kenzington Alley! $15 in advance/$20 at the door! Event will have mini manicures & pedicures, massages, complimentary apps, a fashion show, great music, drink specials, and over 20 vendors
Huntington Harmonica Club Jam Gino's Pub | 2501 5th Ave | 7 pm – 9 pm
The Huntington Harmonica Club hosts its weekly jam from 7 to 9 p.m. every Tuesday at Gino's Pub. The group, which formed up back in August 2001, has been making a joyful noise weekly ever since. Everyone is invited to play. Visit, listen and hang at the Pub (which has a newly renovated game room) or jam and learn to play everything from folk and rock to rhythm and blues.
Go online at http://www.hhcwv.com/ to find out more about the Harmonica Club.
        Huntington's Ritter Park Hosts Easter Egg Hunt and More
This egg hunt has a special twist, it is for dogs!  Called the Paws in the Park Easter Egg Hunt,  you are invited to bring your leashed dog to search for eggs filled with dog treats.  This cute event is set for Friday April 7 at 6:00 p.m.

The first ever Maple Syrup Festival at Savage Farms in Northwest Lawrence County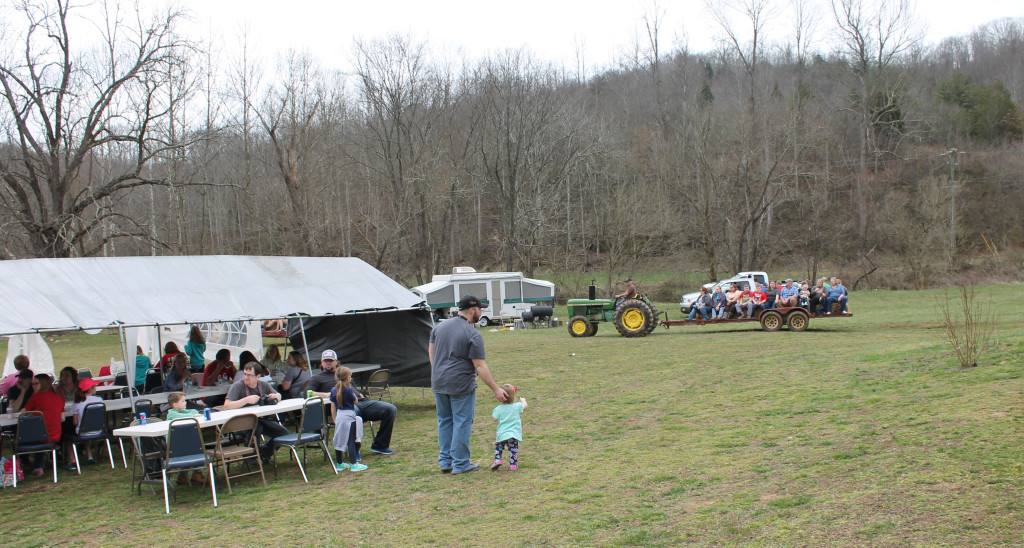 Folks were treated to a tractor-drawn wagon ride into the hills to see first hand how the sap from Maple trees was withdrawn through long light blue tubes.  Food, vendors, and live music entertained hundreds of visitors.

Kelsie May Signs Record Deal, Performs at Mt. Arts Center
Nashville Video Project Is Next April 2
Kelsie May of Louisa has remained a hard-working singer and songwriter since she made a big splash in 2015 on Season 8  of NBC's The Voice. She announced Friday evening, February 24 live from her Facebook page that big things had been happening on her road to stardom and continued accomplishment in the music business. During Kelsie May's live Facebook announcement, she said "I will be shooting a video on April 2, in Nashville, and will use four individuals who registered to win an appearance in the video during her March 18 concert. A special press conference and Launch Party happened Saturday, March 18 at around 6 p.m. and preceded her first show of the year at the Mountain Arts Center in Prestonsburg. "Co-headlining my own show there is awesome," she said.  My first single with my new record label is called "Drivin'". She completed a signing with the Blue Sapphire record label of Canada in February of this year. Blue Sapphire is also an affiliate of Universal Music Group, a worldwide operation. She has just released an EPM titled "Love Is Where You Find It".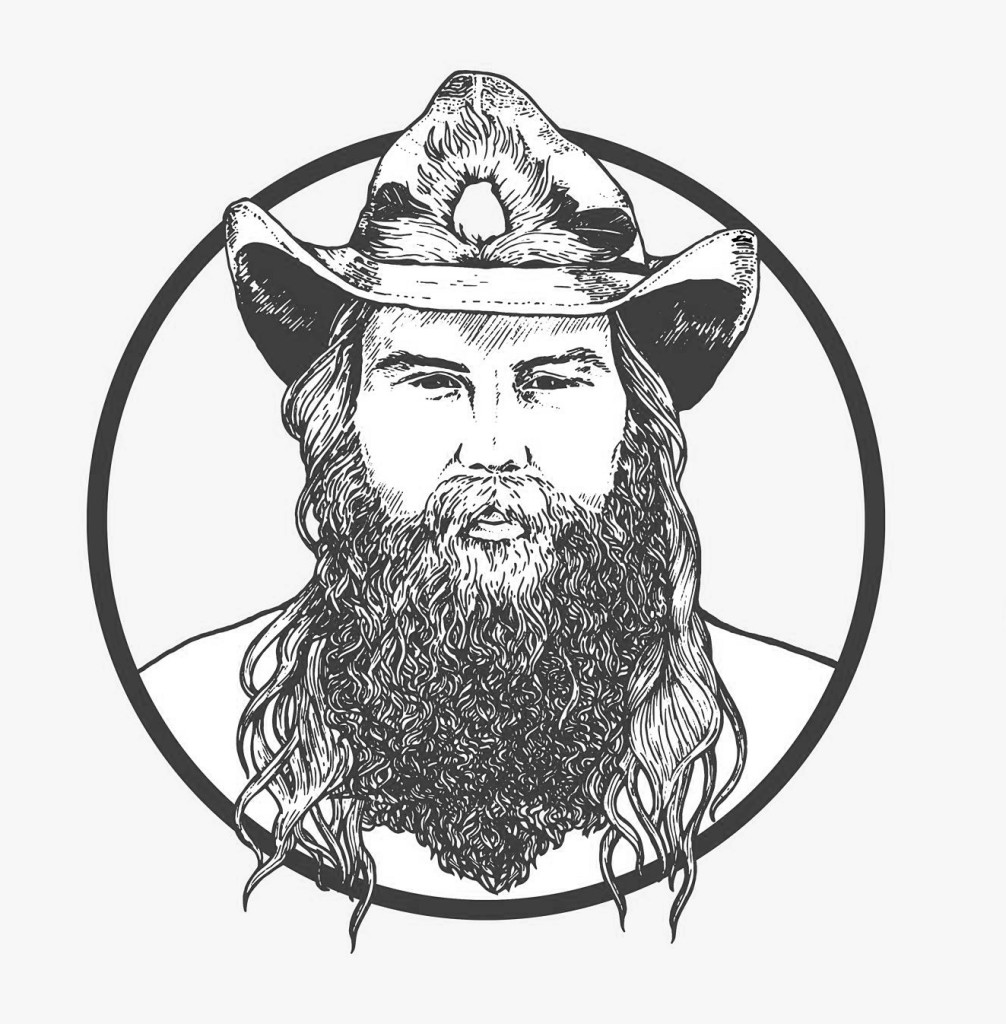 Stapleton Coming For Two
Expo Center Shows
Chris Stapleton nominated in three categories for the 52nd annual ACM Awards
He will be doing two sellout shows at the East Kentucky Expo Center on April 20 and 21 as part of the Hillbilly Days spring festival. His ACM nominations are for Male Vocalist Of The Year, "Tennessee Whiskey" was tagged as a possible "Song of the Year", and the song video for "Fire Away is in the running for "Video Of The Year." CBS will air the awards show from Las Vegas on April 2 at 8 p.m. EDT.

Sturgill Simpson Has East Ky. Roots
Sturgill  Simpson has earned a Grammy and a Grammy nomination at this year's 59th awards show. His success points to the rich talent to be found in eastern Kentucky, near our Country Music Highway. His birthplace is Jackson in Breathitt County. He graduated from Woodford County High School in Versailles. "A Sailor's Guide To Earth" captured the Grammy for Best Country Album, and had a nomination as Album Of The Year. This was his third album produced in studio.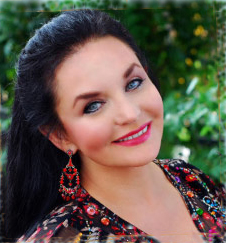 Crystal Gayle Inducted Into Grand Ole Opry 
Country Music Highway superstar Crystal Gayle was surprised during her November 15 Grand Ole Opry performance with Carrie Underwood with an invitation to become an official Grand Ole Opry member. The legendary Grand Ole Opry is in its 91st year and a membership is a top honor offered only to a select group of top artists of country music. She had just completed a duet with Underwood on the Opry stage of her signature Grammy winning song, Don't It Make My Brown Eyes Blue when she was invited to join. Her famous sister, Loretta Lynn, has been a Grand Ole Opry member since 1962. Gayle (Brenda Gail Webb) was formally inducted into the Opry on Jan. 21, 2017 by her legendary sister. Crystal Gayle first sang at the Opry at age 16 at the old Ryman Auditorium by singing "Ribbon of Darkness". On the night she was invited after their duet before a sellout crowd, Underwood spoke these words to Crystal Gayle, "You are an inspiration to so many of us. You are important to country music, and you are important to the Opry, which is why I was asked tonight to ask you if you would like to join our Opry family officially." She smiled and gave Underwood a hug as she accepted. Big sister Loretta Lynn was an early member of the Grand Ole Opry back in 1962. She made the induction official as the two stood on the Opry stage Saturday, January 21.  Pete Fisher, Opry Vice President and General Manager commented, "For more than half of the Opry's 91 years, Crystal Gayle has been lending her signature vocals to Opry shows and connecting with Opry audiences as well as with everyone backstage. She is family, and we are very excited. Crystal Gayle's latest honor is in addition to being a Grammy winner,  CMA Female Vocalist of the Year in 1977 and 1978, ACM Female Vocalist Of the Year in 1976, 1977, and 1979, she has a star on the Hollywood Walk Of Fame, and has been inducted into the Kentucky Music Hall Of Fame. Crystal has a singing presence and style considerably different from Loretta, and enjoyed wide acceptance as a performer who was able to be a key crossover artist. She was the first female country artist to have a platinum album with "We Must Believe In Magic".  She has had 20 Number One hits. Crystal Gayle made her Opry debut when she substituted for Loretta Lynn who had been too ill make her scheduled appearance.