Lonestar and Kelsie May will be on stage July 4 at Ashland River Port.
Summer Motion In Ashland
Offers Family Events and Live Music
The 29th Summer Motion in Ashland, Ky. Will run June 30 thru July 4. A main feature of Sumer Motion is offering largely free family entertainment since all concerts are without admission charges.
Sheila Fraley, a co-chair of the 2017 Summer Motion Festival says the event has come a long way since it began as the former Tri-State Fair and Regatta.
"The event used to began in Ironton, then was held for the second week in Ashland, and the third week was in Huntingon, WV."
Fraley's involvement with Summer Motion goes back seven years.
There will be  music by local bands and performers at Central Park for 3 days during the festival, and the headliner music shows will be at the banks of the Big Sandy River from a floating stage.
Summer Motion will include a carnival, 10K Race that will invite donations of canned food for River Cities Harvest, food vendors, games, and a car show.
Music begins at the Ashland River Port with Contemporary Christian Night on Monday July 3 featuring groups Cypress and Cedar followed by Matthew West.
On Tuesday, July 4 rising Country Music Highway star Kelsie May from Louisa takes the stage, followed by country supergroup  Lonestar. The Tri-State's largest fireworks display will immediately follow the July 4th evening's music above the Ohio River at 10:30 p.m..
Fraley and fellow co-chair Ruby Deerfield invite everyone to this year's Summer Motion. Both ladies work at Marathon in Catlettsburg.
A new attraction this year will be key participants in the TV Show Mountain Monsters.  This show focuses on the search for Bigfoot and other mysterious sighting reports about scary beings some believe dwell in our forests. For further information, go online at www.summermotion.com.
Huntington's Garden Party Artist Market Set For Saturday, June 24
Heritage Station | 210 11th St | 10am – 3pm
The Red Caboose beside Heritage Station, 210 11th Street will host its Garden Party Artist Market on Saturday, June 24th, from 10:00 AM – 3:00 PM.
The market will occupy the Cabell-Huntington Convention & Visitors Bureau's meeting space at Heritage Station and spill out onto the sidewalk to include an open air market.
Twenty Red Caboose artisans and authors will be on hand selling and discussing their work. Stop by the craft table and make your own garden party accessory! Thomas Teas of Charleston, WV will offer tea tastings throughout the event.
The Artist Market is free and open to the public.
While you are at Heritage Station visit the other locally-owned shops. Grab a cup of coffee at River and Rail Bakery or Butter It Up, explore the fashions and accessories at Birds of a Feather, and peruse the artisan products at Full Circle Ceramic and Brand Yourself.
The 24th "Shelby Railroad Reunion Homecoming"
Is In Pike County Saturday, June 24
Shelbiana, KY — Pike County is home to a rich railroad tradition. Each year, eastern Kentucky railroaders, along with their friends and families gather at the beautiful Grace Baptist Church on the hill in Shelbiana to reminisce of the old railroad days and honor the memories of those who worked on the tracks that built America.
This year's event will be held Saturday, June 24th.
Everyone is invited to this event; feel free to bring your favorite dish. This event will be held indoors at the church, with doors opening at 9:30 a.m. Visitors are also welcome to "A Time to Reflect", a great opportunity to fellowship and share golden memories
This year, 4 more college scholarships will be awarded to deserving high school seniors. William "Bill" Clark Enterprises and the Shelby Reunion Committee make these scholarships possible. Collis P. Huntington will again return as a sponsor and will provide two tickets on Amtrak's "New River Excursion" valued at $450.00. The trip leaves Huntington, goes to Hinton, WV and will take place in the fall. A flat screen TV will also be awarded by drawing.
The Shelby Railroad Reunion homecoming committee will honor Pike County Tourism CVB and board members for their years of commitment to the Shelby Railroad Reunion. You must be registered and be present to be awarded any prizes. Drinks will be provided.
View old railroad pictures and railroad artifacts, which will be on display. Bring your old pictures; join in the fun and great food. The purpose of this event is two-fold; to remind us of our railroad heritage and to generate funds to continue providing scholarships to worthy recipients. More than 30 scholarships have been awarded to date.
The Shelby Railroad Reunion Homecoming is a 501C3 non-profit organization. If you would like to donate, it is tax deductible. Send check to Shelby Railroad Reunion, P.O. Box 496, Shelbiana, KY 41562.
Tennessee Bar Association Convention
Hears Hatfield-McCoy Information

From Direct Descendants June 14-17
The Hatfield-McCoy Feud has recently been the focal point of the Tennessee Bar Assoication  Annual Convention.
The event occurred June 14 thru June 17 at the Meadowview Mariottt in Kingsport, TN.
The members of the Bar Association were personally moved  by the way the speakers elaborated about this legendary feud, shedding new light and knowledge about an American conflict that entangled two states and dozens of family members on both sides.
They summarized the events that led to the end of this feud and where the families are today, and their modern relationship.
Speakers were direct descendants, William Keith Hatfield, a great grandson of Hatfield family patriarch, "Devil Anse" Hatfield,  and Ron McCoy, third-great grandson of Randolph McCoy,  the rival family leader. They also heard from Bob Scott, a Hatfield descendant and owner of the original McCoy property in the Pike County Community of Hardy.
Over 200 members of the legal profession in Tennessee heard intricate details of the famous feud, including future plans for rebuilding the McCoy Cabin that was burned by the Hatfields in the 1888 New Years Day Massacre. Presently, the water well is all that remains along with a few relics of burnt wood.
William Keith Hatfield is the pastor of Charity Baptist Church in Tulsa, Oklahoma, and has served in this position for 36 years. He and wife, Sharon, have six children and fifteen grandchildren.
Ron McCoy was a key organizer of the 2003 Hatfield-McCoy Truce. Bob Scott is a board member of the Pike County Tourism Convention and Visitor's Bureau, and is an active promoter of the Feud tours and the historical attractions that have recently evolved around it.
Pike County CVB Executive Director Tony Tackett moderated a lively question and answer session at the Tennessee convention, and noted the story of the Hatfields & McCoys is something we "should never forget". Tackett acknowledged the many successes surrounding the developments that have transformed this colorful part of American history into a major east Kentucky and southwestern West Virginia tourist attraction.
PIKEVILLE IS INCLUDED IN KY.
TOURISM'S 99 DAYS OF SUMMER
A notable accolade for Pike County Tourism is the inclusion in Kentucky Tourism's 99 Days Of Summer. The overall campaign is being handled at the state level, with an interactive calendar and page that isolates 99 premier attractions across the Commonwealth. The Hatfield and McCoy Heritage Days September 22-24, and a mention of the Zip, Paddle, and Saddle opportunities are the particular points of interest to be covered on the Kentucky Tourism website,.
STAPLETON CONFIRMS HIS SATISFACTION WITH HIS CAREER, EVEN WITH BROKEN FINGER!
"I have everything I have ever wanted, or ever thought about having," this was the personal observation by Chris Stapleton during a recent national TV interview. Chris is introducing some new tunes around the country, like "Broken Halos", and "Either Way". He had a recent accident that caused him to reschedule some tour dates in June and July.

Reports are he broke an index finger on his right hand and injured a tendon. On his Facebook page, he says he will need therapy on the inured hand. He thanked everyone for their concern and well wishes.
Jewel City JAMboree  at Harris River Front Park Huntington, WV | Veterans Memorial Blvd & 10th st
JCJAM3 is a multi-genre music festival held at David Harris Riverfront Park along the beautiful Ohio River. Music, food, friendship and a celebration of our local heritage will take place May 26th & May 27th of 2017. From Bluegrass and Old Time to Americana, the Blues, Rock and Western Cowboy Swing with a little of all in between, makes this one of the most unique festivals of the season. JCJAM3 is a 100% not for profit show staffed entirely by volunteers. Besides the great venue, food and music, the show supports local charities for Veterans and 1st Respondents with its net profit. For a full lineup, tickets, and more information please visit www.jcjam3.com
Blenko Glass Garden Party at Milton, WV 9 Bill Blenko Drive |6 pm – 8pm  Friday, May 26
All guests can look forward to an evening of live music, elegant finger foods and  a "vintage" 1964 floral and glass garden. Chat with old and new friends in the garden or stroll about and enjoy the flowers and glass displays. At 7pm a Hat Parade will be conducted for those wishing to compete in our 1st ever Garden Party Hat Contest. Two categories will be judged to offer both a first and second place prize for Best hat in the Elegant category and in the Outlandish category. A total of four uniquely handmade Blenko glass hats will be awarded as prizes. Special glass made by Blenko for use in gardens and landscaping will be offered for sale both that evening and throughout Saturday in the Visitor Center store. The cost per person is $18 and is nonrefundable. In the event of rain the event will be held indoors. Only 80 tickets are available. Advance registration is required. Reservations can be made by calling us at 304-743-9081.
US 23 Yard Sale Is Set to Go
The 2017 U.S. 23  Country Music Highway Yard Sale will operate Thursday, Friday and Saturday, May 25 thru May 27.
The Kentucky portion of the highway, running from Greenup County to Letcher County is open to sellers for this special annual event. It's important to understand that although sales and setups are encouraged all along the highway,  care should be taken to position items displayed off of the state right-of-way. Participants must receive permission from landowners. Those participating are asked to mark their yard sale area with orange balloons
Loretta Lynn Hospitalized
May 4 Following Stroke
The week of May 20, reports from Nashville are that the 85-year-old Country Music Highway icon has been released from the hospital with expectations she can fully recovery from a Thursday evening, May 4 stroke. The event occurred at her home in Hurricane Mills, Tennessee. Sister Crystal Gayle thanked fans for their prayers and well wishes. Lynn is being encouraged to rest and stop working for a while. She was described after being hospitalized as responsive and alert.
Come to the Knott County Spring (and Fall) Trail Ride, Rodeo, and Live Music Extravaganza featuring Country Star John Anderson May 4-6!
The Knott County Spring Trail Ride is scheduled Thursday, May 4 thru Saturday, May 6 at the 50,000 acre mountaintop site just off Ky. 80 about seven miles north of Hindman.
This year, horse owners and enthusiastic riders will form their own self-contained community complete with live music, vendors, and a full calendar of activities.
Participants come from across the nation and throughout the four-state immediate area.
New this year is a Rodeo.
This site is a former strip mine that has been named the Mine Made Adventure Park and offers a huge expanse of essentially flat, reclaimed land for riding, camping, sightseeing, and enjoyment of the live music and rodeo.
Stapleton Is Now an Official
U. S. 23 Superstar A little more than a year has passed since the decision to add superstar Chris Stapleton's name to the U. S. 23 Country Music Highway road signs at the north and south entrance to his Johnson County home, but Kentucky Transportation employees erected the new sign on Friday, April 21.
Hillbilly Days To Feature Two
Chris Stapleton Shows
At Expo Center Hillbilly Days for 2017 will happen April 20 thru 22 in Pikeville, Ky. Hillbilly Days is Kentucky's second largest festival. A main event for this year's festival is two shows from country music sensation Chris Stapleton.  Adding to the appeal of Stapleton's two sellout shows is the fact he is from the Country Music Highway,  of which Pike County is a major part. Stapleton hails from the Johnson County community of Staffordsville, and is a graduate of Johnson Central High School where he was a football player and class valedictorian. There will be plenty of live music, specialty and food booths, a parade on Saturday, a car show and many other great events to enjoy.
Diamond Divas – A Night Against Domestic Violence Barboursville Holiday Inn & Suites | 3551 US Route 60 E | Barboursville | 6 pm
Tickets are on sale now! Call or stop by the Holiday Inn, Huntington CVB, Barboursville CVB, and Kenzington Alley! $15 in advance/$20 at the door! Event will have mini manicures & pedicures, massages, complimentary apps, a fashion show, great music, drink specials, and over 20 vendors
Huntington Harmonica Club Jam Gino's Pub | 2501 5th Ave | 7 pm – 9 pm
The Huntington Harmonica Club hosts its weekly jam from 7 to 9 p.m. every Tuesday at Gino's Pub. The group, which formed up back in August 2001, has been making a joyful noise weekly ever since. Everyone is invited to play. Visit, listen and hang at the Pub (which has a newly renovated game room) or jam and learn to play everything from folk and rock to rhythm and blues.
Go online at http://www.hhcwv.com/ to find out more about the Harmonica Club.
        Huntington's Ritter Park Hosts Easter Egg Hunt and More
This egg hunt has a special twist, it is for dogs!  Called the Paws in the Park Easter Egg Hunt,  you are invited to bring your leashed dog to search for eggs filled with dog treats.  This cute event is set for Friday April 7 at 6:00 p.m.

The first ever Maple Syrup Festival at Savage Farms in Northwest Lawrence County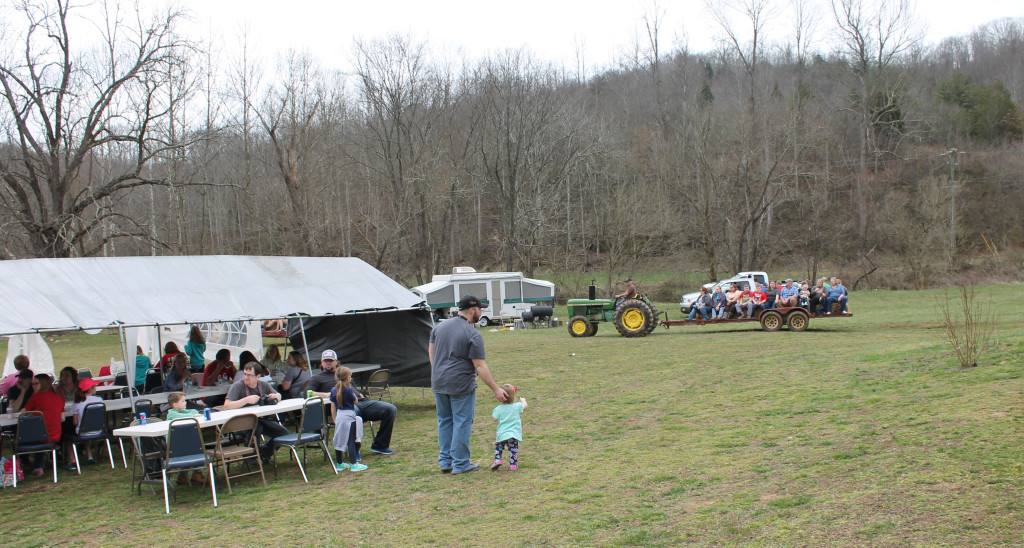 Folks were treated to a tractor-drawn wagon ride into the hills to see first hand how the sap from Maple trees was withdrawn through long light blue tubes.  Food, vendors, and live music entertained hundreds of visitors.

Kelsie May Signs Record Deal, Performs at Mt. Arts Center
Nashville Video Project Is Next April 2
Kelsie May of Louisa has remained a hard-working singer and songwriter since she made a big splash in 2015 on Season 8  of NBC's The Voice. She announced Friday evening, February 24 live from her Facebook page that big things had been happening on her road to stardom and continued accomplishment in the music business. During Kelsie May's live Facebook announcement, she said "I will be shooting a video on April 2, in Nashville, and will use four individuals who registered to win an appearance in the video during her March 18 concert. A special press conference and Launch Party happened Saturday, March 18 at around 6 p.m. and preceded her first show of the year at the Mountain Arts Center in Prestonsburg. "Co-headlining my own show there is awesome," she said.  My first single with my new record label is called "Drivin'". She completed a signing with the Blue Sapphire record label of Canada in February of this year. Blue Sapphire is also an affiliate of Universal Music Group, a worldwide operation. She has just released an EPM titled "Love Is Where You Find It".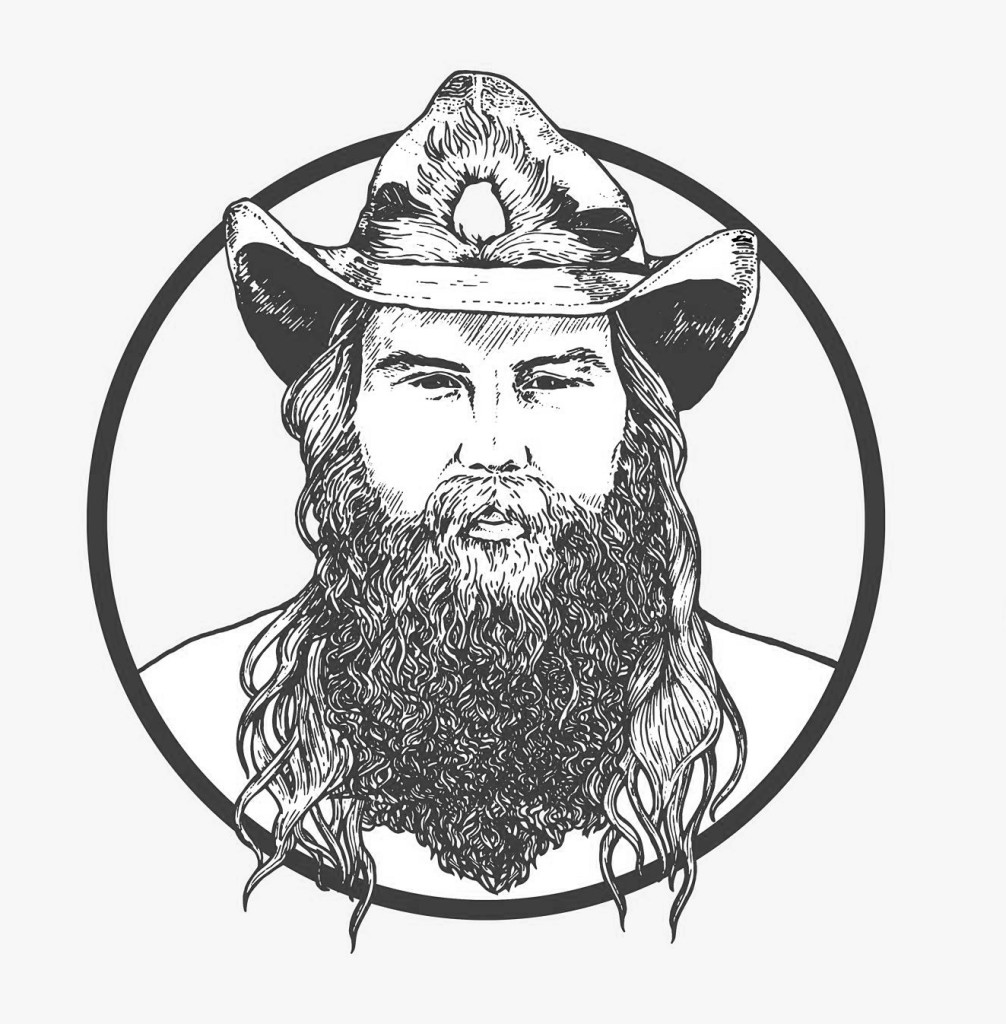 Stapleton Coming For Two
Expo Center Shows
Chris Stapleton nominated in three categories for the 52nd annual ACM Awards
He will be doing two sellout shows at the East Kentucky Expo Center on April 20 and 21 as part of the Hillbilly Days spring festival. His ACM nominations are for Male Vocalist Of The Year, "Tennessee Whiskey" was tagged as a possible "Song of the Year", and the song video for "Fire Away is in the running for "Video Of The Year." CBS will air the awards show from Las Vegas on April 2 at 8 p.m. EDT.

Sturgill Simpson Has East Ky. Roots
Sturgill  Simpson has earned a Grammy and a Grammy nomination at this year's 59th awards show. His success points to the rich talent to be found in eastern Kentucky, near our Country Music Highway. His birthplace is Jackson in Breathitt County. He graduated from Woodford County High School in Versailles. "A Sailor's Guide To Earth" captured the Grammy for Best Country Album, and had a nomination as Album Of The Year. This was his third album produced in studio.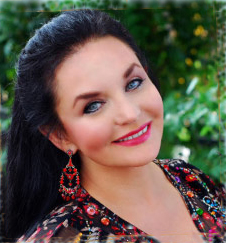 Crystal Gayle Inducted Into Grand Ole Opry 
Country Music Highway superstar Crystal Gayle was surprised during her November 15 Grand Ole Opry performance with Carrie Underwood with an invitation to become an official Grand Ole Opry member. The legendary Grand Ole Opry is in its 91st year and a membership is a top honor offered only to a select group of top artists of country music. She had just completed a duet with Underwood on the Opry stage of her signature Grammy winning song, Don't It Make My Brown Eyes Blue when she was invited to join. Her famous sister, Loretta Lynn, has been a Grand Ole Opry member since 1962. Gayle (Brenda Gail Webb) was formally inducted into the Opry on Jan. 21, 2017 by her legendary sister. Crystal Gayle first sang at the Opry at age 16 at the old Ryman Auditorium by singing "Ribbon of Darkness". On the night she was invited after their duet before a sellout crowd, Underwood spoke these words to Crystal Gayle, "You are an inspiration to so many of us. You are important to country music, and you are important to the Opry, which is why I was asked tonight to ask you if you would like to join our Opry family officially." She smiled and gave Underwood a hug as she accepted. Big sister Loretta Lynn was an early member of the Grand Ole Opry back in 1962. She made the induction official as the two stood on the Opry stage Saturday, January 21.  Pete Fisher, Opry Vice President and General Manager commented, "For more than half of the Opry's 91 years, Crystal Gayle has been lending her signature vocals to Opry shows and connecting with Opry audiences as well as with everyone backstage. She is family, and we are very excited. Crystal Gayle's latest honor is in addition to being a Grammy winner,  CMA Female Vocalist of the Year in 1977 and 1978, ACM Female Vocalist Of the Year in 1976, 1977, and 1979, she has a star on the Hollywood Walk Of Fame, and has been inducted into the Kentucky Music Hall Of Fame. Crystal has a singing presence and style considerably different from Loretta, and enjoyed wide acceptance as a performer who was able to be a key crossover artist. She was the first female country artist to have a platinum album with "We Must Believe In Magic".  She has had 20 Number One hits. Crystal Gayle made her Opry debut when she substituted for Loretta Lynn who had been too ill make her scheduled appearance.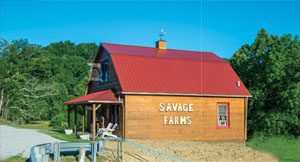 The only commercial maple syrup producer in eastern Kentucky, with only three in all of Kentucky
Lawrence County Farm Is Hosting A Maple Festival March 25
Traditionally, the region that provides the best maple syrup is New England, and Vermont in particular. Lately, maple syrup from a new producer from Lawrence County, Kentucky was judged in a taste test to be a worthy competitor to the renowned maple products from Vermont. Savage Farms can be found along Kentucky Route 3 in Lawrence County around 9 miles northwest of Louisa. It is a family enterprise, led by retired Kentucky State Trooper Keith Moore, his wife Jennifer, and son Wesley, and fiancée, Holly.  Moore retired as an administrator at Kings Daughters Medical Center in Ashland at the end of 2015. In keeping with their evolution as a commercial producer of maple syrup and maple products, on Saturday,March 25 Savage Farms will host the annual Maple Festival. The event begins with a pancake breakfast, followed by tours and demonstrations that showcase Savage Farms many maple products produced on their farm. The farm has over 200 Red Maple trees and has been building a reputation for maple-based choices at their store beside Highway 3 like pecan maple pies, maple butter, maple candy. They have been producing commercial products on their farm now for over three years.  They also make sorghum and grow strawberries and blueberries on an ever increasing scale. Savage Farms is the only commercial syrup producer in eastern Kentucky, and one of just three statewide. The farm participates in what is known as Agri-tourism, a grouping together of progressive farms for tours and demonstrations of their products for the special benefit of visitors and tourists. In spring, the clear lifeblood of various types of trees flows freely in a water-like substance known as sap.  It is this plentiful liquid that is boiled down to syrup.
Marlana, center, is flanked by a group of new friends and admirers after one of her performances at a UK basketball event,
VanHoose Will Perform In Washington, D. C, at Pres. Trump's Inaugural
Another high honor has been directed toward Marlana VanHoose, a young Johnson County woman who has turned in numerous high profile singing performances all across the United States. On Jan. 19, she will hit the international spotlight at the Lincoln Memorial in Washington, D.C. as part of President-elect Donald Trump's inauguration festivities. Miss VanHoose has been playing piano since she was a toddler, and singing just a little later on, and was in her first talent contest at Johnson Central High School in Paintsville at age six. One of a dozen performers for the 58th Presidential Inauguration, she was notified by a January 2 letter of her newest assignment through the Artists Music Guild (AMG) office in North Carolina. As a member of the Artist Music Guild, she was honored as the 2015 recipient for Youth Artist of the Year. Marlana also was the 2012  New Artist of the Year and Young Artist of the Year. She was a nominee two years in a row, 2013 and 2014 for Artist of the Year. She began singing at large venues in 2012, that has now broadened to include appearances from coast to coast. David VanHoose, her proud father, remembers with a wide smile, "She's done Madison Square Garden, she's done Carnegie Hall, and the Barclays Center in Brooklyn," her father said. "She's been from Miami to Boston, Oregon to California. She's been all over the country singing." Marlana, now 20, received increased prominence after appearing for a National Anthem performance at such sporting events as UK games,  the 2015 NBA playoffs, NBA Finals (game 6), and at the 2016 Republican National Convention. For more information and background on Marlana VanHoose, refer to  the Future CMH Stars tab on this website's Home Page.
Dancing With Our Stars is Highlands Museum's Biggest Fundraiser
The biggest annual fundraiser for the Highlands Museum and Discovery Center in Ashland will happen Saturday, February 4 at the Boyd County Community Center at Meads on Ky. Rt. 180.  Dancing With Our Stars features competition among local celebrities for the most votes to win the Mirror Ball Trophy in the main event from 6 p.m. to midnight. Participating celebrities this year are: Dr. Leon Briggs, Dr. Mary Legenza, Marilyn Mason, Kathryn Robinson, Mark Maynard, Leslee McLeod, Amanda Collins,  and Matt Perkins. Vote your favorite participant with a one dollar contribution per vote at www.highlandsmuseum.com/dwos. For more information go to the website at highlandsmuseum.com or call 606-329-8888.
SIPP THEATER REMODELING OF THE INTERIOR PLANNED
The Sipp Theater of Paintsville will be undergoing interior remodeling, it has been announced by Paintsville Tourism. The historic Main Street venue will be reopening in early Spring. Progress reports will be available periodically on Paintsville Tourism's Facebook Page.
Highlands Museum in
Ashland has gift ideas
The gift shop at Highlands Museum and Discovery Center on Winchester Avenue has many special items crafted by local artisans. Give a gift of candy from Esther Price, Ruth Hunt, and more. Chhose a gift admission pass.  Adult and children tickets are available.  Many carry savings to other similar museums nationwide.
41st year for Christmas For The Kids
Paintsville's Mayo Plaza was the site for this year's Christmas For The Kids.   For 41 years now,  a group of dedicated volunteers has worked to provide a happier Christmas for kids aged 12 and under. Santa arrived at 11 a.m., and  kids in attendance were treated with free hambugers and hot dogs, and got to spend some one-on-one time on Santa's lap. Coats, thousands of dollars worth of toys, and a dozens of fruit baskets were given out well into Saturday afternoon.                                                                                                                        

Sat., Dec. 17 in the Mayo Plaza
                                  Santa was quickly mobbed after his arrival.  Fans were waiting in a long line .

 NEWEST HONOR IS LORETTA LYNN'S
2017 GRAMMY NOMINATION
Loretta Lynn is a current Grammy nominee for Full Circle, her first studio album in a decade. The album was created from a large collection of her recordings, described by many as the story of her life and career. She now at age 84, is still active on several  fronts, like taping a Christmas special and a March 31, 2017 performance at the Louisville Palace. A previous album, Van Lear Rose captured two Grammys in 2005. Lynn is one of the earliest country superstar from the Country Music Highway section of eastern Kentucky.  Her book Coal Miner's Daughter was adapted into the smash hit movie of the same name that further acquainted folks with her remarkable career. Country music icon Loretta Lynn will perform at the Louisville Palace on March 31, 2017. The show  starts at 8 p.m.Tickets run from $39.50 to $69.50. She has had numerous top ten chart his, including these notable Number Ones;   Don't Come Home a Drinkin' 1966;  Fist City 1968;  Woman of the World  and Coal Miner' Daughter from 1970. Other nominees for the 2017 Grammy for Best Country Album include:  Big Day In A Small Town, Brandy Clark;  HERO, Maren Morris; A Sailor's Guide To Earth, Sturgill Simpson; Ripcord, Keith Urban.
Christmas Tour of Homes Is Coming To Ashland
Tickets are now on sale for the Highlands Museum & Discovery Center's annual Christmas Tour of Homes.  This holiday tradition coordinated by the Friends of the Highlands will take place on December 3 from 11am to 5pm and December 4 from 1pm to 5pm.  The 2016 tour features eight beautifully decorated locations.  In addition to private residences, The Ambassador is a stop on the tour and will be offering a 20% discount on food purchases to participants when they present their tickets during the tour days.
The locations being featured on the 2016 tour are:
Robert & Teresa Powers-1420 Bath Ave
Gerardo & Kathy Mejia-1301 Bath Ave
Lisa Cain & Bruce Davis-1550 Prospect Place
Justin & Rose-Linda Stafford-1558 Prospect Place
Pete & Terri Wonn-1933 Coburn Ave
Jerry & Amy Dickerson-979 Ivy Creek-Bellefonte
The Ambassador-1701 Central Ave
Highlands Museum-1620 Winchester Ave
The tour will begin at the Highlands Museum with refreshments and cookies set among decorations provided by the Boyd County Homemakers.  The Tour of Homes also coincides with the museums Holiday Open House.  From 12pm to 2pm on December 3, stop by the museum for live music and a special visit from Santa Claus.   Tickets for the Christmas Tour of Homes are $20 and can be purchased at the museum with cash, check made payable to the Highlands Museum & Discovery Center, or Visa/MasterCard.  Members of the Friends of the Highlands are also selling tickets.  Transportation will be provided to all stops on the tour; however, participants are welcome to drive.  Homes on the tour are not handicapped accessible.  Please no children under 8 years of age.  Photography will not be permitted inside of the homes.  For more information about the Tour of Homes call the museum at 606-329-8888.
Enjoy Christmas in the City
Downtown Paintsville
December 3 12:00-5:30 PM
Come celebrate the Christmas season in beautiful downtown Paintsville. This annual Christmas event is FREE and hosted by Paintsville Main Street and Paintsville Tourism. Events includes free photo booth, a live Nativity, carriage rides, and a parade. Call 606-789-2600 for more information
Stapleton Continues To Earn Industry Awards
Chris Stapleton had his talent and position in country music again validated in the 2016 CMA Awards TV broadcast on Wednesday, November 2 Stapleton was honored for the Music Video Of The Year with "Fire Away.  He was also picked as Male Vocalist of the Year. The Fire Away video focuses on mental health awareness. Other honors could be coming Stapleton's way.  On Sunday, November 30 at 8 p.m., ABC will broadcast the American Music Awards (AMA). The album Traveller is nominated for an AMA award as Favorite Country Album. He was also honored as Artist of the Year at the 15th Annual Americana Music Association Honors and Awards show from the Ryman Auditorium in Nashville.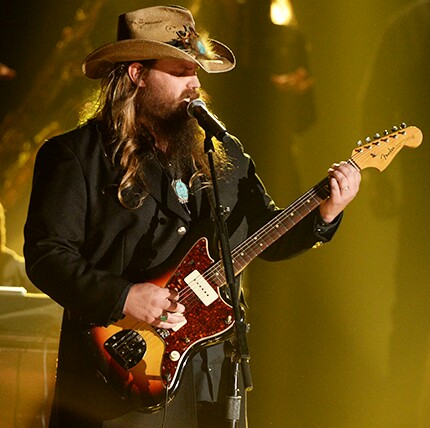 STAPLETON AGAIN ENJOYS MULTIPLE CMA NOMINATIONS ABC TV will be shining a bright spotlight at this year's CMA Awards show on Wednesday, November 2 from Nahsville.  The familiar broadcast that rewards top country performers of all types is again hosted by Carrie Underwood and Brad Paisley. The Country Music Highway has a bright star among several nominees again this year in Chris Stapleton. He is in competition for the honor of Male Vocalist Of The Year along with Tim McGraw, Eric Church, Keith Urban,  Dierks Bentley and Eric Church. "Nobody To Blame" is Stapleton's entry in the Single of the Year category.  Also in the running are newcomer Maren Morris for "My Church", Eric Church with "Record Year",  Thomas Rhett's "Die A Happy Man", and "Humble and Kind" from Tim McGraw. The top prize of Entertainer of the Year involves Stapleton, Carrie Underwood, Garth Brooks, Luke Bryan, and Keith Urban. A live version of "You Are My Sunshine" by Chris and wife Morgane Stapleton is up for a nomination for Musical Event of the Year. A Special Free Event on Kentucky Aviation Set October 13 in Ashland
For people that love airplanes and aviation, a special Program Thursday, October 13 will be especially enjoyable. It happens at the Highlands Museum and Discovery Center  on Winchester Avenue in downtown Ashland. The event will focus on aviation history from historian Bill Martin, and the admission is free. Martin will detail the top fighter pilot in World War I, Lt. Jesse Orin Creech, a native of Harlan, Ky.  His exploits will be detailed, along with his flying history and the aircraft he flew. This event begins at 6:30 p.m.
Tourism along the Country Music Highway at its best! This trio from Greenup Co. were thoroughly enjoying a ride Friday evening, October 7.
Outdoor adventure, equine style combined with excellent live music and horse races made life sweet for people from around the United States, Mexico, and Canada at the 2016 Knott County Trail Ride. The location for this adventure is the Mine Made Adventure Park, a beautiful mountaintop former strip mine site that has been fully reclaimed and offers three picturesque riding trails. Those who choose to take the longest trail available often spend around eight hours to ride full circle. The site of the Trail Ride is just two miles north of Hindman, the center of Knott County Government, and is put on by the county and its tourism commission. Campfires began to glow as sundown arrived with an especially dramatic glow because of the flattened mountain top perspective. Neighbors on the huge campground are busy making new friends and planning for their upcoming rides,  making visits to the numerous food booths,  and enjoying full evenings of live music, which kicked off with bluegrass bands on Thursday, October 6. The first group was the Tommy Webb Band at 6:30, then Middle Fork Grass took the stage at 7:30, and wrapping it up was Mountain Melody at 9:00 p.m. At 5:30 on Friday, October 7 the first band onstage was Stillwater, and at 6:30 it was Hassell Bryant. By 7:30 the spotlight fell on Midlife Crisis, and wrapping it up at 9:00 p.m. was a band called Triple Run. The Saturday night playbill included Michael McKay Combs starting at 5:00 p.m., Tyra Short followed at 6:00 p.m., next was James Carothers at 7:30 p.m., and the finale was William Michael Morgan beginning at 9:00 p.m. Visitors from all over Kentucky, West Virginia, and Virginia were there in droves, many having been there for past Trail Rides for at least three years or more. Deb Knudson  lives in Catlettsburg, having recently moved here from North Dakota.Of the Knott County Trail Ride, she says, "This is big, bigger than a lot of the rides I've been on before.  It's a remarkable site. She was riding a Tennessee  Walker and she has two other Appaloosas.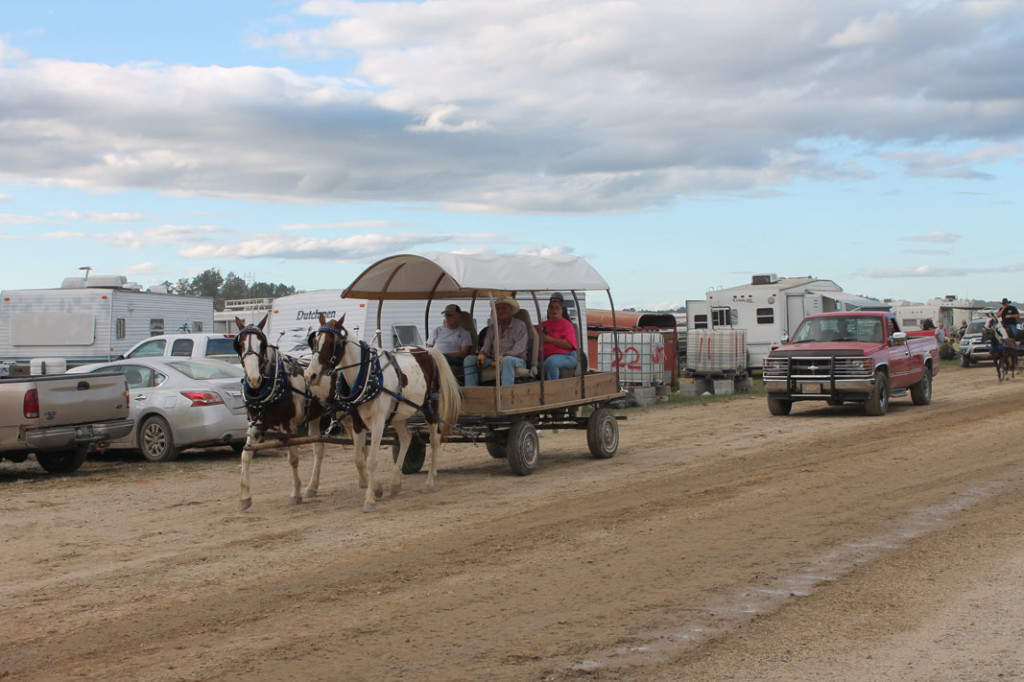 This panoramic shot only captured less than half of the campsites just beyond the entrance gate. The music stage is just to the right, as are many additional campers, booths, and riding trails.
Benefit Show in Louisa Scheduled October 22
A Bluegrass benefit show targeting Huntington's Disease is set for the Lawrence County Senior Citizens Center at 100 Pike Street in Louisa on Saturday, October 22. Talent for this Singing For A Cure Show includes Larry Cordle,  award winning singer-songwriter and one of the superstars from the Country Music Highway.  Rising Bluegrass group Hammertowne and Carly Kirk will also perform. Doors will open at 5:00 p.m. on Saturday, October 22 and admission is $10.00. _______________________________________________________________________________________________________________________________________________________

A look back at Prestonsburg's Jenny Wiley Festival
Paintsville's Ky. Apple Festival Memories From Sept. 30 and October 1
 The Kentucky Apple Festival of Paintsville has just completed its 54th year. Last year's undesirable  weather stayed away this year, and all the attractions were doing well for the week that ended  Saturday, October 1. The entertainment this year culminated on the downtown stage Saturday night with Ashley Campbell.  She is the daughter of famed music performer, TV and movie star, and hitmaker, Glenn Campbell.
Ashley Campbell with banjo on stage, showed she is an instrumentalist of superb quality, just like her famous Dad.  Campbell told the audience in the downtown Court Street area she has a new CD that will be released soon.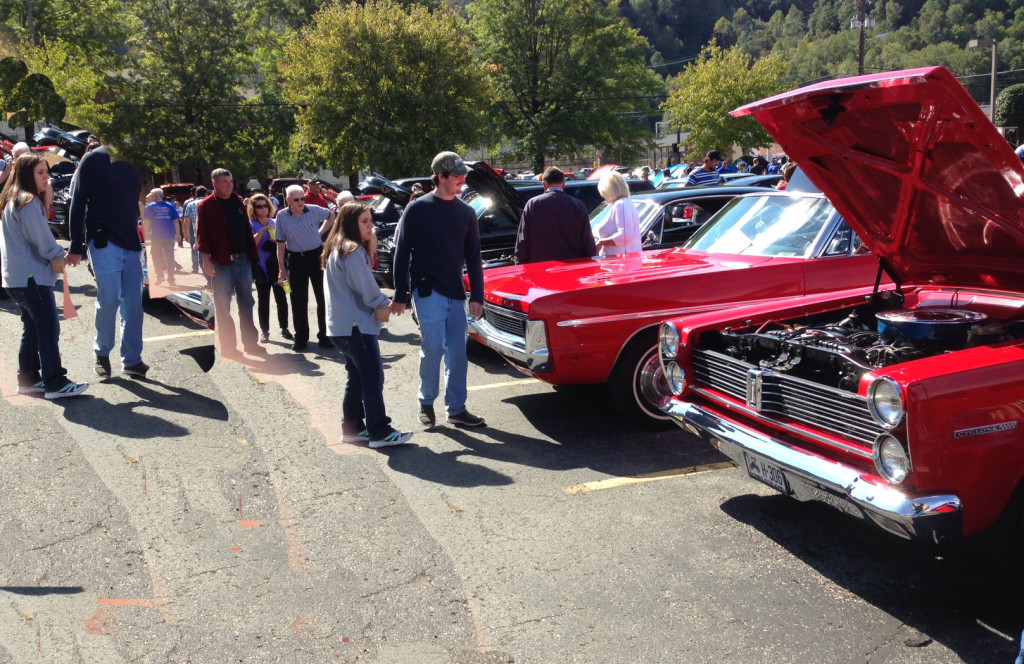 Saturday morning's Car Show reached from Broadway to Jefferson Avenue, and is always a favorite.
Looking back at Whitesburg and Letcher
County's Mountain Heritage 2016

In the above photos: A Saturday evening crowd (PHOTO 1)…..woodcraft at its best(2)……one of many interesting booths(3)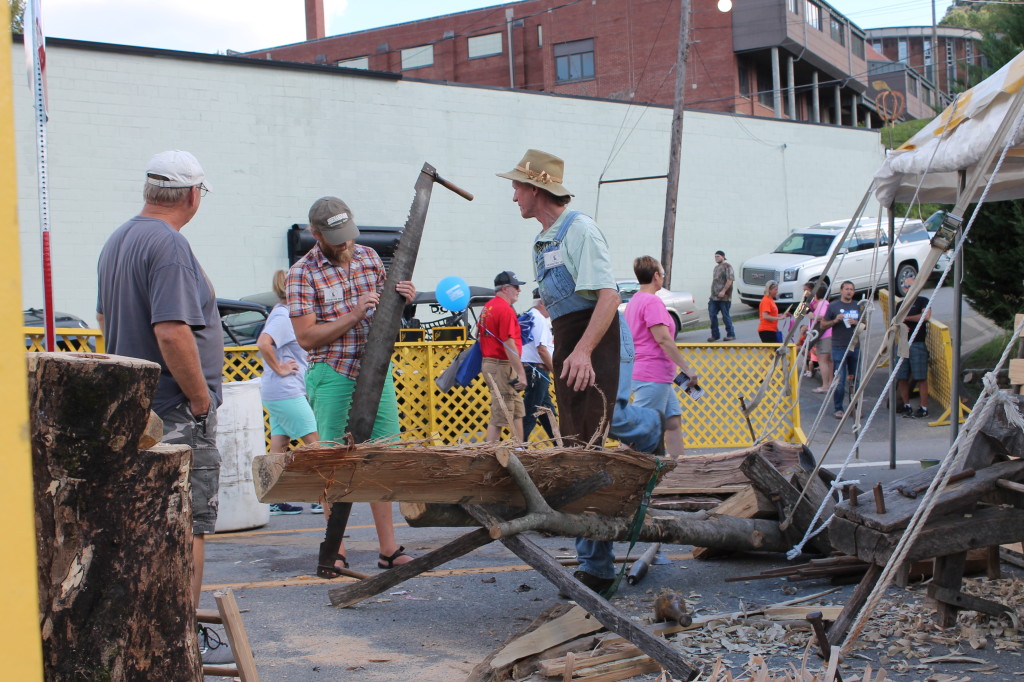 TRADITIONAL DEMO ON MAKING FURNITURE AND WOODEN HOUSEHOLD ITEMS.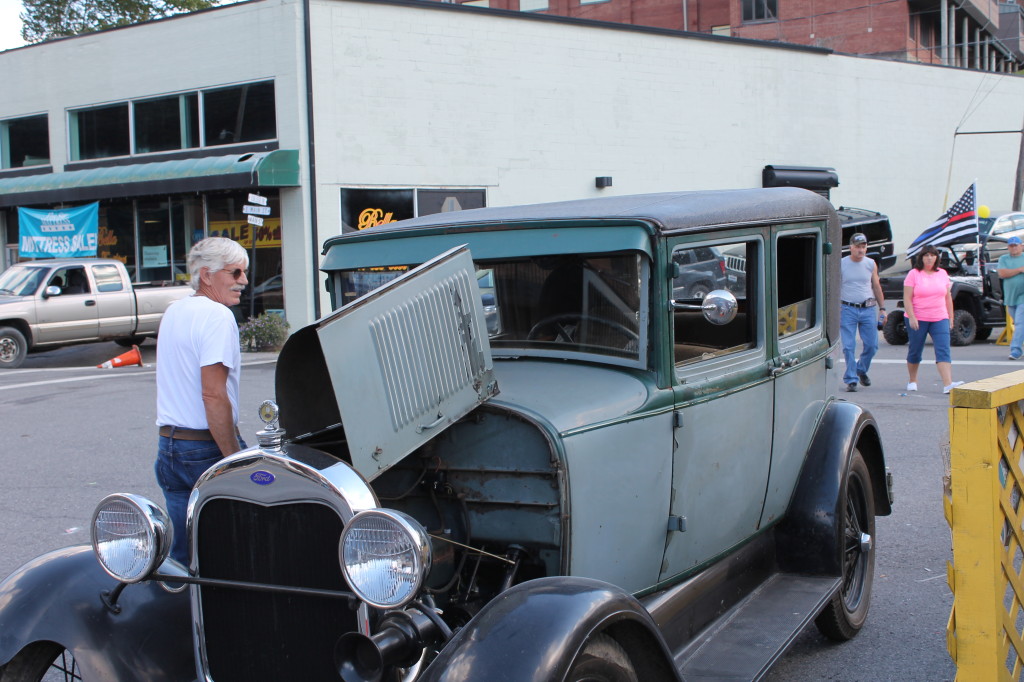 AN EYE-CATCHING ANTIQUE CAR ON THE CORNER OF MAIN ST.
OLD FASHIONED DAYS IN GREENUP WILL BE SEPT. 29 THRU  OCT. 1
A big weekend for Greenup County will be September 29 thru October 1 during the 51st annual Greenup Old Fashioned Days. A highlight is a Saturday, October 1 parade at 4 p.m. on Main Street.  That morning from 9 a.m. until noon, there'll be a Lions Club car show. On Thursday, Sept. 29 a pizza eating contest  on the main stage starts at 3 p.m. and will wind up about an hour later. Near the court house on Friday morning,  September 30, a pie baking contest starts at 9 a.m., with judging at 10:00 a. m. Hoops on the River will be a basketball competition starting at 8 a. m. Saturday. Saturday evening on the main stage, there will be a talent show.  Participants can register from 6:15 p.m. until 7 p.m.  The show will start a 7 p.m. The Little Sandy River will be the site of a Saturday morning canoe race. After a 9 a. m. registration, the race starts at the Racoon Bridge near Route Two and ends at the Greenup Boat Docks. A costume contest will occur Saturday morning starting at 9 a. m. with judging scheduled at ten o'clock. The main honor for this year's Old Fashioned Days is the Greenup High School Baseball team,  with a season record of 39 wins and two losses. They were honored by USA Today as one of the top 10 high school baseball teams in the nation.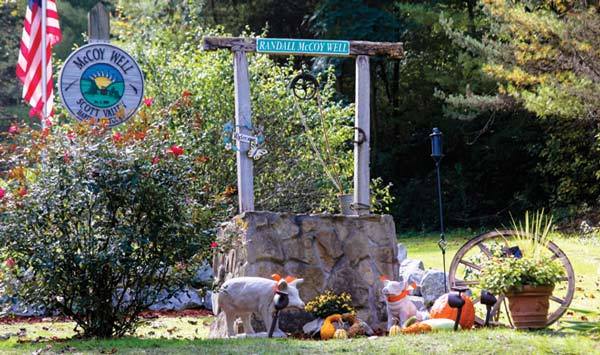 Hatfields and McCoys unite for a special service at the McCoy Well, lead by "Devil Anse's" direct descendent, Billy Hatfield.
Pike Co. Event
Revisits Famous Feud
The Hatfield McCoy Heritage Days begins Friday, September 23, and continues through the Sunday, September 25. A wide variety of events are planned, such as a Ruff, Tuff, Cuss race weekend, live music Friday Night at the Billy Johnson Expo Stage in Downtown Pikeville, with Saturday featuring a Hatfield McCoy Farmer's Market event and Drag Racing that evening.R A special Hatfield McCoy church service is planned at the McCoy Well, Sunday, September 25, 2016. Lead by Billy Hatfield, direct descendant of Anderson "Devil Anse" Hatfield, the service will begin at 10:00 a.m., and will conclude with the unveiling of new signs to be placed along the Randolph McCoy trail. "Part of what will make this service so special to me is that the Hatfields and McCoys are coming together on the property where the Hatfields attacked and burned down the McCoy's cabin so many years ago," said Tony K. Tackett, Pike County Tourism CVB Executive Director. "Lives were lost, and terrible history was made there on that cold New Years Eve. Now, we have the Hatfields and McCoys coming together in peace to honor the past. It will be a something to remember." The Randolph McCoy Trail is a historic trail that guides visitors through the feud sites of the Hatfields and McCoys. The trail stretches through KY-319, and onto KY-1056, in a region known as Hardy, and Blackberry, Ky. Along this trail are many feud related sites, such as the Randolph McCoy property and well, as well as the Hog Trail Cabin, the Hatfield Washstand, the Pawpaw Trees site, and many more. This trail leads into historic Matewan, WV, where visitors can enjoy a Train Depot museum, as well as the West Virginia Mine Wars Museum. Mt. Homeplace Annual Craft Days on Sept. 22 & 23
ELKHORN CITY TO HOST ANNUAL RAILROAD DAYS
Elkhorn City in southeast Pike County, and hometown of Patty Loveless, will host its annual Railroad Days September 30 and October 1 and 2. Elkhorn City has a rich railroad history, and was the main terminus for rail traffic in the region for decades. Events include: September  30  5:00 p.m. Line up for the Elkhorn City Express at the Caboose downtown.  Details at the Light or call 606-794-2486. Bring your own Box Car for the Express. October 1  2:00 p.m. Candle Lite Service at the Community Center in Elkhorn City. All railroaders will be honored.  Those who have passed on, and those still in the area.  There will be refreshments, and visitors can enjoy a special presentation called "Tall Tales by Cathy Cantrell". October 2  All Day Events Happening beside the Caboose downtown.  There will be a special show featuring Chain Saw Carving.
Knott Co. Trail Ride To Attract Thousands
Knott County's Mine Made Adventure Park beside Ky. 80 at Leburn is the site for the annual trail ride October 6 thru 8. This event is a main attraction for a decade, and will offer beautiful trail riding options, there will be live music,  food and water available for the horses, and vendors of all kinds. Tack vendors,  showers, ice, primitive camping, and restrooms will be available. Coggin papers will be required. Gates will be open October 2 at 4 p.m.
Apple Festival Is First Sat. in October
Paintsville will host the Kentucky Apple Festival September 26 thru October 1. The usual festival amenities will be capped off by a concert by Ashley Campbell.  Ashley will perform a free show downtown on October 1. She is music legend Glen Campbell's daughter.
FALL FESTIVAL SEASON IS HERE
.
TAKING A LOOK BACK AT SEPTEMBERFEST
LOUISA, LAWRENCE CO., KY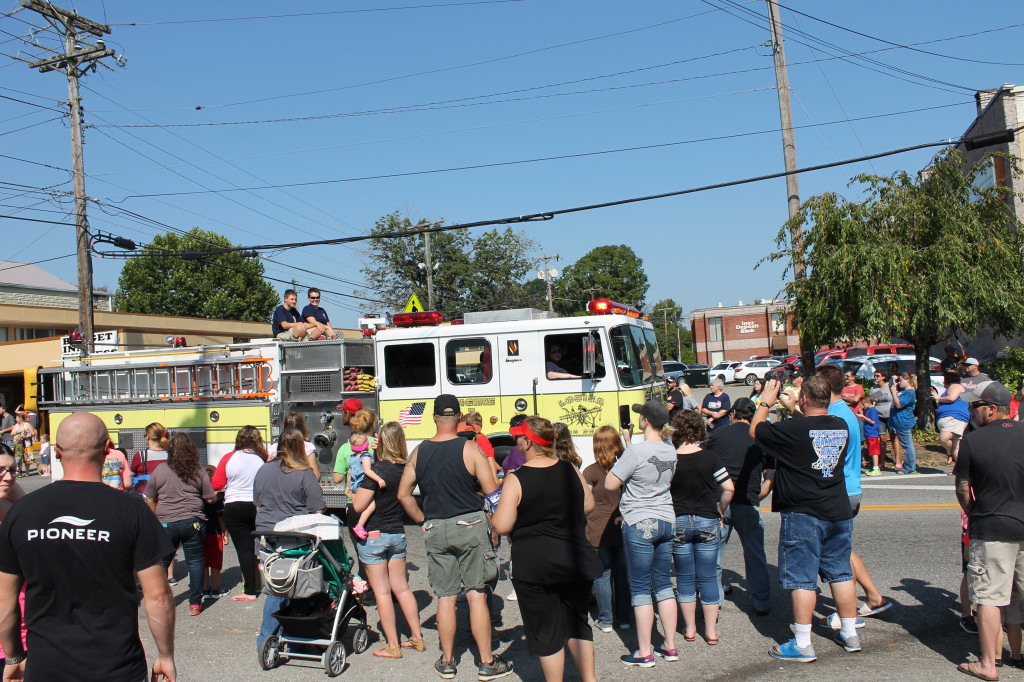 A MASSIVE PARADE,  LASTING ALMOST 90 MINUTES
WHAT THE HECK IS THIS?  A NEARLY ONE-OF-A-KIND AT THE BIG CAR SHOW 
THESE ARE SOME OTHER SLEEK MACHINES!
Jenny Wiley Festival
 outdoor concert Sat. Sept. 10  7 p.m.  featuring Coaltown Dixie, Kris Bentley of Sundy Best, and 2/3 goat  at Jenny Wiley Amphitheater
The upcoming main festival occurs the second weekend of October
Mountain Heritage Festival  Whitesburg   Sept 19-24
Mon Sept 19   talent show  operated by WXKQ radio in Whitesburg
Tues. sept 20   quilt contest  5-8 p.m. music by Pure and Simple Band
Like wild birds? Fowler Mitch Whitaker will let folks see native birds up close on the main stage, like hawks and owls Wednesday at 5 p.m.
Sat. sept 24 Parade 11 a.m.  food booths, arts and crafts, carnival . 8 p.m.  The Heartbeats    and  Marvelettes    famous for Please Mr. Postman  for Motown
Against a backdrop of Kentucky State Fair Exhibits in late August, Tony Tackett, center, receives an award as the Pride of the Counties on behalf of Pike County and the eastern Kentucky partners that coordinated the displays and presentations for all of us along the Country Music Highway. The award is given by Kentucky Farm Bureau and is the first time Pike County Tourism has been involved in his particular honor.
PIKE COUNTY CAPTURES AWARD FOR EASTERN KENTUCKY AND PIKE TOURISM
Each year, the Kentucky State Fair hosts "Pride of the Counties", featuring various information booths displaying all that the beautiful state of Kentucky has to offer. They are designed to be elaborate and captivating using larger than life props, displays and interactive showcases. They function as an information hub for each county represented, offering visitors brochures and magazines detailing their offerings. More than 600,000 people visit the Kentucky State Fair each year, providing a great opportunity for smaller, yet interesting tourist attractions to garner exposure.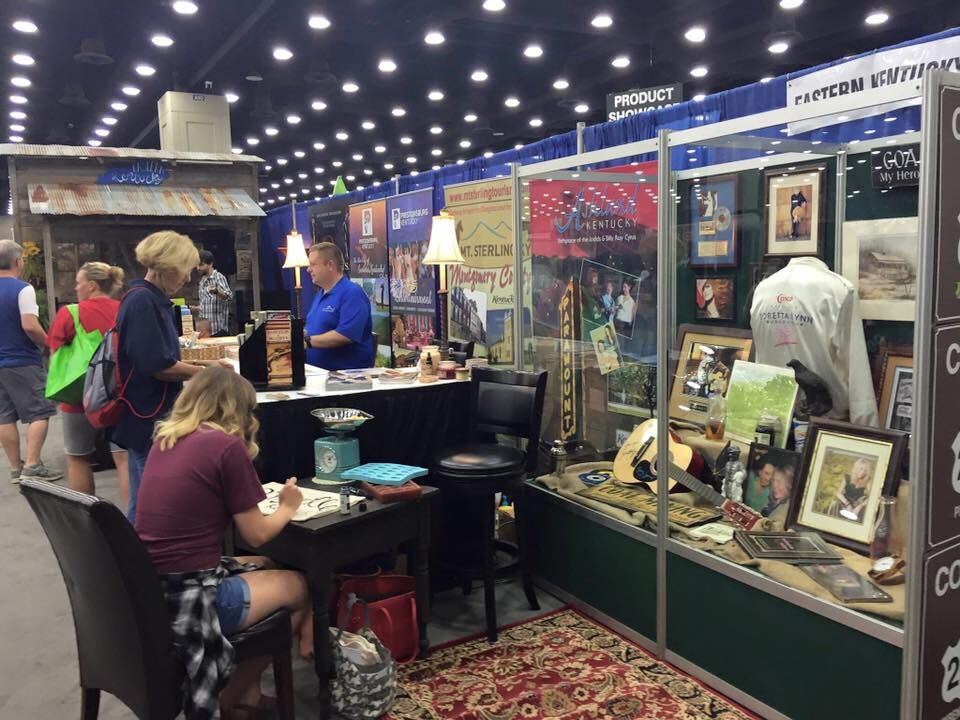 A VIEW OF THE AWARD-WINNING PIKE COUNTY TOURISM BOOTH AT THIS YEAR'S KENTUCKY STATE FAIR.
Some of Eastern Kentucky's greatest talent was showcased throughout the fair on a quaint rustic stage, built by Pike County government from donated lumber. Four musical artists did four, 40 minute live sets each. Artists demonstrating painting, woodworking, glass sculpting, quilting, drawing, candle and pillow making were also present throughout the event, making the Eastern Kentucky booth a place fairgoers may wish to visit more than once. "People would join our artists on stage and sing their favorite songs," said Jay Shepherd, Pike County Tourism CVB Marketing Director. "I was delighted to see a lady come up and sing Coal Miner's Daughter. Our booth was really engaging people."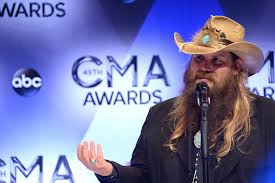 Stapleton Again Gains CMA Nominations
Chris Stapleton will be in the limelight again this November because of his five nominations inside the 2016 CMA awards show. The November 2 event will be televised on the ABC network from Nashville's  Bridgestone Arena.Nominations this year include Entertainer Of The Year, Male Vocalist Of The Year,  Single Of The Year, Video Of The Year, and Musical Event Of The Year. ENTERTAINER OF THE YEAR nominees include Stapleton, Garth Brooks, Carrie Underwood,  Keith Urban, and Luke Bryan. MALE VOCALIST OF THE YEAR will be selection between Stapleton, Dierks Bentley, Eric Church. Tim McGraw, and Keith Urban.MUSIC VIDEO OF THE YEAR honorees include Fire Away by Chris Stapleton. Cam's Burning House, Humble andKind by Tim McGraw, Somewhere On A Beach from Dierks Bentley, and Record Year by Eric Church. MUSICAL EVENT OF THE YEAR will be decided among these songs and nominees: You Are My Sunshine, Morgane Stapleton with Chris Stapleton; Different For Girls, Dierks Bentley, featuring Elle King; Home Alone Tonight, Luke Bryan featuring Karen Fairchild; The Fighter ,Keith Urban, featuring Carrie Underwood; and Think of You, Chris Young ,duet with Cassadee Pope.SINGLE OF THE YEAR will be decided between Stapleton's Fire Away,  My Church by Maren Morris, Tim McGraw's Humble and Kind, Die A Happy Man by Thomas Rhett, and Record Year from Eric Church.
Van Lear Will Invite People from Near and Far Aug. 5 and 6

Van Lear will be the site of multiple fun activities including a Saturday parade at 2:30, loads of live music, the Van Lear Idol talent contest, three cornhole tournaments, a car show, turkey show, tours of Loretta Lynn's homeplace and the Coal Miners Museum, food, kids activities, and more. Plenty of live music is planned. Ralph Stanley II will be on stage near the Coal Miners Museum Friday, August 5 at 9 p.m. during the 31st Van Lear Town Celebration. Other Friday night performers will be Charlie Hall and the Rocky Knob Ramblers, Black Powder Express, and Five Miles From Nowhere. Saturday's performers will be from 5 to 6 p.m., The Mountain Wayfarers, followed in order by the Kentucky Valley Boys, First Time Around, Now And Then Band,, and Five Miles From Nowhere. Performance schedules are subject to change.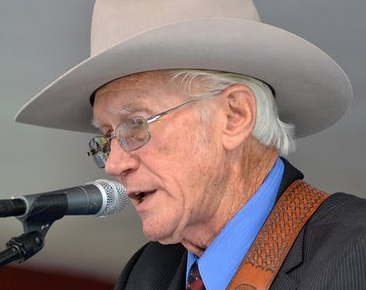 Another Bluegrass Icon Passes; Melvin Goins Was Touring In Canada
By Dan Lyons
The Bluegrass community knew Melvin Goins as a legend, familiar performer and acquaintance, and I've always called him the "last of the ole-time pitch men".By that I mean, when doing his radio show on WSIP-FM 98.9 FM from Paintsville (and WSKV in Stanton),each Saturday morning for over 20 years, he did most of the talking and enthusiastically vouched for and described all his program's sponsors in colorful clichés and mountain sayings. It was exactly the way old-time radio sounded, and Goins never changed from his early beginning style. Perhaps it was fitting, when word of his passing came Friday, July 29,  he was touring in Canada at age 83.  Obviously Melvin found the career he loved 65 years ago.
Curiously, his death was just a little more than a month after his old friend and revered Bluegrass superstar, Ralph Stanley (June 23).
In his native West Virginia, Melvin and his brother Ray were quick fans of bluegrass radiating from radio programs originating from Bristol, Va., Here they heard The Stanley Brothers and Flatt & Scruggs. They listened also to Bluefield and were impressed by The Lonesome Pine Fiddlers and others. They performed as teenagers around home, and got to play their first show on the radio in 1951. It was a job well done, a good fit as a life's work. Melvin carried many honors and awards and was extremely well known in national bluegrass circles, and in this Country Music Highway part of Kentucky.
Night Market Comes To Elkhorn City Friday evening, August 5
A popular attraction will kick off in Elkhorn City the first Friday night in August.  The Night Market will feature music, food and specialty booths, and arts and crafts from 6 til 10 p.m. Many interesting vendors have already reserved their space, and everyone is invited to come out and enjoy the sights, sounds, and tastes of Elkhorn City's bold new addition to its list of attractions. If you'd like your own booth, applications are available for download at https://pike.ca.uky.edu/NightMarket .  You can also contact the major sponsor of the event Artists Collaborative Theater  by
e-mail at: artistscollaborativetheatre@gmail.com or at their Facebook page!
Marlana VanHoose, Jason Goble, and Jim Hunt Will Perform at July 29 Pikeville Gathering
Pike County Tourism CVB will be having a fundraiser event, "Artists' Spotlight Night at The Hilton Garden Inn", Friday, July 29thThis event is being hosted at the Hilton Garden Inn terrace, with doors opening at 6:30 p.m. Tickets for this event are $25/person, and can be purchased in advance at the Pike County Tourism CVB office, located on the bottom floor of the Pikeville Hampton Inn, or at the door as available. This event will feature great food, a cash bar, refreshments, children's activities and door prizes, with entertainment provided by Jim Hunt and the Jaguars, Json Goble and Marlana VanHoose. A full menu of the food available for this event includes: mini chicken salad croissants, chicken tenders with assorted dipping sauces, finger sandwiches (ham, turkey, roast beef with and without cheese), BBQ meatballs, deviled egg potato salad, macaroni salad, cheese trays, vegetable trays and fruit trays, and an assorted decadent cookie tray. Food will be provided by Food City of Pikeville, Kentucky. This event is a replacement for the "Under the Fireworks at the Hilton Garden Inn Terrace" event, which was canceled earlier this month due to weather. The goal for this fundraiser is to raise funds to help showcase Eastern Kentucky artists, singers, bands, theatres, arts and crafts at the Kentucky State Fair Pike County Booth on August 18th – August 28th. This booth educates the potential visitor on Eastern Kentucky's tourism offerings, with materials about festivals,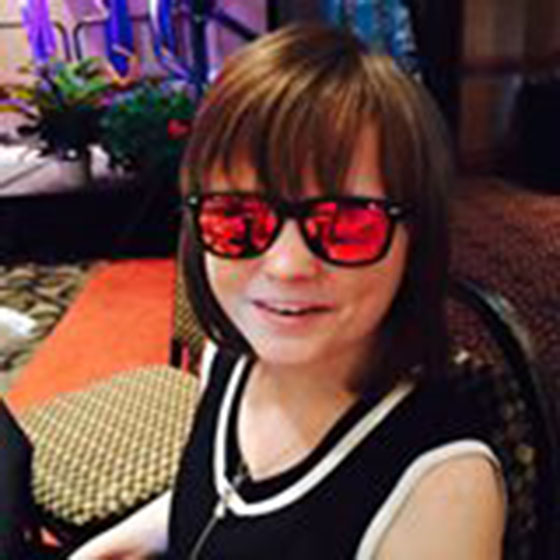 MARLANA VANHOOSE ENTERS
THE SPOTLIGHT AT
REPUBLICAN CONVENTION
At the opening night of the Republican National Convention, Johnson County and the Country Music Highway's Marlana VanHoose sang the national anthem at the start of the week-long political event of the year Monday evening, July 18.  VanHoose has been a noteworthy singer of the national anthem at many key events in recent years, like NBA basketball games, UK basketball games,  NASCAR Sprint races, and the NCAA Women's Basketball Tournament. The singer who was born blind and suffers from mild cerebral palsy, has been a member of the Artist Music Guild and was honored in 2015 as the Youth Artist Of The Year. After her much acclaimed performance on Monday, July 18, a brief tribute was made to her by Bill O'Reilly on the 8 p.m. prime time Fox News O'Reilly Factor.  Her appearance at the Republican National Convention was picked up by local, regional, and national media. She stated, "I love my country, and it was an honor for me to be here."

Tim Elkins Comes Out On Top In Road To Fame Contest
A Johnson County singer captured the 2016 Road To Fame Talent Search. 22-year-old Tim Elkins had entered before, as the five-year Road To Fame program winds up with his victory over another extremely talented group of singers and musicians. Elkins says he has always enjoyed writing and music since he was a young boy. "I'm comfortable when I'm on stage," he said. Kelsie May, who wowed the nation during the winter of 2014-15 as a member of Team Blake on NBC-TV's "The Voice" served as a celebrity judge and performed at the final show at the Mountain Arts Center. He won among 11 other contestants.
July Fourth Activities Along
The Highway Are Detailed
In Ashland, Louisa, Whitesburg, and Paintsville and  Elkhorn City and Pikeville, get ready for fireworks around town, and quite a bit more. Ashland, Ky. will again present Summer Motion for the 28th year at Central Park from the 1st and 2nd, and continuing from the River Port Sunday and Monday, July 3 & 4. Veteran country performer Tracy Lawrence will headline the festival with a Monday evening concert beginning at 9 p.m. The festival culminates with a huge fireworks show at 10:15 p.m. on Monday. Some of the activities include a zip line, food and specialty booths, train rides, inflatables, and more. Live music happens each night.  More information can be obtained by visiting summermotion.com. Louisa, Ky. along the Country Music Highway in Lawrence Co., its always a July 4th tradition to offer fireworks and downtown events.For details on all that will be going on, phone 606-638-9889. Moving on to Letcher Co. and the county seat of Whitesburg, on July 4 2016 one of country music's best known female lead singers, Lorrie Morgan,  will apear in concert at the Whitesburg Riverside Park at 8:30 p.m. Lorrie Morgan's show will be free and open to all ages.  At the end of her performance, the fireworks show will begin. Kids can enjoy inflatables at the park. July Fourth Fireworks Shows are a tradition in Elkhorn City, and will occur Monday evening, July 4th. After an afternoon of inflatables and an evening of live music, the city of Pikeville will also have a fireworks show.
Russell Railroad Days Happens June 17 & 18
Russell Railroad Days is scheduled for downtown June 17 and 18. The town of Russell in Greenup County was first created in 1869. 
It soon evolved as a major railroad terminal and maintenance shop with two major bridges crossing the Ohio River within short distances.
Entertainment this year will be by Cody Wickline, a recent contestant on NBC's "The Voice".
There will also be a regional talent show, "Talent On the Tracks". 
And for the burly people who want to get the feel of life as a railroader, there will be a spike driving competion. Hammers will be provided! A new railroad bridge is expected to be finished in August of this year, replacing an original railroad bridge that crossed from Russell to Irtonton, Ohio. For further information, call Bobby at 606-834-0007.
Racing Museum Relocates in Prestonsburg
Monday, June 13th at 5 p,m. at the Ranier Racing Museum will be fully relocated at the Mountain Arts Center. Lorin Ranier, along with Bobby, Liz and Robbie Allison, will be on hand to celebrate the Grand Re-Opening.
Two racers from the Ranier family of Prestonsburg, H.B. and Harry, began in the 1950's and went on to light up the industry with three wins at the Daytona 500.They hold the record for the fastest Daytona ever. 
Ranier Racing added 20-plus NASCAR wins with legendary drivers; Cale Yarborough, Buddy Baker and the father-son duo of Bobby and Davey Allison. They recruited Tony Stewart from USAC into NASCAR. The Ranier family is still active in NASCAR with third generation Lorin Ranier. Lorin's team Ranier Racing / MDM with 2 Arca cars and a Truck has already had its first win!! Trophies, photos and memorabilia, as well as a video produced by Steve Byrnes of the Speed Channel can be viewed. Thru September, visitors to the Mountain Arts Center can check out the 1988 Texaco Havoline Ford Thunderbird driven by Davey Allison. This legendary vehicle is on loan from the International Motorsports Hall of Fame in Talladega.
 The Youth Fest Bluegrass Festival Is Approaching
The annual Youth Fest Bluegrass Festival will fill up the amphitheater at the Lawrence County Park and Playground on Saturday, June 18. For more information on this event please call Michelle at 606-624-6976.
Fourth Saturday of Each Month is 
Time to Kayak 14 Miles Downriver
A joint venture to encourage kayakers to take monthly jaunts downriver from Prestonsburg to Paintsville is called Paddlefest. It is a cooperative project between Paintsville and Prestonsburg Tourism. It is scheduled every fourth Saturday from now thru October.
Tourism Shows Healthy Rise in Pike County in Last Two Years
Pike County, Kentucky has seen a surge in visitor spending over the past few years, to the tune of $5.8 million even considering the economic downturn affecting the coal industry. Pike County Tourism CVB Executive Director Tony K. Tackett elaborates on what has lead to this increase in visitor spending. "Our marketing efforts have been largely focused on bringing in group travelers, history buffs, and outdoor enthusiasts. Our entertainment offerings have also been a big source of discussion in our marketing advertising," said Tackett. "We are working six days a week to ensure that our visitors find us, enjoy what our community offers, and leaves satisfied. We couldn't do this alone, as we have many partners within our community, from county and city government, to local and regional partners." Pike County Tourism CVB chairlady Judi Conway Patton believes this is a sign of great things to come. "As Chairlady of Pike County Tourism CVB, it is an honor to serve our community and bring great news. Our board of seven oversees daily operations, marketing, sales and staff of Pike County Tourism CVB. Our goal is to shine Pike County's light, to educate and bring awareness to our great outdoor adventure, award-winning theatres, our wealth of historic locales and the East Kentucky Expo Center," Patton said. "Since 2014, our focus has been to bring motor coaches, conferences and conventions to our area. With our new visitor guides, convention guide and our partnerships with motor coach owner/operators, we are seeing a great increase in visitors discovering our beautiful Pikeville-Pike County, Kentucky." Jay Shepherd, Marketing Director for Pike County Tourism CVB, explains the statistics provided by the Kentucky Tourism and Travel Industry. "These numbers were calculated using what is called a RIMS II input-output model, which was developed by the U.S. Department of Commerce, Bureau of Economic Analysis," Shepherd said. "These authentic measurements are reliable numbers, and gives us a clear picture of what we and our partners have accomplished in our local tourism efforts." Shepherd goes on to explain the details of the report. "There are two numbers that are provided by the State that tells us what kind of impact the tourist dollar is having in our area, direct expenditures and indirect expenditures. Direct expenditures speaks to the spending that is a direct result of tourists in our area, engaging in business with our restaurants, hotels, shopping establishments and attractions. Direct spending for 2015 was $69.4 M, an increase of $3.8 M from 2014," Shepherd said. "Indirect spending represents the circulation of that dollar within our community, being re-spent at various businesses. Indirect spending for 2015 is over $39.7 M, an increase of over $2 M from 2014," said Shepherd. "Thirty eight more tourism related jobs were created in 2015 as compared to 2014, totaling 944 positions. I believe this is good news, and we should have faith that things can and will improve." Mike Alexander, General Manager of the Hilton Garden Inn Pikeville, also commented on the tourism economic impact report. "The continued increase in tourism dollars spent in Pike County is exciting," said Alexander. "Through the efforts of our County and City tourism offices, we continue to attract visitors from around the country.  The report documents that the efforts of Pikeville/Pike County Tourism are having a tremendous impact on the economy of Pike County and its residents.  The hard work and dedication has paid off" These statistics were provided by the Kentucky Tourism and Travel Industry, and suggest that the tourism industry is a key contributor Eastern Kentucky's economic growth.
See Ashland, Ky. As Never Before During Downtown Walking Tour June 11
The Highlands Museum & Discovery Center and the Eastern Kentucky Military Historical Society, are pleased to present the third annual Ashland Downtown Walking Tour on Saturday, June 11 from 9am to 12pm. This year's tour will feature sights and stories from varying periods of Ashland's history, with a special emphasis on the 1950s and 1960s. The organizations have also developed a special set of tours to take place during the week for school-aged children. Tickets for the Walking Tour are $10 and are now on sale.  Tours will begin at the Highlands Museum with one departing every 15 minutes between 9am and 2pm. For more information about this event, please call Matt Potter at 606-547-2607. – See more at: http://highlandsmuseum.com/downtown-walking-tour/#sthash.818OZdkF.dpuf
Ninth US 23 Yard Sale Happ
ens May 26 thru 27
If you are looking to buy or sell, the US 23 Country Music Highway Yard Sale will interest you. From Letcher Co. in the southern end to Greenup Co. at the north end of the Kentucky portion of the highway, each county coordinates their own part of this huge sale. Sales can occur in private residential locations or along the highway (off the state right-of-way). In Boyd Co. and Ashland several yard sale setups will be at Sergent's Tires at the intersection of US 23 and Hoods Creek Pike, as you go toward Westwood. Signs and balloons will mark the spot. The concentration of bargains will be all across the region. It also is a great help for folks to get rid of excess items Call your county's tourism office for further information.  Here are the numbers,  Letcher Co, Whitesburg, 633-4854;Pike Co., Pikeville, 432-5063; Floyd Co, Prestonsburg, 886-1341 ;;Johnson Co., Paintsville, 297-1469 ; Lawrence Co., Louisa, 638-4102;  Boyd Co., Ashland, 329-1007; and Greenup Co. 834-0007.
 

ELKHORN CITY APPLE BLOSSOM FESTIVAL WILL BE MAY 19-22
The Elkhorn City Apple Blossom Festival will be May 19 thru 22.  A gathering of friends, family, and new visitors will be highlighted by live music, a carnival, chain saw sculpting,a magician, a nightly performance by fire dancers, a Saturday parade at 3 p.m., and many special attractions. On Friday, May 20 David Adkins a well known Elkhorn City native will perform on the main stage downtown at 7:30 p.m. Adkins has scored a Number One album ,"Change Your Mind" according to Bluegrass Today, and has enjoyed a long career in the music business. Other musical entertainers will be Stateline Junction, Brian Dead, Shanghai Shysters, Tonya Taylor and East End, Sons of FM , Simple Folk, Caitlyn Puckett, Ethan Miller, Alvis Pugh,  Mirrored Image, Simple Folk, Chelsie Hatfield and many others. The Elkhorn City Women's Club will provide a Pancake Breakfast at the Community Center from 7 a.m. until noon. Another Saturday event begins at 3:00 p.m., a Car Show at the caboose parking lot. In related events on Saturday, May 21, at 5:00 p.m., an Elk Tour will happen at the Breaks Interstate Park, and a Kids To Parks Day, an event designed to connect and involve kids at state parks.  For information on either of the Breaks Park events, call 276-865-4413, ext. 3213. 
Floyd County singer Josh Martin officially signed with Sony/ATV in Nashville on April 29.
He is a former member of the Kentucky Opry, a youth-based talent incubator whose members regularly perform as a group at Prestonsburg's Mountain Arts Center. Others will know him for his work as front man of the bluegrass band, Fast Lane. His hometown is Eastern in southern Floyd County (When you're from the particular town named Eastern, Kentucky ; this might be confusing!). He made the decision to make the move to Nashville in 2013.
NEXT STOP:HILLBILLY DAYS 2016 IN PIKEVILLE!
The Spring season kicks off with Pikeville's Hillbilly Days for the past 40 years. This year,  the multi-event homecoming, fundraising, fun-for-everyone event happens Thursday, April 21, Friday, April 22, and Saturday, April 23 in downtown Pikeville. Attractions include a carnival,  live music in at least four separate locations, a Saturday 2 p.m. parade,  the Appalachian Wireless fireworks show at dark on Thursday (or Friday if it rains). Food booths, arts and crafts galore, and novelty amusement like "Outhouse" races, and the Pig Drop. Hillbilly Days always encourages every visitor to come out in hillbilly garb like bibbed overalls, straw hats, corncob pipes, and other visual effects that single a person out as an actual hillbilly Visitors can also spend some time at the famous Breaks Interstate Park just east of the Pike County town of Elkhorn City and see the biggest canyon east of the Mississippi, or the Hatfield-McCoy feud sites, and the historic Pike County Court House.
More wins for Stapleton at ACM Awards In Las Vegas
Chris Stapleton won all three awards he was nominated for at the 2016 Academy Of Country Music Awards. He captured the first award on the CBS TV show on Sunday, April 3 for Song Of The Year in "Nobody To Blame". A little later Album of the Year for Traveller was handed out to the Country Music Highway native. That leaves Male Vocalist Of The Year, which he picked up at 10:22 p.m. In an opening bit on the show, several country artists said they had discovered Chris Stapleton and were responsible for his explosive successs. Included in those "trying to take credit" for Stapleton's success were both the hosts Dierks Bentley and Luke Bryan and singers Thomas Rhett, Jason Aldean, and Carrie Underwood. While accpeting the award for Vocal Group Of The Year a member of Little Big Town, Kimberly Schlapman quipped she was glad Chris Stapleton was "not a group".
Chris Stapleton has shown his appreciation in a powerful way for his home town.
During two free concerts in late March he dazzled his fans, but a couple of parting gestures made all the difference.
Stapleton and Dodge Ram Trucks contributed 57,000 toward new instruments for the Johnson Central Golden Eagle Marching Band.
In addition, an outside stage was built on the campus of Stapleton's old high school, with his blessing and financial support.
Stapleton was a model student in his high school days. He was the class valedictorian and an athlete.
Ram Trucks And Chris Stapleton
Join To
Bring Free Concert
to JCHS Gym March 24 
A free concert by country music sensation and hometown boy, Chris Stapleton, has been scheduled for Thursday evening, March 24, at Johnson Central High School in Paintsville. This special concert is a part of Stapleton's association with Ram Trucks, and he owns a Dodge Ram truck himself. Tickets for the 7 p.m. concert in Paintsville are available online at ramhometownheroes.com on a first come, first served basis. The deadline to register is Wednesday, March 23 at 12AM. Registration will close once all seats are taken. Tickets are free, but admission will only be granted to those who register online.
LORETTA LYNN COMPLETES NEW ALBUM
Loretta Lynn,  perhaps the biggest overall star to hail from the Country Music Highway, has just accomplished another notable project.  She has released a brand new album "Full Circle". She has been making the rounds promoting the new effort, to the Tonight and Today Show on NBC, National Public Radio, and exposure in the print media thru the likes of Rolling Stone and USA Today, and New York Times. After over 60 years in the business,  the premier country superstar from the Country Music Highway has released another compilation of impressive songs on Sony Legacy,  many of which are familiar reminders of a highly successful career. Full Circle is the successor to 2004's Van Lear Rose. Critics have spoken well of the new effort,  and of Miss Loretta's continued vocal strength and presence. Many songs on the new Full Circle are of the type she was known for in the 60s and 70s,  including one of two brand new tunes,  " Everything It Takes" that is getting strong radio airplay.

Stapleton Wins Two Grammys And Performs at 58th Grammy Awards
Chris Stapleton has once again shone brightly on national TV by performing a B. B. King blues classic with music legend Bonnie Raitt and singer, guitarist Gary Clark Jr. He also captured two out of four Grammy nominations, both connected to his smash hit "Traveller".
He won Best Country Album and Best Country Solo Performance. Stapleton won over Little Big Town, and the album "Pain Killer"; Sam Hunt, "Montevallo": Ashley Monroe,"The Blade"; and Kasey Musgraves, "Pageant Material".
In the solo performance category, Stapleton bested "Burning House" by Cam; "Little Toy Guns" by Carrie Underwood; "Chances Are" by Lee Ann Womack; and Keith Urban's "John Cougar, John Deere, John 3:16".
Stapleton joined Raitt and Clark in "The Thrill Is Gone" a long-time Blues standard belonging to B. B. King who passed  in May of this year at the age of 89. Chris Stapleton comes from Staffordsville, Ky. in Johnson County.  He has enjoyed a highly successful 15-year career as a Nashville songwriter and has shown himself to be able to cross genres easily.
His rising fame after his sweep of four CMA nominations in late 2015 catapulted his Traveller album and the title song to huge success and critical acclaim.
The Country Music Highway is proud to claim Chris Stapleton as its latest superstar. He was also nominated for the multi-genre Album of the Year  and Best Country Song. Album of the Year went to Taylor Swift's 1989.  Girl Crush by Little Big Town was awarded the Grammy for Best Country Song.
Stapleton Honored by ACM Nominations
Chris Stapleton is on a roll, and has been nominated by the Academy of Country Music in four prestigious categories. On top of that, he is up for four Grammy Awards. The Grammys will be televised on CBS February 15. ACM nominations are Male Vocalist of the Year,  New Male Vocalist of the Year, Album of the Year (Traveller), and Vocal Event of the Year. Grammy recognition will be for Best Country Album, Best Country Song, Best Country Solo Performance, and Album of the Year. Stapleton's name will soon be added to the Country Music Highway signs that inform travellers driving into Stapleton's native Johnson County that he is one of the official local superstars. He will join Loretta Lynn, Crystal Gayle, and Hylo Brown and has kept the fresh flame of musical success burning in the Country Muisic Highway. Now 37, Stapleton had already enjoyed phenomenal success as a songwriter before his recent rise as a performer. He graduated from Johnson Central High School in Paintsville, and grew up in the Cross Creek section of Staffordsville,  three miles west of Paintsville.

Tom T. Hall Sends New Items For Display at The Country Music Highway Museum in Paintsville
At midday on Wednesday, January 27, two associates of Tom T. Hall in Nashville traveled to Paintsville with additional display items for Mr. Hall's section of the Country Music Highway Museum. Members of the Paintsville Tourism Commission welcomed Annette Kelley, pictured above, and Melissa Buck to the Museum. Hall's beloved wife Dixie passed away at the age of 80 January 16, 2015. Kelly and Buck said Hall was having a tough time with the loss of his wife. Annette Kelly said "Tom T. handpicked these items for his display." A number of awards and two framed information pieces have now been added to the display. The union of Tom T. Hall, "The Storyteller" and wife Dixie, who had been a Nashville fixture when Hall was a budding young writer, is one of mutual interests and ambitions. The couple first met in 1964 at the BMI Country Awards, and married in 1968. Hall is considered a key example in building the reputation for abundant country music talent surrounding U. S. 23, the Country Music Highway. He was present for the grand opening of the museum in the spring of 2005. Hall grew up in nearby Carter County at Olive Hill.  He has had dozens of hit songs,  like the number ones, "Year the Clayton Delaney Died", in 1971 and 1972′s "Old Dogs and Children. Dixie Hall was a native of England, and was a poet just like her husband. She was credited with helping many young artists get a leg-up in the Nashville music scene, and for writing over 500 bluegrass songs. Kelley also said at the ceremony, "They were a great couple, working side by side and very well together.  Tom T. hall is a brilliant man and a good example for everybody."
Who's The Best Chili Cook? Van Lear's 7th Annual Cook-Off Will Settle It
A key fundraiser for the Van Lear Historical Society is coming up in a tasty way on Saturday, February 6. It's the 7th annual Van Lear Chili Cook-Off. Participants need to be there with at least two quarts of chili by 3:00 p.m.  Registration continues until 3:30 and judging gets underway by 4:15. There is a 10.00 entry fee. Regular chili or wild game chili, such as deer or turkey, is all welcome. Each type will be judged individually. If you don't have chili to enter,  you can certainly come and eat from the abundance of good food. Chili dinners will be sold at five dollars each. All proceeds go to the Van Lear Historical Society, a 501 C-3 non-profit organization.
For Country Music Highway
Kentucky General Assembly Will
Consider Adding Chris
Stapleton
As Superstar
Loretta Lynn, The Judds, Billy Ray Cyrus, Tom T. Hall, Ricky Skaggs, Keith Whitley, Dwight Yoakam, Patty Loveless, Crystal Gayle, and Gary Stewart could soon have company among this elite collection of country music talent with his own special highway signage along US 23 in his native Johnson County. Stapleton left for Nashville in 2001, and is a Johnson Central High School graduate.  He grew up in the Cross Creek community three miles west of Paintsville at Staffordsville. In the first week of January,  Kentucky State Representative Hubert Collins introduced a bill to add Stapleton's name to the prestigious roster of stars along the Country Music Highway. The Country Music Highway was first called by this now popular name following a bill Collins introduced in early 1994 in the Legislature that was approved that Spring. Collins new bill lists ten career milestones Stapleton has enjoyed, including his recent sweep of three Grammy awards, impressive songwriting,  solo album success and  other well known accomplishments in his celebrated musical career.
Watch out for Chris Stapleton, He's On Saturday Night Live this month!
Chris Stapleton has been booked for the January 16 Saturday Night Live show.  The Country Music Highway's hottest new star will perform on the NBC program in a testament to his exploding popularity after racking up three Grammy Awards and performing on national television alongside Justin Timberlake. Although he has had good success as a songwriter, his personal songs from his smash album "Traveller" are now carrying him forward.  He has just recently been interviewed for GQ magazine, among others.
Jordan Smith Shines on People's Choice Awards
Jordan Smith was the dominant performer in the ninth season of The Voice, and everyone from all around his native Harlan County  and throughout Kentucky has been impressed with his great success. The 22-year-old had a prime performance on Tuesday, January 5 on the high profile CBS TV show, People's Choice Awards. Again he basked in the limelight of his star status, turning in a critically acclaimed version of "You Are So Beautiful". The show was hosted this year by actress and comedienne Jane Lynch.
Another eastern Kentuckian Shows His Musical and Vocal Superiority
Jordan Smith from Harlan Co. is worthy of mention for his phenomenal efforts on NBC's "The Voice", since he has made the finals, and will be seen Monday,  and Tuesday, December 14th and 15th. The 22-year-old singer has impressed the judges over and over since the ninth season began in September. When he killed the Queen song a couple of weeks ago, he really rocketed to the top with the judges and the general television audience. Some are considering him as the front runner going into the finale. Jordan is competing with three other remaining contestants, and although his home is a couple of  counties south of the Country Music Highway,  all of us here at CMT wish him great continued  success as a fellow east Kentuckian.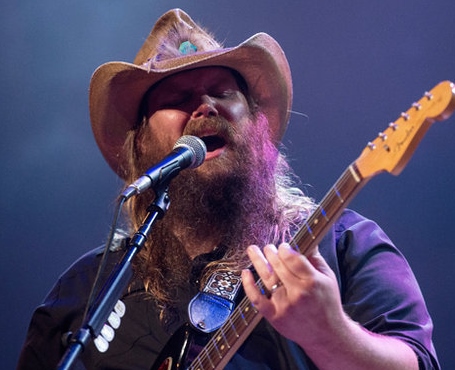 Chris Stapleton is a 2016 Nominee
for Multiple Grammy Awards
Chris Stapleton continues to make huge waves in the music business with the nominations he has just earned in the 2016 Grammy Awards. Traveller, Stapleton's latest album released in April is one of five nominees for Best Album.  He shares the spotlight with these country performers: Montevallo by Sam Hunt,  Pain Killer by Little Big Town,  Pageant Material by Kasey Musgraves, and The Blade from Ashley Monroe. Best Solo Performance is another category where Stapleton has been nominated for a Grammy.  In this category, he will be competing with  Cam, Burning House; Carrie Underwood, Little Toy Guns;  Keith Urban, John Cougar, John Deere, John 3:16; and Lee Ann Womack, Chances Are. Traveller is also in the running for Best Country Song,  along with Girl Crush, Chances Are,  Hold My Hand, and Diamond Rings and Old Barstools. Fans can watch the whole affair on CBS TV on Monday, February 15.
Activities Are Free,  $1250 Will Be Given Away in Cash 
Country Music Highway Is Heard From in a Big Way!
Chris Stapleton Sweeps Three Nominations, Male Vocalist, New Artist, and Album of the Year
Chris Stapleton was nominated for and won three major CMA awards in the nationally televised CMA Awards on ABC Wednesday night, November 4.  Male Vocalist of the Year,  New Artist of the Year,  and Album of the Year were captured by Staffordsville and Johnson County's Chris Stapleton. As the program neared it's conclusion, Stapleton was honored as Male Vocalist of the Year". He edged out Blake Shelton, Dierks Bentley, Eric Church, and Luke Bryan. Earlier he grabbed the Album of the Year for "Traveller". Stapleton grew emotional while accepting the Male Vocalist of the Year honor. He referred to his Dad, for whom he wrote "Traveller". "I wrote the songs for the album trying to think of the kind of songs my Dad would have liked." He recalled his early career when he was playing "in the basement of some bar with 6 people in the audience" He thanked his wife and family, and jokingly mentioned "all his cousins in Kentucky. Stapleton's win in the New Artist category elevated him over a talented field including Kelsea Ballerini, Maddie & Tae, Sam Hunt, and Thomas Rhett. Accepting the award, he thanked his wife, and continued, "This is an absolute thrill.  So many people to thank.  The show's not long enough for that." Later in the show, he performed Tennessee Whiskey in a duo with pop sensation Justin Timberlake. The Album Of The Year honor brought Stapleton back to the stage, and he seemed humbled by the achievement. He thanked everyone that made the record possible, producers down to "the girls in the office. I don't know what to think. This is great!" The Album of the Year nominees included Jason Aldean's "Old Boots, New Dirt", "Pageant Material" album from Kasey Musgraves,  Little Big Town's "Pain Killer",  and "The Big Revival" from Kenny Chesney.

Highlands Museum in Ashland Plans a Reveal Party Connected with Dancing With Our Stars February Fundraiser
Find out which local celebrities will be competing in the 3rd annual Dancing with Our Stars! The Highlands Museum & Discovery Center is again looking forward to their  Dancing with Our Stars Reveal Party on Saturday, November 7 from 7 pm to 10 pm at the Bellefonte Country Club.  This is the party where the Highlands Museum will announce the cast for the third annual Dancing with Our Stars event on February 6, 2016. Dancing with Our Stars is the museum's largest and most exciting fundraiser.  Don't miss the chance to find out which local celebrities and professionals will be competing for the coveted mirror ball trophy. This event will begin with a social hour featuring hors d'oeuvres and a cash bar followed by a fun and exciting dance showcase performed by local dancers, Shaun Terry and Alyssa Miller.  Next, the big reveal will take place when we announce the names of the stars and their professional partners competing in Dancing with Our Stars.
Paddlers Will Energize the Lord Of The Fork Whitewater Race
Russell Fork will be visited by whitewater enthusiasts from around the world in Saturday's Lord of the Fork annual competition on October 24. The Russell Fork is at the headwaters of the Big Sandy and runs through the Breaks Interstate Park passing through Virginia and into Kentucky,  and on toward Elkhorn City in southeast Pike County. The Lord of the Fork is a timed  downriver run, mostly by kayaks.  It will attract some of the best whitewater paddlers in the world, as it has for nearly 30 years.  Previous winners have been from diverse locations like England, New Zealand, and France, as well as many U. S. champs. The race is an official part of Kentucky's Outdoor Adventure Games during October. For a complete rundown, check www.adventuregames2015.com.

The Stafford House in Paintsville is a historical landmark that has been taken over by the city of Paintsville with the goal of turning it into a thriving tourist attraction. Tours of this stately old home are now commonplace, but a new function is planned for the Halloween season this year. Beginning Saturday, October 17,  the Stafford House will turn into the Pumpkin House. In a brand new event this year, numerous pumpkins decorated and carved by a cross section of citizens of all ages and walks of life, as well as some prepared by civic groups, will all be glowing brightly out in front of the Stafford House. Pumpkins began to be picked up this week by those interested in entering the carving and decorating contest. The top pumpkin will win a $100 cash prize, with others awarded trophies and ribbons. It promises to be a memorable Halloween spectacle this Halloween season,  so please drive by and take a look for yourself beginning Saturday evening, October 17.

Fallsburg Fearplex
Haunted Houses Everywhere!! Here's a rundown…..
The Fallsburg Fearplex is operating every weekend until Halloween.Tickets start at $22. Located at Fallsburg, Ky.   The Van Lear Historical Building will be the location of a popular Haunted Museum every weekend up to Halloween. Admission is $5.00 for kids four feet tall and above. There is a Haunted House for smaller and younger kids, too. Admission is $3.00

From left to right: Bob Scott, Margie Arnett, Judy Hatfield, Debby Bailey, William K. Hatfield, Dr. Kim McBride, and Ron McCoy. In front is a scale model of a McCoy home that was burned during the New Year's Massacre.
Hatfields & McCoys Now Working Together
The legendary  Hatfield and McCoy families will always be remembered in the mountains of Eastern Kentucky and West Virginia for the long running feud spanning the late 1800's and early 1900's. But in the 150 years since, these two families have not only made peace, but have become advocates for goodwill in the Appalachian region, and the world. On Saturday, September 26, 2015 during the annual Hatfield McCoy Heritage Days in Pikeville, Kentucky, descendants from both families came together for a dinner and fundraiser for the purpose of reuniting, sharing stories, planning the reconstruction of the McCoy Homeplace, and raising funds of the Grace Fellowship Community Kitchen. "As Hatfield and McCoy descendants, we are always looking for ways to give back to Pike County, the place we call home," said Ron McCoy, Randolph McCoy descendant. "We are impressed with the work Grace Fellowship Community Kitchen is doing in the community and we are proud to support them." "Our reconciliation as families is such a powerful story and I am so glad it lends itself to worthy causes like the Grace Fellowship Kitchen," said Billy Hatfield, a descendant of Anderson "Devil Anse" Hatfield. "There are many hurting and hungry people. Our small part in alleviating their suffering is humbling." Another descendant of "Devil Anse", Judy Hatfield, was also in attendance to show her support. "I would like to thank Ron McCoy, Judy and William Keith Hatfield and the decedents of the Hatfields & McCoys family, Pike Tourism and the all those involved for their generous donation of $750 for the Grace Fellowship Community Kitchen," said community kitchen organizer Kathy Hamilton. "I was excited that the Hatfield and McCoy families wanted to help raise funds for the Grace Fellowship Community Kitchen, but absolutely thrilled at the generous response," said Debby Bailey, Pastor of Grace Fellowship Church in Pikeville. "Our budget is small and the funds they donated will help offset costs for several months and we're deeply appreciative.  The Community Kitchen serves a free lunch over two days at the end of each month.  We just started this in May and already give out an average of 300 lunches each day."
The legendary  Hatfield and McCoy families will always be remembered in the mountains of Eastern Kentucky and West Virginia for the long running feud spanning the late 1800's and early 1900's. But in the 150 years since, these two families have not only made peace, but have become advocates for goodwill in the Appalachian region, and the world. On Saturday, September 26, 2015 during the annual Hatfield McCoy Heritage Days in Pikeville, Kentucky, descendants
GUN COLLECTORS CAN INSPECT AMERICAN LEGACY
HATFIELD AND MCCOY RIFLE AT HERITAGE DAYS
The true story of an American family feud that spanned several decades inspired American Legacy Firearms to create the Hatfield and McCoy Rifle, which will be made available during this year's Hatfield McCoy Heritage Days event in Pikeville. With the approval of the direct descendants of Devil Anse Hatfield and Randall McCoy, the rifle also features the signatures of Reo Hatfield and Ron McCoy, who designed the truce that was signed in 2003. Not only will purchasers receive a copy of the truce, but a certificate of authenticity for this limited edition item as well. Only 150 were made, making this a very special item for gun collectors and history buffs alike.      This firearm commemorates the long lasting quarrel between the two families, and to ensure historical accuracy, American Legacy Firearms has been in contact with some of the Hatfield and McCoy family members to secure details about their lineage. Etched into the finish of the wood is a timeline of events between the two feuding clans. Both sides dealt with intense sacrifices, which forever transformed the family members that lived through it all. For More InformationFor a full list of events planned for Hatfield McCoy Heritage Days, visitwww.TourPikeCounty.com. Events details, times and dates are subject to change.
Hatfields and McCoys Make Peace and Create Annual Heritage Days Downtown
Today's events validate the "Peace Treaty" agreed to in 2003 by Bo and Reo Hatfield and  Ron and Joseph McCoy. There will be a Hatfield-McCoy softball game , paintball shootout, Riverfill drag race, cruise-in, live music, a special Hatfield-McCoy Homecoming dinner at the Hilton Garden Inn on Hambley Boulevard, and  more on Friday, Sept. 24. Saturday's events will include live music, a car show, demolition derby, and a Jenny Wiley Theater show about the Hatfield-McCoy era focusing on Nancy McCoy. In addition, there'll be inflatables downtown, carriage rides, and participants can also ride the White Lightning Zip Lines or travel the Hatfield-McCoy River Trail. The Hatfield-McCoy Beauty Pageant is also a major attraction for this weekend event. For more information, contact Pikeville Tourism at 432-5063 or 800-844-7453.
Poage Landing Days in downtown Ashland headlined by Jo Dee Messina
In the early days of Ashland,  the Poage  (prounded Poe-g) Family established an Ohio River dock, which led to the buildup of this northeast Kentucky town.  Now in it's 20th year, the Poage Landing Days Festival is scheduled from Sept. 18 thru Sept. 20. Activities will include live music, arts and crafts, inflatables, a skateboard competition, a carnvial and more.
00.
End of Summer Bash is Scheduled for Saturday, September 5 at Park's Golf Course
The End of Summer Bash is scheduled at Jenny Wiley State Park Saturday, September 5 starting at 3 p.m.  Activities include a full afternoon and evening of live music,  games, and concessions.  Admission to all events are free. Music begins with the band, Sons of FM, at 5 p.m. at the Executive Golf Course across from the Wilkinson-Stumbo Conventi on Center.  From 7 to 9, the performer will be the band, Exit 23.  At 9 p.m., theBr evening's final act, Tim Michaels,  takes the stage. Concessions like hot dogs, hamburgers, pulled pork, cotton candy, snowcones and more. Please bring your own lawn chars and blankets, as seating is not provided during this event.
Kelsie May Performs at State Fair,  Lawrence Tourism Hosts Booth
      Sixteen year old rising star from Lawrence County, Kelsie May performed at the Kentucky State Fair in Louisville Friday, Aug. 21.
Kelsie May was a part of the 'Barrels and Boots' Festival featuring Montogmery Gentry, and John Michael Montgomery with Rae Lynn, Eric Paslay, and Craig Campbell.  The show is part of the fair's Main Stage Concert Series held in Freedom Hall. Members of the Lawrence County Tourism Commission were on hand to represent Lawrence County at the Eastern KY 'Pride of the Counties' Tourism Booth, sharing the booth with Pike, Floyd, Boyd, and Montgomery Counties. Lawrence County reps handed out brochures on area attractions, events, recreational spots, and businesses.They emphasized Yatesville Lake State Park, Lawrence County Campground, Fallsburg campgrounds and 'famous' haunted house, Septemberfest, Heritage Harvest Tour, Appalachian Bike Tour, Nightmare in the Square and more. Reps also espoused key points of interest such as the Fred M. Vinson Museum, Louisa-Ft. Gay Bridge (Ripley's Believe it of Not), Lock #3 (first needle dam built in U.S.), and other unique and historic features. Shops that sell unique items, antiques, arts, crafts, home and garden decor, were highlighted, and some pieces were on display. The Painted Cow Art Gallery had a display showcasing creations from local artists. Last year, over 600,000 people attended the Kentucky State Fair. The Eastern Kentucky Tourism Booth will provide an opportunity for folks to learn about the this unique region. Country Music Highway .com would like to credit Catrina Vargo of Lawrence Co. Tourism and Lawrence Co. government  for information presented in this article.
Kelsie May Will Perform at Van Lear's Town Celebration Aug. 1
For the last 30 years, Van Lear has hosted the annual Town Celebration every first weekend of August. This year, the event will be held on Friday, July 31, Saturday, August 1, and Sunday, August 2.
                Kelsie May of Lawrence County ,and a powerful performer this past February on NBC's The Voice talent search,  will be on the main stage in front of the Coal Miner's Museum Saturday evening, starting at 6:30.                 Activities for this weekend will include live music all three days, finishing with a gospel performance Sunday evening .  There will be a cornhole tournament,  parade, turkey shoot,  tours of the Coal Miner's Museum, a car show and much more. Visitors can also tour Loretta Lynn's Homeplace and the popular Coal Miner's Museum. 
Ashland Area Events Happening In August
                Lobster Fest 2015 and a downtown  Cruise-In are coming up in the month of August in the Ashland area. 
                The month's first event will be the First Friday Cruise-In that has been happening all summer downtown.  It Will be on Friday, August 7 and everyone is invited.
                On Saturday, August 15 visitors can enjoy the Safe Harbor's 8th annual Lobster Fest at the Bellefonte Country Club beginning at 6:30 p.m.
                Activities will include dancing under the stars, live and silent auctions ,  Pollock's Gem Scroop, and capped by live music from the Bad Habits Band.    
Hatfield-McCoy Site Dig Makes It On National TV
      National Geographic's Diggers TV program principals "King George" Wyant , and  Tim "Ringmaster" Saylor have returned to the feud sites of the Hatfields and McCoys for another highly anticipated archaeological dig. 
Diggers
 new season began in late July Mondays at 10 p.m.  "The Real McCoy" episode airs Aug. 10 at 9:30 p.m. on the National Geographic Channel.After the exposure for this historic feud on The History Channel's miniseries 
Hatfields & McCoys
, featuring Kevin Costner and Bill Paxton, interest in the feud has reached an all time high.The Hatfield & McCoy feud, which took place in Pike County, Kentucky, and across the Tug River into Mingo County, West Virginia, is the world's most famous feud. Having captured the fascination of the world since the first shot was fired more than 100 years ago, the feuding Hatfields & McCoys have been studied by researchers, historians and family descendants alike, all seeking the story behind the struggle. National Geographic's
 Diggers
 first visited the Hatfield & McCoy feud sites in 2013, discovering bullets that were fired in infamous New Years Eve attack. These findings brought the feud out of legend and into reality in a way that further intrigued the nation. Feeling that more could be discovered, National Geographic's 
Diggers 
have returned to the historic feud sites, and what they have discovered this time is truly unbelievable."In my opinion, these findings are some of our country's most incredible historical artifacts," said Tony K. Tackett, executive director of Pike County Tourism CVB. "Very rarely does one come across items like these, drawn straight from American Legend.""During the first 
Diggers
 visit, I told "Ringy" Saylor and George "KG" Wyant that they would soon return to the Randall McCoy home site," said Bob Scott, owner of the McCoy property, and Pike County Tourism CVB board member. "After two years they have returned."Over the past several years, thousands of people, including individuals from 26 foreign countries, have visited the Randall McCoy home site. After the showing of the new
Diggers
 episode, property owners Bob and Rita Scott expect the airing to generate additional enthusiasm. "Preserving the history and the heritage of the Hatfields and McCoys is important to the future of the tourism industry in Eastern Kentucky and Southern West Virginia," said Scott. "It's a window of our past and a doorway to our future."In 2003, feud descendant Reo Hatfield authored a truce, which he signed, along with descendants Bo and Ron McCoy, to officially end the feud between the two families, an event that was witnessed by the world on CBS's 
Early Show
.
  The 10th Anniversary of Hillbilly Christmas In July Randy Jones Memorial Bike Ride happens the weekend of July 18 & 19. Saturday's ride from Pikeville to the Big Sandy Regional Airport has a scheduled start time at 10 a.m. to take part in the annual Airport Days event. Registration starts at 10 a.m. at the Harley-Davidson dealership in Pikeville. A barbecue lunch begins at 11 a.m., and events continue throughout the afternoon with plane rides at the airport and music bike games, and fun. There will also be a kids day in the park back in Pikeville at the Bob Amos Park. Then on Sunday the ride starts at 10 a. m. at the Harley Davidson Store in Pikeville following an 8 a.m. church service. The Sunday destination will be the Shriners Hospital for Children in Lexington. At the close of Sunday's activities there'll be a drawing for a 2015 Harley-Davidson Dyna Low Rider. All proceeds from "The Ride" will benefit Shriners Hospital. More information can be found on www.HillbillyChristmasinJuly.com or by calling 1-606-226-0726 or 606-205-5134.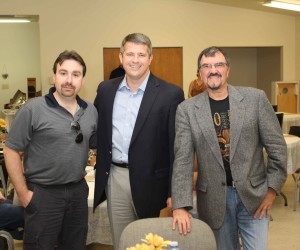 Ralph Stanley II,  Ky. State Sen. Ray Jones of Pikeville, and Lawrence County's Larry Cordle.
Larry Cordle Honored As Major
Influence
in Country and
Bluegrass
At a special ceremony at the Louisa Community Center, Larry Cordle was honored by local and state officials with respect to his long career as a Nashville performer and songwriter. The Blaine native and boyhood friend of Counrtry Legend Ricky Skaggs told the crowd he was humbled by the six additional honors he had been given at the dinner meeting. He acknowledged the important relationship he shared with his Dad, and said the recent induction into the Kentucky Music Hall Of Fame was especially "for Dad" He was given a key to the city of Louisa by mayor Harold Slone, who also has roots in the Blaine-Brushy area of Lawrence Co. Cordle was listed as a performer this year for Lawrence County and Louisa's Fourth of July Celebration. He was given special honors by Lawrence Co. Judge John Osborne, Tourism Commission Chairman Keith Chaffin, and by Jim Burchett, Fourth of July Chairman and noted local musician. State Representative Jill York presented a special award from the Legislature. State Senator Ray S. Jones gave Cordle another special citation and award from the Kentucky Senate. During Cordle's career, he has been involved with $55 Million in sales in the music industry. After his song "Highway 40 Blues" hit the top of the charts in the Summer of 1983, Cordle's career was off and running, He has also been honored twice as being a part of te Bluegrass Group of the Year with Lonesome Standard Time. Ralph Stanley II was also at the event, along with rising star Kelsie May, and regional favorites Chico and Luna, First Time Around, and Darrell Perkins After dinner, Cordle said "This all really chokes me up, and I thank you from the bottom of my heart."

2015 Road To Fame Winner!!
Whitley 

Tate  of Perry County
Winner Whitley Tate at left is joined by the superbly talented list of competitors that finished the Final Round in the 2015 Road To Fame. Next to the winner is Ashley Mitchell, Cody Morgan, Katelyn Fitch, Ciara James,Gracie Thompson, Miranda Finney, Hassell Bryant, Ryan Howard, Samantha Fischer, Justin Stephens, and Wakita Young. 
Summer Motion in Ashland July 2 thru 4   
Ashland's Riverfront will again host a number of events from Thursday thru Saturday, July 2, 3, and 4th. There will be plenty of live music, food booths, pro wrestling and a traditional fireworks show at 10:30 p. m. on Saturday, July 4. Everything begins at 4 p.m. on Thursday and by 7:30 it will be Sasha Cornette and the Magnolias on the music stage followed by the Steve Augeri  Band.  Augeri was formerly the lead singer for the rock supergroup  Journey. Friday evening at 7:30, music will be provided by Shane Thomas, followed by Trick Pony at 9 p.m.                                                                                   It's a full day Saturday as a car and motorcycle show begins at 9 a.m.  Bluegrass Championship Wrestling runs from 1:00 p.m. until 3:00 p.m. Music continues all afternoon with a Country Showdown beginning at 3 p.m., on stage at 7 is an act called Hollywood Nights , The Bob Seger Experience,   a 10-member tribute band.  The last performer of the evening will be country hitmaker Andy Griggs.
Road To Fame
Finals

Coming Thursday, July 2

Talented singers, songwriters and musicians will take the stage at the Mountain Arts Center for the 2015 Road To Fame finals Thursday, July 2. This year's talented group of performers has been narrowed down from two semi-final rounds at the MAC.  The judges picked 5 contestants and the audience vote allowed one to be added from a field of 16 each week to arrive at the 12 finalists. Here are the finalists: Wakita Young of South Shore in Greenup Co.;  Justin Stephens, of Lowmansville in Johnson Co.;  Samantha Fischer, from Garrison in Greenup Co.; Ryan Howard, of Salyersville; Hassell Bryant of Elkhorn in Pike Co; Miranda Finney of Paintsville;  Gracie Thompson, of Lackey in Floyd Co; Ciara James of Ashland in Boyd Co;  Katelyn Fitch, of Staffordsville in Johnson Co.;  Cody Morgan, of Bonneman in Perry Co.;,  Ashley Mitchell, of Slemp in Perry Co;  and Whitley Tate of Cornettsville in Perry Co. Get your tickets to see one of the best country music shows around!  Thursday, July 2 at the Mountain Arts Center, beginning at 7 p. m. Road To Fame Second Semi-Final Round is set for Thursday, June 25 at 7 p.m. at the Mountain Arts Center in Prestonsburg. Five contestants advanced at last week's competition between 16 talented participants. The judges pick 5 winners, and the audience vote will pick a sixth person to be in the top group moving into the home stretch.
KELSIE MAY TAKES IN ROAD TO FAME AT THE MAC JUNE 18 
At Thursday night's Road To Fame at the Mountain Arts Center June 18, we caught up with Kelsie May. Kelsie is always charming and energetic, and in her appearance this past winter in the NBC show The Voice, she gave viewers solid proof of the broad spectrum of talent along the Country Music Highway. She will perform at the Kentucky State Fair August 21.  She will be on an active tour schedule this summer. Kelsie now has a booking agent and is most excited by her recent association with famed Nashville produce David Malloy. Malloy has produced Dolly Parton, Tim McGraw, Reba McEntire and has numerous Grammy nominations to his credit. May said she was there "to support the others who are working hard to win this competition".
Chris Stapleton: One of Country Music's
Hottest Properties,

and the Pride of Johnson County and the Country Music Highway

Critically acclaimed singer and songwriter Chris Stapleton is shining brightly as his name has been solidly molded into the roster of great country artists with roots  along the Country Music Highway. The 37-year-old coal miner's son released his solo album "Traveler" on May 5, and has drawn rave reviews from virtually everyone. Rolling Stone concluded, "Stapleton's writing is masterful. They wrote about his "huge country/blues voice". A world class songwriter, Stapleton has penned four #1 hits. These songs are  "Never Wanted Nothing More" recorded by Kenny Chesney, which stayed on top for five weeks,  George Strait's "Love's Gonna Make it Alright",  Darius Rucker's "Come Back Song" and Luke Bryan's "Drink A Beer", which he performed with Lady Antebellum at the 2015 CMT Artists of the Year show. Stapleton has written many other songs, credited with over 170 album cuts,  recorded by top performers such as Adele, Tim McGraw, Brad Paisley and Dierks Bentley. He has been involved with many prominent co-writers such as Vince Gill, Peter Frampton and Sheryl Crow among others.
Marlana VanHoose Sings for Cleveland-Golden State Playoff
Johnson County's Marlana VanHoose has sang at numerous sporting events in the last few years.  Baseball and basketball games, including  the University of Kentucky, Cincinnati Reds, NASCAR, Indiana Pacers, a campaign event for Ky. Sen. Rand Paul, and for the Cavaliers numerous times. VanHoose perfected her talents as a youngster with the Kentucky Opry shows regularly seen at the Mountain Arts Center in Prestonsburg. She will perform the National Anthem  Tuesday, June 16 in playoff game six.
Whitesburg to host 29th two-day festival June 5 & 6
The Appalshop orgaization will host the festival in downtown Whitesburg, known as Seedtime On the Cumberland. The weekends activities will focus on traditional appalachian music, headlined by Rich and the Po' Folk, and many others. Crafts, food, music, arts, dancing, and film entertainment will be available. For full details, check the Seedtime On The Cumberland Facebook page, or online at www.seedtimefestival.org.
Dinner and a
magic show

….

sound cool?

  Kentucky State Parks will be featuring dinner and a magic show in the month of June.Check with your favorite park for exact dates and      times. In Prestonsburg, it will be June 27 with magician Dave Carroll. Everything gets started at 6 p.m. at the May Lodge. For the accompanying meal, choose between baked walleye or a 6 oz. filet mignon.