Johnson County's Hylo Brown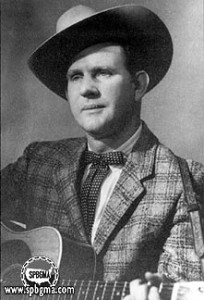 Hylo Brown was actually named Frank Brown.  The Grand Ole Opry member nicknamed Hylo because of his vocal range, died Friday morning January 17, 2003. He was 80.
Brown, a former Springfield, Ohio resident who made Mechanicsburg his home in recent years, said his daughter, Sheila Brown. Hylo Brown had been in declining health because of cancer, she said.
Bill Purk, the Northridge school guidance counselor who leads the Muleskinner Band, called Brown a bluegrass pioneer.
"When he was hitting this, it was still unplowed ground," said Purk, who befriended Brown in Mechanicsburg about four years ago. "There were times he'd be on a major label and he'd be holding another job down." In an interview with the News-Sun last March, Brown said working as a bluegrass picker used to be "hard sleddin."
Brown said he left Capitol Records after three short years because the record label spent all its money on Ferlin Husky. "They always respected bluegrass," he said. "They just never did anything about it."
Brown launched his career from Springfield when he moved with his parents from Johnson County, Ky., at age 18.
He earned his memorable nickname after he wowed a DJ with his range on "The Prisoner's Song," a 1920s hillbilly hit.
Brown's career came to an apex in the late 1950s. His 1958 debut for Capitol, recorded with his band the Timberliners, is in the Smithsonian. About the same time, he also sang lead for Flatt & Scruggs' Foggy Mountain Boys. "His songs have such a raw, emotional presence," Purk said. "There's no overdubbing."
Brown was inducted into the Opry in 1959. Last year, Brown recalled the country scene of his day, when he used to pal around with the likes of Hank Williams Sr.He once had a contest with Bill Monroe, the father of bluegrass, to see who could grow the longest sideburns. Hylo lost.