Floyd County's Dwight Yoakam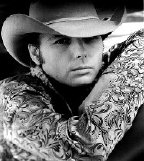 Kentucky native Dwight Yoakam blazed out of the Los Angeles club scene in 1986 with his debut Guitars, Cadillacs, Etc., which went on to score double-platinum status and was followed by such million-sellers as Hillbilly Deluxe (1987), Buenas Noches From A Lonely Room (1988), Just Lookin For A Hit (1989), If There Was A Way (1990) and the triple-platinum milestone This Time (1993) featuring the Grammy-winning single "Ain't That Lonely Yet" and Yoakam's signature hit "Fast As You." Dwight followed with Dwight Live (1995), Gone (1996), Under The Covers (1997), Come On Christmas (1997), A Long Way Home (1998) and Last Chance For A Thousand Years (1999). Yoakam's version of the Queen classic "Crazy Little Thing Called Love" debuted during the 1999 Academy Awards telecast in a national ad campaign for Gap clothing stores and went on to become another Top-Ten hit.
Dwight Yoakam kicked off the new millennium in noteworthy style: He was named by online retailer Amazon.com the "Country Artist of the Year" in 2000, while two new Yoakam releases, Tomorrow's Sounds Today (at #2) and dwightyoakamacoustic.net (at #9), appeared on CDNow's "10 Essential Country Records of 2000."
The two-time Grammy winner has garnered 21 nominations in the course of his career, while selling more than 23 million albums worldwide and earning praise from the likes of Time magazine, hailing him as "A Renaissance Man," Rolling Stone, noting "he has no contemporary peer," and Vanity Fair, claiming "Yoakam strides the divide between rock's lust and country's lament."
Yoakam's acting career has also garnered much acclaim, particularly for his role as Doyle Hargraves in the 1996 Oscar-winning "Sling Blade," for which he was honored with the Premiere Performance Award recognizing outstanding breakthrough performances in film. Following that, Yoakam made his directorial debut (starring in a screenplay he also authored) with the 2001 release of "South Of Heaven, West Of Hell," a gothic western with an impressive ensemble cast that included Billy Bob Thornton, Vince Vaughn, Bridget Fonda, Peter Fonda, Paul Reubens, Bud Cort and Michael Jeter. Other film credits include a scene-stealing 1994 debut in John Dahl's "Red Rock West" (with Nicolas Cage and Dennis Hopper), "The Newton Boys" in 1998 (with Matthew McConaughey, Julianna Marguiles and Vincent D'Onofrio), "The Minus Man" in 1999 (with Owen Wilson and Janeane Garafolo), and the 2002 blockbuster suspense film "Panic Room" in which Dwight co-stars with Jodie Foster and Forest Whitaker. Recently, Dwight appeared in the 2003 summer action-comedy "Hollywood Homicide" with Harrison Ford and Josh Hartnett.
In November 2002, Rhino Records'commemorated Yoakam's groundbreaking career with the release of the definitive box set Reprise Please Baby: The Warner Bros. Years, a four-disc retrospective including previously unreleased tracks and live recordings. Dwight began 2003 in the studio recording a new album titled Population: Me, the debut release on his own label, Electrodisc Records (with Koch/Audium), featuring the #1 CMT video hit "The Back Of Your Hand." To further solidify Yoakam's musical legacy, he was honored with his own star on the Hollywood Walk of Fame in ceremonies held June 5th, 2003.