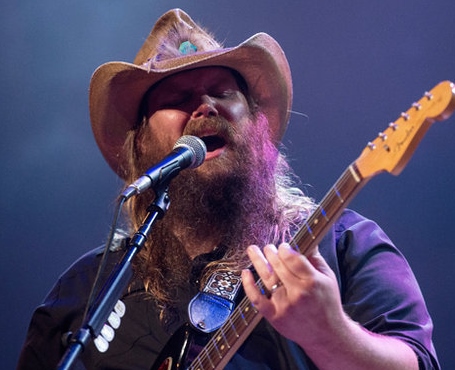 Chris Stapleton had been striving for musical success since he was a young man growing up in Staffordsville, Ky.  three miles east of Paintsville in Johnson County.
He can handle any kind of music,  having played bluegrass with the Steeldrivers,  blues and rock with the Jompson Brothers and others, until all his hard work mushroomed into colossal success near the end of 2015 and on into 2016.
It was 2001 when Chris Stapleton headed south to Nahsville.  He was soon hired as a songwriter and within two years began to rack up several chart topping hits. Well known artists like Patty Loveless, Trace Adkins, Luke Bryan, Thomas Rhett, Alison Krauss, George Strait, and Darius Rucker, to name a few, have enjoyed acclaim thru one of Stapleton's tunes.
By 2014, Stapleton began to step out as a solo performer,  and following the release of the solo album, Traveller, he earned  critical acclaim and huge success.
Crucial in his rise to the top was his sweep of the 49th Country Music Academy Awards (Album of the Year, Male Vocalist of the Year, and New Artist of the Year).
He went on to capture two out of three Grammy Awards early in 2016, Best Solo Country Performance, and Best Country Album. He also was a nominee for the Grammy Album Of The Year.
Stapleton is universally  loved and admired by his fans back home in Staffordsville, Paintsville, Johnson County, and all along the Country Music Highway.
He came back to his hometown of Paintsville on March 24, 2016 and generously donated approximately 60,000 for new band instruments for his old high school,  Johnson Central in Paintsville. It was part of a promotion in conjunction with Ram Trucks, which was involved in the gifts to the JCHS Band.
He spent some one-on-one time with members of the school band and encouraged them to make the most of their musical talents.