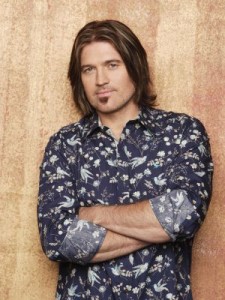 Born Aug. 25, 1961, in Flatwoods, Kentucky, William Ray Cyrus was singing with his father's gospel quartet and his mother's bluegrass group before he reached school age. As a boy, he formed a country duo with his brother. When he was 19 he began playing guitar and performing locally with Sly Dog, a band named after his one-eyed pet bulldog. The band soon took up residence in an Ironton, Ohio, bar called Changes. When it burned to the ground in 1984, so did the band's equipment. Cyrus took it as a sign that he should try his fortunes elsewhere and thus headed west. A two-year stint in Los Angeles resulted in a dead-end job selling cars instead of stardom. He returned to Kentucky, reformed Sly Dog, landed a job as the "house band" at The Ragtime Lounge in Huntington, W.V., and began making weekly trips to Nashville to knock on doors.
Cyrus was a show business pro by the time he was discovered by Mercury talent scouts while opening a Reba McEntire concert in Louisville, Ky., in 1990. Two years later he set the music world aflame with "Achy Breaky Heart" and his hit album, Some Gave All. The hit song was named single of the year by the Country Music Association in 1992. The follow-up album was the million selling It Won't Be the Last. But by the time of 1994′s Storm in the Heartland, Cyrus' image had become tarnished. Radio stations began closing their ears to his distinctive sound. He responded by stripping his style down to the earthy, rootsy sound of Trail of Tears. The 1996 album earned him widespread critical respect and a single of the year award from the TNN/Music City News Country Awards voters. He assembled a greatest hits collection called Cover to Cover, which included the new track "It's All the Same to Me." The performance returned him to the country radio in 1997 and paved the way for 1998′s Shot Full of Love. In 2000, he released the album Southern Rain.
Cyrus' connection to his audience is deep and profound. Few artists in any musical genre have given more of themselves so consistently. His devotion to the public is legendary, even by country music standards; and the amount of charity work he does has been staggering. Because his early hits were so catchy, he became an instant favorite with children in particular. As a result, Cyrus has held scores of dying, crippled and infirm tots in his arms. Cyrus' first four albums for Mercury Nashville put his sales in excess of 13 million units. He has earned accolades from the Country Music Association, the American Music Awards, Billboard, the Recording Industry Association of America (RIAA), TNN/Music City News Awards and numerous other organizations. In early 2001, Cyrus took his acting career beyond music videos by taking on a starring role in the dramatic series, Doc, on cable network PAX-TV. He issued a religious album, The Other Side, in 2003.