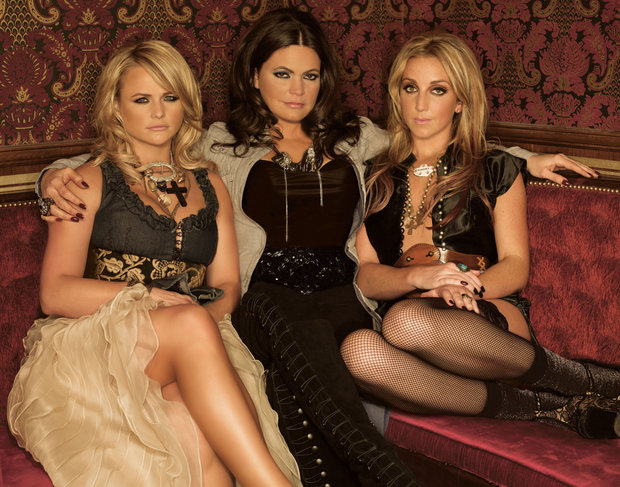 Presley, center,  comes from Beauty in Martin County.
After finishing her education, she made a beeline for Nashville.
Not long after, she met up with Ashley Monroe, pictured at right. In turn, she told her good friend Miranda Lambert about Presley.
These ladies soon formed the Pistol Annies, and have several award nominations for their efforts and a gold album.
They have been nominated by the CMT twice for Group Video Of The Year.
Their biggest hit to date is Hell On Heels from their 2013 album "Annie Up".
Country Music Highway Magazine: Okay, firstThe name. Presley. Is that your real name?
0Angelina Presley: Mmhm! That's my name.
CMH: Are you related to the most famous Presley?
AP: I don't think so, but my dad looks a little bit like Elvis. CMH:  You're from Beauty,Kentucky, right? AP: I'd say I lived there until I was about a freshman in high school. Then we moved to the other side of the hill.
CMH: How long have you been in Nashville? AP: 12 years now I think. CMH: So did you come out here as a songwriter? AP: Well, my mom is a teacher — an educator — in eastern KY, my aunts are all teachers and my cousins are all teachers, so it was pretty much a given that I was going to have to go to college. Went to college. Got that over with. Got in the car and drove to Nashville, with my guitar and my degree strapped on my back.
CMH: Had you written any songs up to that point?
AP: Yes. I was writing songs since I was about 16, I guess. I have an uncle, Bobby, and he played guitar — he was sort of the only musical person in my family — but he was awesome. He played guitar just like Willie Nelson. He used to sing Bill Young songs to me. So he was kind of my first impression of music, and he had excellent taste. So I got excited about music through him. I've always wanted to play, I was always fascinated by it. My dad had this old guitar in the closet. Heknows about three chords; he can play House of the Rising Sun, Wildwood Flower, and Mama Tried. So I dragged the guitar out of the closet one day and said "Dad, will you teach me how to play this?" He said "Sure I will! All you need to know in country music is three chords." After he taught me what he could — my hands were sore with blisters — I learned two more chords [on my own] and then started writing songs. I had all these words in me. Some higher power — God – - working through me and led me to music.
CMH: How does a young girl from Martin County get teamed up with Miranda Lambert, one of the biggest names in country music?
AP: Well it was a long, hard road. I'm a 12-year overnight success story. I moved to town, starting playing little clubs. A publisher saw me and he liked what I did and I got a publishing deal. Publishing deals, the way that they work, publishers set you up with other writers that they think will complement your writing style. So I guess about six years into my publishing deal, my publisher set me up with Ashley and I walked in the room. I knew about Ashley and I knew she sang like an angel, but I walked in and sat down. I had this dumb idea that I was working on. I played a little bit of it and she was like "I don't know. I kind of like darker stuff." And as soon as she said that I was like "Me too!" So I started playing this other thing and she was like "Yeah, that's it." So we wrote this song called "Let the Babies Sleep" and it was about these two people who were partying and fighting and cussing and the hook was "Please, Lord, let the babies sleep through this." So we just hit it off. Immediately. She and I were friends, you know, forever, and time went on and she one day out of the blue said "Hey, Miranda, do you know Angela Presley's music?" because she and Miranda were friends. The next thing I know, they're calling me at one o'clock in the morning telling me to get out of bed now and email us your record, we want to hear the whole thing. And I'm like "Who is this?" And she was like "It's Ashley! It's Ashley and Miranda!" And I'm like "Miranda who?" And she says "Miranda Lambert!" So I got up and sent them my record and the next week Miranda called and asked me to hang out at the CMA awards, and that's all she wrote. We started writing songs within 15 minutes of knowing each other. The thing is, this is a heartbreak town. You're gonna get your heart broken 50 times before a miracle happens. You just have to keep on going.
CMH: So perserverence is key?
AP: Yes. It's not like I was little and dreaming about a big ol' limousine and I was all glitzy and glamorous and I had people waiting on me hand and foot, but no. That ain't how it works (laughs). It is a LOT of hard work to be in the music business. I'm thankful for my roots because my parents WORKED. They were some of the most hard working people you'll ever meet in your life. My dad worked the coal mines — underground — for 30 years. And I think he only missed about 12 days of work in that whole time. So I got my work ethic from my Dad.
CMH: What were music programs like when you were in school? I remember when they were vibrant, but now it seems like they're dwindling down to almost nothing lately. AP: When I was in school, we had music class once or twice a week. We sang all these fun songs. I would love to see programs in KY where you put a fiddle in a kindergartner's hand, or a mandolin, or even a guitar.