Coaltown Dixie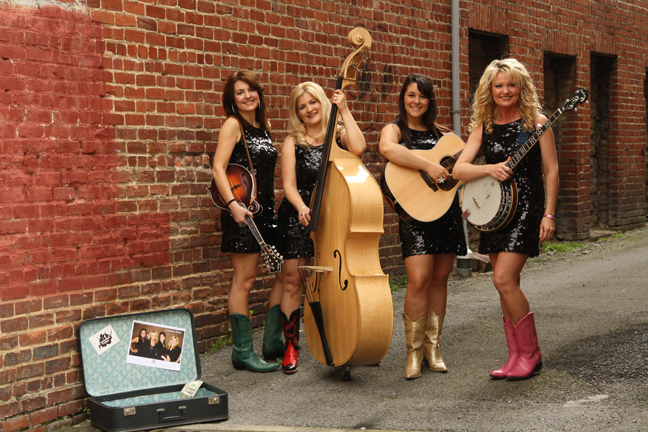 COALTOWN DIXIE is an all-female bluegrass band hailing from the picturesque Appalachian hills of East Kentucky. Their show is sure to get your toes tapping to the well-written and arranged originals, with some traditional (and definitely not-so-traditional) tunes thrown in as well. All the gals take turns with lead and harmony vocals while working (and sometimes dancing) around the mics - making for a refreshing and lively show in a style they have dubbed "high-heeled bluegrass."  M.E. MusicEntertainment Magazine calls their live performance "fun and energetic...a Bluegrass Sensation!"
The band just released their new DVD "Live at the Sipp Theater," filmed during a performance earlier this year.  The DVD features interviews as well as never before released songs including "Crush on Earl" and a bluegrass version of the blues classic "Crossroads."  More new material is soon to come from the band, as they are currently recording their third CD.  Since all four of the CTD ladies are songwriters, as with their previous releases, this recording will feature mostly original material, covering everything from the Hatfields and McCoys to front porch swings to moonshine runs.
Since Coaltown Dixie formed in 2009, they have enjoyed playing numerous shows and festivals throughout the Southeast and have been blessed to return to Dr. Ralph Stanley's Annual Memorial Weekend Festival, The Osborne Brothers Hometown Festival and The Kentucky Apple Festival. This year they are honored to add Lexington, Kentucky's Festival of The Bluegrass and Dollywood's Bluegrass and Barbecue Festival to the list. Coaltown Dixie has been the guest of internationally syndicated radio shows including Red Barn Radio and The Appalshop's "Bluegrass Express."
Career highlights include packing the house at Suwanee, Georgia's Everett's Music Barn; sharing the Mountain Arts Center stage with bluegrass superstars Ricky Skaggs, J.D. Crowe, and the Lonesome River Band; twice headlining the Rural Roots Concert Series at the Historic Sipp Theater and opening for country music star Bucky Covington. 
The ladies of CtD have been the recipients of a National Bluegrass B.O.R.N. (Bands On the Rise Nationally) Award, been featured as "Future Stars" in the U.S. 23 Country Music Highway Travel Guide and graced the cover of M.E. Music Entertainment magazine. Two of their songs are currently being used as theme songs on Kentucky Educational Television and they recently wrote a song for a television pilot.
The notion to start an all-female bluegrass band came from Stephanie May Rose (bass). After some persuasion, she reeled in an acquaintance from work, Kris Bailey Preston (mandolin).   They scouted around for the next year before discovering their musical soul mates one night at a local "front porch pickin' event."  Kris chose a seat next to Kalyn Bradford (guitar), who had just moved to Kentucky from Georgia.  When she heard the then-teenager sing and play an original song, she knew she would be perfect for the group.  They heard Melanie Turner (banjo/guitar) perform that night as well, and as she remembers it, they stalked her in the parking lot!  The newest member of the band is eight-year-old Isabelle Rose who first joined the girls on stage at age 4 at Hillbilly Days singing Hillbilly Goddess, which was immediately deemed her nickname. She was so well received that she now makes regular appearances with Coaltown Dixie at select venues.  
With the obvious lack of female musicians in the bluegrass world, Coaltown Dixie fills a unique niche, performing their own brand of "High-Heeled Bluegrass" with beauty and class. And the occasional G-run. To quote IBMA Hall of Honor Inductee and bluegrass legend Melvin Goins…"If you love bluegrass music, then you will love Coaltown Dixie.  Don't miss their show when they come to your town!"